Ricky Thornton, Jr. carried home the $53,053 top prize with a win in Saturday night's Peach State Classic Super Late Model feature at Georgia's Senoia Raceway.
The Martinsville, Indiana speedster started the 75-lap feature from the pole, and went on to hold off Hudson O'Neal for the win at the 3/8-mile clay speedway.
Devin Moran followed in third, with Senoia, Georgia's Ashton Winger in fourth, and Chris Madden in fifth.
Dennis Erb, Jr., Ricky Weiss, Mike Marlar, Kyle Bronson, and Garrett Alberson rounded out the top 10.
In other action, Matt Dooley edged out Rye Faulk for the 604 Crate Late Model feature win. Ty Ellis finished third, with Jody Knowles fourth, and Ricky Culpepper fifth.
Kirk Atkins topped the Hobby field to take the feature victory, with James Swanger in second, Brandon McDaniel in third, Keith West in fourth, and Landon DeGraff in fifth.
Blant Duke took the win in the Bomber feature. Chris Steele followed in second, with Craig Boozer in third, Chaz Haskins in fourth, and Timmy Bosley in fifth.
Booger Brooks recorded the victory in the Modified feature, with Mark Page in second, Scottie Hiett in third, Blant Duke in fourth, and Dewayne Aldrige in fifth.
The Super Late Models were also in action on Friday night, with Kyle Bronson winning an attrition filled Peach Bowl feature to take home a $20,000 payday in the 50-lap event.
Spencer Hughes, Garrett Alberson, Dennis Erb, Jr., and Hudson O'Neal rounded out the top five in a race that saw only 10 of the 24 starters finish.
In other Friday night action, Chaz Haskins scored the victory in the 602 Sportsman feature, followed by Blant Duke in second, Taylor Cole in third, Anthony Mayo in fourth, and Tate Nicholson in fifth.
John Holcomb held off Todd Brewster for the win in the Mini-Stock feature. Robert Caldwell finished in third, with Stephen Chunn in fifth.
Randy Phillips scored the victory in the Hot Shot feature, with Mike Webb second, David Burkett third, Justin Rickett fourth, and Brandon Henderson fifth.
Mavrick Davidson was the winner in the 602 Charger feature. Parker Marchman came home in second, with J.C. Mattox in third, Heather Lowe in fourth, and Wesley Marchman in fifth.
For more information on Senoia Raceway, visit SenoiaRaceway1969.com.
Senoia Raceway – Senoia, GA
Peach State Classic – November 12, 2022
Super Late Model
1. 20RT-Ricky Thornton, Jr.
2. 71X-Hudson O'Neal
3. 99M-Devin Moran
4. 12-Ashton Winger
5. 44-Chris Madden
6. 28-Dennis Erb, Jr.
7. 7W-Ricky Weiss
8. 157-Mike Marlar
9. 40B-Kyle Bronson
10. 58-Garrett Alberson
11. 19-Ryan Gustin
12. 1T-Tyler Erb
13. B5-Brandon Sheppard
14. 14M-Morgan Bagley
15. 16-Austin Horton
16. 19M-Wil Herrington
17. 9Z-Mason Zeigler-DNF
18. 93-Carson Ferguson-DNF
19. 18X-Michael Page-DNF
20. 3S-Brian Shirley-DNF
21. 66K-Dylan Knowles-DNF
22. 11-Spencer Hughes-DNF
23. 17M-Dale McDowell-DNF
24. 10-Joseph Joiner-DNF
604 Crate Late Model
1. 98-Matt Dooley
2. 4-Rye Faulk
3. 1E-Ty Ellis
4. 66-Jody Knowles
5. 110-Ricky Culpepper
6. B1-Braxtin Barber
7. 22T-Tim Clark
8. 19B-Kam Boyd
9. 5-Corey North
10. 17K-Kyler Haygood
11. 20-Devin Stuart
12. 629-Landon Gentry
13. 66C-Taylor Cole
14. 42T-Jake Traylor
15. 198-Jay Coen
16. 17C-Cory Compton
17. 11-Chase Baker
18. 112-Mavrick Davidson
19. 117-Zach Shirley
20. 349-Thumper Grice
21. 15-Marty Massey
22. 5M-Andy Morris
23. 21M-Chris McKeehan
24. 444-Teddy Musgrave
Hobby
1. 89-Kirk Atkins
2. 36S-James Swanger
3. 15-Brandon McDaniel
4. 00-Keith West
5. 33-Landon DeGraff
6. 11-T.J. Joiner
7. 7L-Brandon Bright
8. XX-Michael Thomas
9. B4-Michael Poss
10. 8-Brandon Francis
11. 72XX-Greg Thomas
12. 06-John Landrum
13. 14-Tyler Waits
DNS: 01X-Cory Hillman
Bomber
1. 00D-Blant Duke
2. 29-Chris Steele
3. 82B-Craig Boozer
4. 107-Chaz Haskins
5. 30-Timmy Bosley
6. 82R-Wilson Boozer
7. 97-Bryson Ussery
8. 78-James Blount
9. 1-William Blair
10. 16-Scott Amoson
11. 4-Michael Nelms
Modified
1. 148-Booger Brooks
2. 18-Mark Page
3. 1-Scottie Hiett
4. 1C-Blant Duke
5. 07A-Dewayne Aldrige
6. 80-Billy Wallace
7. 10-Jeff Culpepper
8. 49-Billy Dean
9. 07-Steve Pate
10. 2-Herbie Donath
11. 68-Curtis Turner
12. 25-Matt Cantrell
DNS: 55-Dan Meadows
Senoia Raceway – Senoia, GA
Peach Bowl – November 11, 2022
Super Late Model
1. 40B-Kyle Bronson
2. 11-Spencer Hughes
3. 58-Garrett Alberson
4. 28-Dennis Erb, Jr.
5. 71X-Hudson O'Neal
6. 31-Tyler Millwood
7. 19M-Wil Herrington
8. B5-Brandon Sheppard
9. 20RT-Ricky Thornton, Jr.
10. 7W-Ricky Weiss
11. 12-Ashton Winger-DNF
12. 157-Mike Marlar-DNF
13. 1T-Tyler Erb-DNF
14. 66K-Dylan Knowles-DNF
15. 3S-Brian Shirley-DNF
16. 22-Will Roland-DNF
17. 22E-Russell Erwin-DNF
18. 16S-Sam Seawright-DNF
19. 99-JR Moseley-DNF
20. 42-Cla Knight-DNF
21. 44-Chris Madden-DNF
22. 17M-Dale McDowell-DNF
23. 19-Ryan Gustin-DNF
24. 93-Carson Ferguson-DNF
602 Sportsman
1. 107Z-Chaz Haskins
2. 39-Blant Duke
3. 66-Taylor Cole
4. 121-Anthony Mayo
5. T25-Tate Nicholson
6. 6K-Jack Smith
7. 14C-Cody Newton
8. 4-Payton Stevenson
9. 50-Steven Gaines
10. 198-Jay Coen
11. 5-Andy Morris
12. 44J-Elliott Johnson
13. 22-Darrin Ray
14. 2-Will McConnell
15. 0G-Olivia Gentry
16. 7K-Matthew Kade
17. 89-Clay Fancher
18. 22D-Daniel Brewer
19. 11-John Harrison
20. 17-Brandon McDaniel
21. 90-Jonathan Martin
22. 55-Parrish Duncan
23. 42-Jake Traylor
24. 24-Chris Hough
Mini-Stock
1. 32-John Holcomb
2. 18-Todd Brewster
3. 27-Robert Caldwell
4. 7X-Stephen Chunn
Hot Shot
1. 9-Randy Phillips
2. 15-Mike Webb
3. 7D-David Burkett
4. 17-Justin Rickett
5. 08-Brandon Henderson
6. 86-Ray Yoder
7. 18-Spencer Huth
8. 8-Matthew Ellington
9. T21-Tony Carr
602 Charger
1. 112-Mavrick Davidson
2. 27M-Parker Marchman
3. 16B-J.C. Mattox
4. 16-Heather Lowe
5. 27-Wesley Marchman
6. 18-Jonathan Sanford
7. 38-Matthew Taylor
8. 87X-Chris Woodall
9. 17-Tyler Garrett
10. 7-Landon Frix
11. 8-Stacey Flanagan
12. 22B-Brandy Brewer
13. 06-Patrick Rose
14. 14N-Tommy Nale
15. 18J-Jeff Peardon
16. 1-Brad Betsill
17. 06L-John Landrum
18. 114-Sam Hubbard
DNS: 32-Larry Pierce
DNS: 25-Jesse Wilson
DQ: 54-Garrett Williams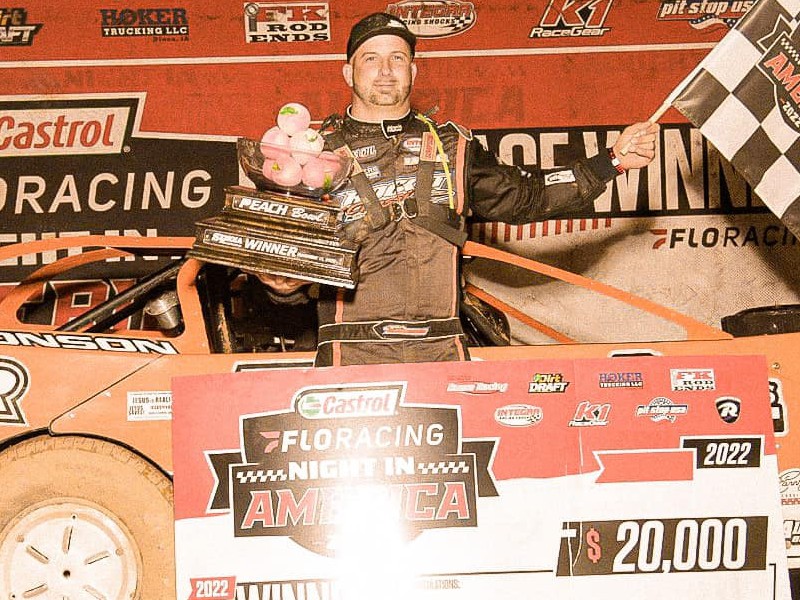 http://accesswdun.com/article/2022/11/1147211/thornton-jr-takes-peach-state-classic-win-at-senoia