The Hall County Sheriff's Office was honored at Thursday evening's Hall County Commission meeting for earning State Certification from the Georgia Association of Chiefs of Police.
Lavonia Police Chief and Chairman of the Certification Committee, Bruce Carlisle, said at the meeting that agencies have to meet 139 standards to earn State Certification. Many of the standards have additional substandards, according to Carlisle.
Hall County first met the standards required to meet State Certification in 2003, which Carlisle said shows the department's dedication to the community.
"Sheriff Couch has elected to provide professional law enforcement services to the citizens of Hall County and the visitors there too in the utmost professional manner there is," Carlisle said.
Agencies are required to undergo the certification process every three years. The Hall County Sheriff's Office had a particularly difficult process in 2021 due to a cyberattack on the county's computer system, and the death of Lt. Stephanie Hollingsworth, who previously led the HCSO's certification process.
Carlisle said the Hall County Sheriff's Office overcame those difficult challenges in 2021 for a "phenomenal," certification process.
"The lead assessor stated that this was the best assessment that she's ever been on, and she does hundreds," Carlisle said.
Hall County Sheriff Gerald Couch said he is thankful for the support throughout a difficult couple of years.
"All of us as leaders, we've all stood together, and I appreciate each and every one of you," Couch said.
Carlisle also recognized Lt. Michael Rose, the current certification manager at the sheriff's office.
"The certification manager is the one that actually pulls everything together and coordinates this, and we would like to recognize him as well," Carlisle said.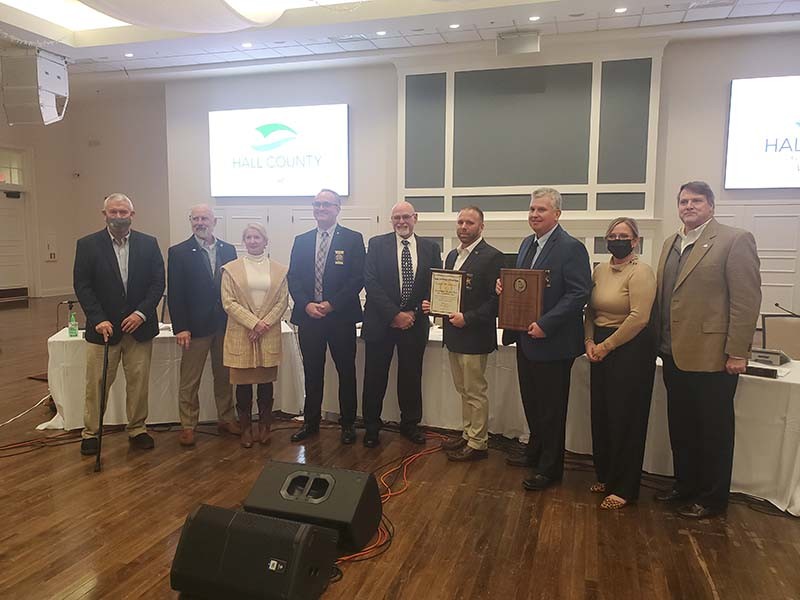 http://accesswdun.com/article/2022/1/1070347/hall-county-sheriffs-office-recognized-for-earning-state-certification