TULSA, Okla. - Christopher Bell parked in a familiar spot on Thursday night – victory lane at the Lucas Oil Chili Bowl Nationals at Oklahoma's Tulsa Expo Raceway.
Bell worked past Tanner Thorson in the final five laps to take the win on John Christer Trucking Qualifying Night. Tying Sammy Swindell for all-time preliminary night wins, the victory is the seventh in as many years for the NASCAR Cup Series racer, to make it eighth victories since 2014.
Back in a car owned by Keith Kunz Motorsports, the win is No. 35 for Kunz at the Tulsa Expo Raceway.
"First off I've got to say, damn I love the Chili Bowl," said Bell.
Bell seemed to have the ability to run the car anywhere he wanted on Thursday night.
"Man I don't know, I feel like I've struggled on the wet tracks, and especially when they put their feature setup in," Bell said. "I just really struggle to get going the first couple of laps, but at the end, I feel good. I could roll the bottom nice, and it was good on the top too. For whatever reason, this package we're running is making it good when the track really slicks off and the curb gets really big, but man, I had to work for that one."
Tanner Thorson took the lead from Shane Golobic on lap 5, and held the point until lap 27. Behind him, Bell worked his way to second with 11 laps to go, then worked to challenge for the lead until a caution came on lap 22.
Thorson was able to hold the lead on the restart, with the caution flying again for a multi-car shunt on lap 25.
Thorson retook the lead on the restart, only to see Bell charge to the front of the pack on lap 27. Bell went on to take the win by a 0.380-second margin over Thorson, as they locked themselves into Saturday night's A-Feature.
C.J. Leary finished in third, with Tim Buckwalter in fourth and Golobic in fifth.
Brady Bacon, Dillon Welch, Matt Sherrell, Emerson Axsom and Don Droud, Jr. rounded out the top 10.
Preliminary Night action concludes with Friday's Drive2Save Lives Qualifying Night. For more information on the Lucas Oil Chili Bowl Nationals, visit ChiliBowl.com.
Lucas Oil Chili Bowl Nationals
Tulsa Expo Raceway – Tulsa, OK
John Christner Trucking Qualifying Night – January 13, 2022
1. 71W-Christopher Bell*
2. 19T-Tanner Thorson*
3. 55V-C.J. Leary
4. 29-Tim Buckwalter
5. 17W-Shane Golobic
6. 21H-Brady Bacon
7. 81X-Dillon Welch
8. 2D-Matt Sherrell
9. 39B-Emerson Axsom
10. 22T-Don Droud, Jr.
11. 68W-Shane Cottle
12. 1S-Spencer Bayston
13. 25B-Steve Buckwalter
14. 51B-Joe B. Miller
15. 9-Mitchell Davis
16. 71R-Frankie Guerrini
17. 47X-Danny Stratton
18. 15D-Andrew Deal-DNF
19. 71G-Damion Gardner-DNF
20. 86-Brent Crews-DNF
21. 77-Stevie Sussex III-DNF
22. 4M-Brody Fuson-DNF
23. 57-Maria Cofer-DNF
24. 2E-Whit Gastineau-DNF
*Top 2 advance to Saturday's A-Feature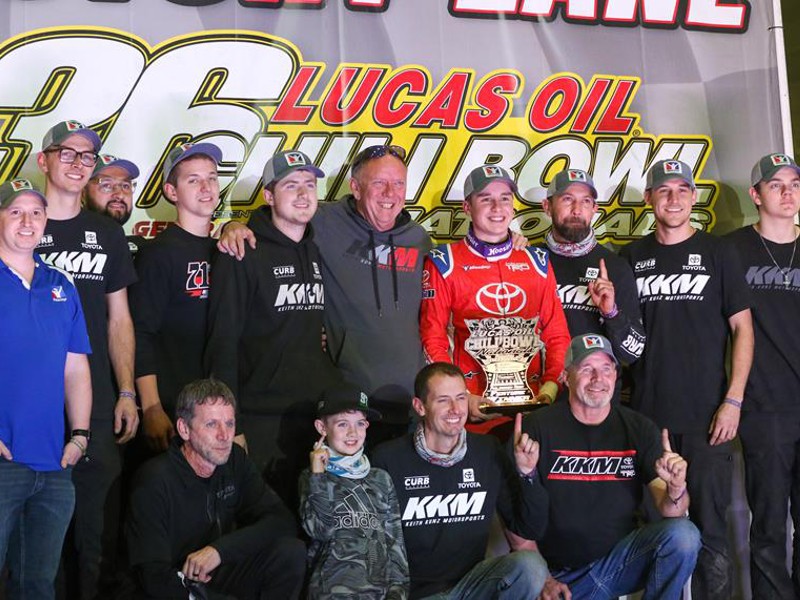 http://accesswdun.com/article/2022/1/1070292/bell-bags-seventh-consecutive-chili-bowl-prelim-victory