RABBITTOWN — As a fan, there's nothing like witnessing pure, raw, genuine, emotion-in-the-moment from the players in any sport.
Which is why it wasn't hard to feel CJ Agborsangaya's elation, and heartache, all at the same time last week when the East Hall junior was named Lanierland Tournament MVP after he helped lead the Vikings to a thrilling 62-61 win over Gainesville in the 2021 finals.
As he received the trophy, he broke down in front of a huge crowd at Lynn Cottrell Court at North Hall. It was hard to miss and not be affected.
More than a few things were going through his mind, he said.
"I really thought my teammate Christian (Torres) was going to win the award, so I was just shocked to hear my name called. I was just numb," Agborsangaya recalled. "Once I got it in my hand, all these thoughts just started to come to me about my mom and wishing she could be here. Also just knowing all the hard work I've put in was paying off. It just overwhelmed me out on the court."
Agborsangaya lost his mother, Justina Martinez-Rodriquez, to breast cancer on May 1, 2007, and honors her with the date on his shoes.
East Hall coach Tommy Yancey said he had to fight back some of his own emotions at the time.
"Hard not to root for that kid," he said. "That was totally awesome and totally genuine. He's had to go through a lot of adversity in his life, so to see him receive some recognition for the hard work he has put in, it was very satisfying as a coach."
Agborsangaya averaged 20 points/game in Lanierland and has upped his season output to 12.3 ppg and 8.2 rebounds/game. It is a far cry from the modest 4.0 ppg and 4.0 rpg he averaged in 2020-21.
"Winning Lanierland and getting the MVP award are the happiest moments I've had as a player and with this team," Agborsangaya said. "We've had a huge jump this year as a team, and the work we've put in together is also starting to show. It's been fun so far."
Yancey, however, said he has not been surprised by Agborsangaya's personal breakout season.
"The kid is a gym rat," Yancey said. "He stays until we have to kick him out. He's a tremendous athlete and has worked his tail off since last season to improve his game.
"He was primarily a post player last year, but he has really worked on his perimeter skills -- dribbling, shooting, passing. I think that has been the key to his success this year. He plays all over the court now."
Along with Yancey, Agborsangaya also attributed his progress to former East Hall standout and assistant coach Brody Langston and to former Gainesville standout Tim Gaither, who has been acting as a basketball mentor during the offseason.
"Coach Yancey has been like a father to me," Agborsangaya said. "He preached to me after last season that he thought I could play beyond this level if I put the work in. I took that to heart.
"But Coach Langston and Coach Gaither also have been working with me, and with all three of those guys helping me, I feel like I am starting to make the progress I wanted to see. To see myself progress has been fun."
Yancey will need Agborsangaya, and what has turned into a potent starting unit along with senior Torres (19.4 ppg, 10.7 rpg), senior Clete Cooper (10.9 ppg, 5.9 rpg, 1.7 spg, 3.8 apg), and junior Levi Holtzclaw (8.4 ppg, 4.7 apg), who hit a game-winning free throw under extreme pressure to win Lanierland.
The Vikings take on Class 4A fourth-ranked Jefferson at home on Friday in Region 8-4A action. The Dragons (14-1, 4-0 Region 8-4A) lead both East Hall (13-2, 2-1 Region 8-4A) and Madison County (11-2, 2-1 Region 8-4A) by just 1 1/2-games in the early going.
Both Jefferson and East Hall are riding 7-game win streaks and coming off recent Christmas tournament titles. The Dragons have had no trouble away from The Arena so far, going a perfect 5-0 on the road. The Vikings are 5-1 at home with their only loss at Valhalla coming to North Hall over a month ago.
But East Hall has not played since last Thursday after beating Gainesville in the Lanierland finals with a free throw from Holtzclaw with just :00.3 seconds left in the game. The Dragons jumped back into region play on Tuesday, holding off Chestatee at home.
"Both teams are playing well. But we can't get caught up right now trying to prove anything to ourselves or anyone else," Yancey said. "Jefferson is a great team. They're undefeated (in the region), and we're right behind them.
"It's a big game in the region. But we're just taking the approach that it's the next game. The key is probably us being able to find a way to crack their defense, which has been outstanding all year."
The Dragons are yielding just 51.2 ppg on the season, while East Hall is averaging 63.4 ppg on offense.
"We'll probably need to get a little more from Christian, and Clete and Levi will need to play well," Yancy said. "CJ is starting to give us another consistent, tough matchup for the other teams. But we just have to play our style of game. I'm expecting a battle for sure."
---
FRIDAY'S BASKETBALL SCHEDULE, Jan. 7
(All games begin at 7 p.m. with girls unless otherwise noted)
Dawson County at Cherokee Bluff*
Denmark at North Forsyth, 6 p.m.*
East Forsyth at White County*
Fideles Christian at Lanier Christian, 6 p.m.*
Flowery Branch at Madison County*
Gainesville at South Forsyth*
Gilmer at North Hall*
Habersham Central at Buford*
Jackson County at Clarke Central*
Jefferson at East Hall, 6 p.m.*
Lincoln County at Commerce, 6 p.m.*
Loganville at Johnson*
North Oconee at Chestatee*
Oconee County at East Jackson, 6 p.m.*
Towns County at Washington-Wilkes*
West Hall at Lumpkin County, 6 p.m.*
---
SATURDAY'S BASKETBALL SCHEDULE, Jan. 8
(All games begin at 7 p.m. with girls unless otherwise noted)
Banks County at Walnut Grove, 2 p.m.
Commerce at Union County, 3 p.m.
Highlands (NC) at Towns County, 6 p.m.
Jackson County at Mountain View, 2 p.m.
Johnson a Chestatee, 4 p.m.
Pinecrest Academy at Lakeview Academy (boys only), 3 p.m.*
(* -- denotes region contests)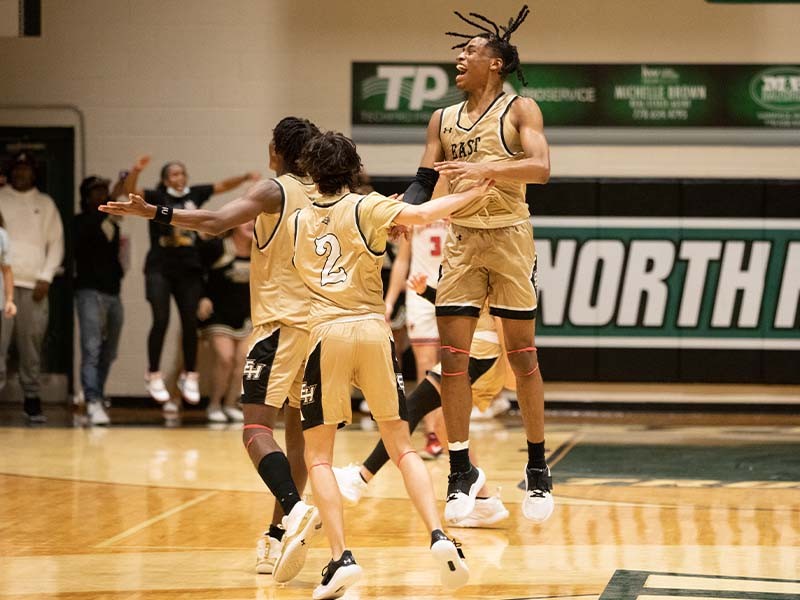 http://accesswdun.com/article/2022/1/1068122/basketball-agborsangaya-feature