Our next episode in the Air It Out series examines the Chestatee-West Hall meeting at Lynn Cottrell Stadium. The game kicks off Friday at 7:30 p.m. and can be heard live on 102.9 FM WDUN.
We talked to Chestatee coach Shaun Conley, whose War Eagles snapped an 11-game losing streak last week, and senior two-way lineman Bryan Cantrell. We also talked to West hall coach Krofton Montgomery and senior quaterback/linebacker Nick Sturm.as they all discussed theie annual rivalry matchup.
To watch, click play above.
WEST HALL at CHESTATEE
-- WHEN: 7:30 p.m.
-- WHERE: Lynn Cottrell Stadium, Gainesville
-- RADIO: 102.9 FM WDUN
-- WEST HALL (2-0, 0-0 Region 7-3A): Off last week; defeated East Hall 48-21 two weeks ago
-- CHESTATEE (1-1, 0-0 Region 8-4A): Defeated Union County 41-28 last week
-- NOTABLE: West Hall leads series 10-7. The Spartans won 14-8 in 2020 and have won 6 of the last 7 meetings overall. ... Both teams are trying to continue strong starts that they have not enjoyed in quite a while. The Spartans are looking for their first 3-0 start since 2014 while the War Eagles have not started a season 2-1 since 2013. ... The War Eagles ended their 11-game losing streak, getting a big game from So. RB Jason Granados (34 car., 186 yards, 3 TD) and despite giving up a 20-0 lead to fall behind in the 2nd half the defense sealed it with a pick-6 to end the game. ...There are two key battles in this one. Can a revamped Chestatee defense hold up against a powerful Spartans rushing attack? The other is the West Hall secondary against what is usually a pass-oriented Chestatee spread offense. ... The 28 points allowed last week by the War Eagles is only the third time in the last 19 games they have allowed less than 30 points. ... West Hall is averaging 275 yards/game on the ground behind Sr. Tilil Blackwell (32 car., 180 yards, 4 TD) and Sr. Jaden White (7 car., 120 yards, 1 TD) with five players with 65 or more yards so far in just two games.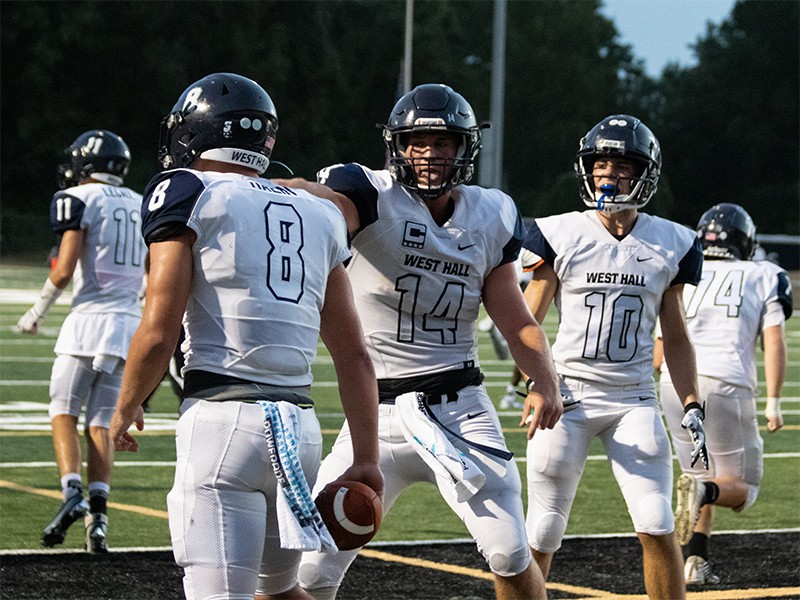 http://accesswdun.com/article/2021/9/1037439/air-it-out-spartans-war-eagles-look-to-keep-momentum-going