The Habersham County Sheriff's Office received some statewide attention today at an awards event for law enforcement agencies.
The MADD Georgia 17th Annual Golden Shield Honors was held today at the Chick-Fil-A College Football Hall of Fame in Atlanta. The Habersham County Sheriff's Office, The Sheriff's Office HEAT Unit, and deputies individually were all recognized in different categories.
According to a press release from the Habersham County Sheriff's Office, they were awarded the "DUI Hero Agency of the Year" for category 3 with a total of 302 DUI arrests for 2020.
The HEAT Unit was named "HEAT Unit of the Year" for their efforts. According to a description, this award goes to a HEAT (Highway Enforcement of Aggressive Traffic) unit that has demonstrated excellence in education and enforcement of drunk driving and aggressive traffic. They also look for teams that have been successful in reducing the number of crashes, fatalities and injuries on the highways, and that have excelled in many areas, including DUI arrests, deterrence of traffic violations, and underage drinking prevention.
The HEAT Unit was honored with a second award as well. They also received the Golden Shield Achievement award. This award always goes to "a citizen, officer, agency, group or organization with outstanding expertise in the field of traffic safety, DUI prevention, and/or community intervention who made a significant contribution to MADD's mission and Georgia traffic."
Individual awards were given to two Habersham County deputies, both on the HEAT Unit. Deputy Brandon Holcomb received the MADD Gold pin for 144 DUI arrests for 2020 and Cpl. Kris Hall received the MADD Gold pin for 108 DUI arrests for 2020. Cpl. Hall also received an award for conducting more than 50 DRE drug influence evaluations.

According to the MADD website, the event recognizes law enforcement offices and agencies, DUI prosecutors and community advocates who make a difference. "For the past 17 years, the Governor's Office of Highway Safety has joined with MADD Georgia to celebrate our partners in their efforts to keep our highways and roads safe."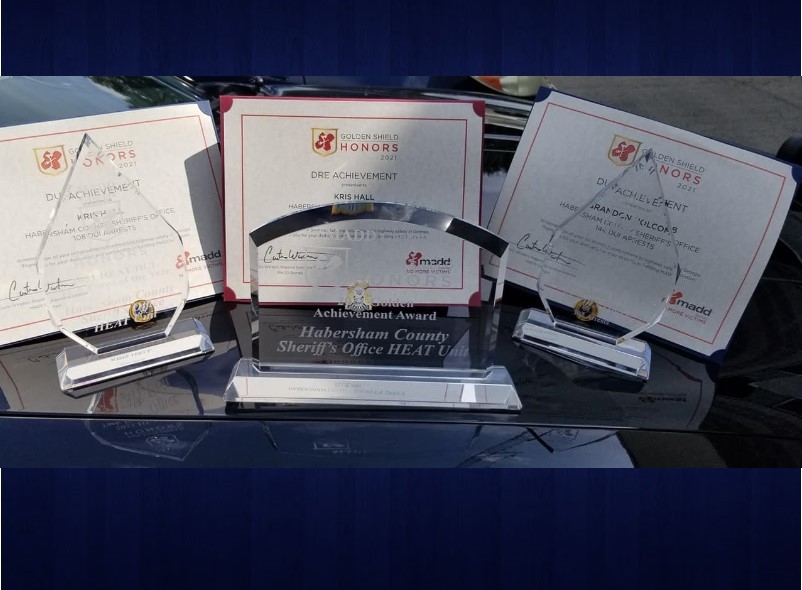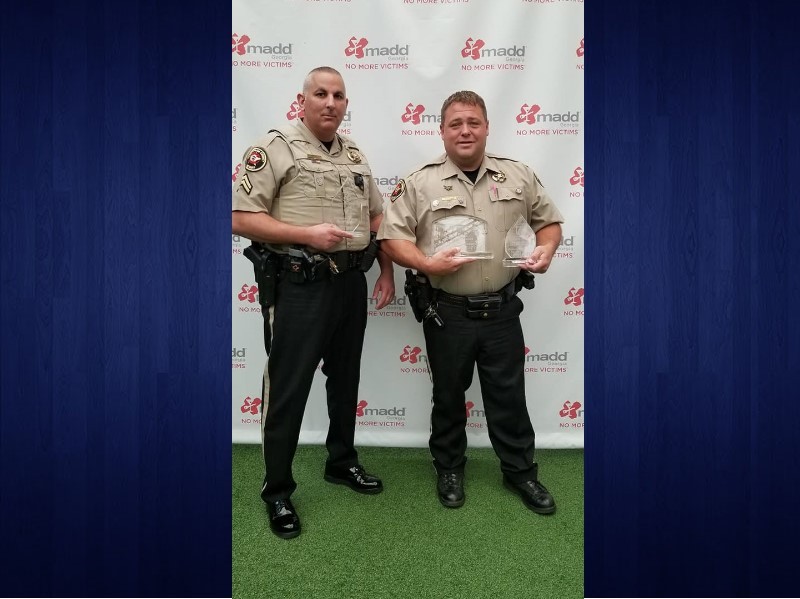 http://accesswdun.com/article/2021/9/1037253/habersham-county-sheriffs-office-recognized-at-statewide-event