A.J. Allmendinger survived a crash and bash filled finish to score an improbable win in Sunday's NASCAR Cup Series race on the Indianapolis Motor Speedway infield road course.
Allmendinger, driving in a limited schedule this season, took the lead on the final lap after leaders Denny Hamlin and Chase Briscoe tangled. Briscoe was penalized for passing through the grass in turn one with two laps to go after Hamlin ran him wide. Not knowing he was being penalized, Briscoe made a move to try to take the lead from Hamlin, with the two making contact that sent Hamlin spinning.
That moved Allmendinger to the lead, where he held off Ryan Blaney and Kyle Larson to the finish line to take the win.
"It was survival of the fittest," said Allmendinger. "We probably had like an eighth-, tenth-place car, sped on pit road. I thought we were going to finish 12th to 15th, and then those restarts were just insane. It's great when you have a car owner that just says, go get me trophies. He doesn't care if that thing is torn up. Chevy, ECR horsepower, RCR, everybody that allows us to do that, all of our sponsors on the Xfinity side of it, we just won at Indy."
It's the second career series victory for Allmendinger, who won his first in 2014 at Watkins Glen International. Sunday's victory is the first for Kaulig Racing in the Cup Series, and comes at a track that Allmendinger has competed on in both NASCAR and IndyCar competition.
"I mean, this is unbelievable. In my wildest dreams I could never imagine the way that just played out," said Allmendinger, who finished seventh in the 2013 Indianapolis 500. "(Team owner) Matt Kaulig, I don't even know what he's doing right now. He can't – he's almost in tears. Chris Rice (team president), the Hyperice Chevy was so good. We had to fight hard. Robin Miller, I saw him this morning, this one is for you, baby. We love you, Robin, everything that you do. In memory of Bob Jenkins. Baby, I love you so much. Mom and Dad, all my friends and family, oh, my God. We just won at Indy."
While Allmendinger and his team were kissing the historic bricks on the finish line as the winners, Hamlin and Briscoe were talking about the penultimate lap on pit road.
Briscoe said he didn't know he was going to be penalized when the contact occurred, something he tried to explain to Hamlin after the race.
"I don't know. At first, I didn't know if I was getting anywhere," said Briscoe. "Once I explained to him that I didn't even know I had a penalty until I got to turn 10. If I knew I had a penalty, there was no need for me to even try to pass him for the win. If I would have known that earlier, I would have done my stop and go and went on. As I understood it, at that moment in time I could still win the race and I was going for it and got into him accidentally.
"I think at the end he kind of started to understand. He has been there when you are trying to get your first win and especially in our playoff situation, you have to do what you have to do. That is what I get paid to do and that is what I was trying to do."
The explanation did little to soothe Hamlin the chance at a much needed win with the cutoff to the Playoffs looming now just two races away.
"I agree it's not on purpose, but my team told me that he had a penalty right away and to me, it's obvious," said Hamlin. "If you cut the racetrack and end up in the lead, you're going to have a penalty. Lack of awareness. Race me for a lap. He went right in the back of me. We can't race that way. I don't think he did it malicious. I've raced with him for a year now. He's not that kind of person, just bad judgment."
Hamlin was credited with a 23rd place finish, with Briscoe in 26th.
It marked the first race for the NASCAR Cup Series on the infield road course at the historic Indianapolis Motor Speedway. It was a move that was embraced by some drivers, and disliked by others.
After the final five laps of the race, there were likely more detractors about the move, as a pair of multi-car crashes broke out near the end of the event, triggered when a piece of curbing in turn five of the course came loose.
The first crash occurred with four laps to go, gathering up nine cars in the melee, including Kyle Busch, William Byron, Daniel Suarez, Ryan Preece, Christopher Bell and Joey Logano, who's No. 22 Ford was sent head-on into the tire barrier and guardrail.
Fortunately, despite the impact, Logano was uninjured.
"Yeah, I am okay. Thank God those tire packs were there," said Logano. "The hit wasn't that hard at all. The tires absorbed a lot of it. I don't believe in luck but that time I feel like it was just bad luck. Wrong place at the wrong time and unfortunately it ended our day. We had a decent run coming to us and maybe a top-five finish for our Shell Pennzoil Mustang and the next thing I knew I was airborne and headed to the wall. I had a lot of time to think about it. I was just along for the ride as a passenger knowing what the end result was going to be."
Bell said he had experienced no issues prior to the incident with the curbing in that area.
"You could see where the curb was kind of coming up a little bit throughout the course of the race and then obviously, they kept working on it," said Bell. "I was just kind of running my own line following the guys through there. I don't know what happened. We all just piled up there."
After a lengthy red flag as crews removed the loose curbing, the race resumed with Hamlin and Larson leading the field back to green in overtime.
The second crash occurred again in turn five, when the car of Michael McDowell hit the remaining curbing, sending his car airborne and setting off another multi-car crash. Six other cars were gathering up, including Austin Dillon, Martin Truex, Jr. and Tyler Reddick. That led to a second red flag condition.
That set up the second overtime restart and the unpredictable ending.
Dawsonville, Georgia's Chase Elliott finished in fourth, with Matt DiBenedetto in fifth.
Kurt Busch, Erik Jones, Justin Haley, Austin Cindric and Ryan Newman rounded out the top 10.
NASCAR Cup Series
Indianapolis Motor Speedway Road Course – Indianapolis, IN
Verizon 200 – August 15, 2021
1. (8) A.J. Allmendinger(i), Chevrolet, 95.
2. (16) Ryan Blaney, Ford, 95.
3. (4) Kyle Larson, Chevrolet, 95.
4. (3) Chase Elliott, Chevrolet, 95.
5. (15) Matt DiBenedetto, Ford, 95.
6. (20) Kurt Busch, Chevrolet, 95.
7. (28) Erik Jones, Chevrolet, 95.
8. (29) Justin Haley(i), Chevrolet, 95.
9. (13) Austin Cindric(i), Ford, 95.
10. (32) Ryan Newman, Ford, 95.
11. (22) Ricky Stenhouse, Jr., Chevrolet, 95.
12. (19) Chris Buescher, Ford, 95.
13. (27) Bubba Wallace, Toyota, 95.
14. (25) Kevin Harvick, Ford, 95.
15. (6) Martin Truex, Jr., Toyota, 95.
16. (26) Corey Lajoie, Chevrolet, 95.
17. (24) Alex Bowman, Chevrolet, 95.
18. (36) Josh Bilicki, Ford, 95.
19. (18) Aric Almirola, Ford, 95.
20. (21) Kyle Busch, Toyota, 95.
21. (11) Tyler Reddick, Chevrolet, 95.
22. (38) Quin Houff, Chevrolet, 95.
23. (14) Denny Hamlin, Toyota, 95.
24. (31) Brad Keselowski, Ford, 95.
25. (10) Cole Custer, Ford, 94.
26. (2) Chase Briscoe #, Ford, Parked, 94.
27. (40) Timmy Hill(i), Toyota, 94.
28. (39) Garrett Smithley(i), Ford, 94.
29. (9) Ross Chastain, Chevrolet, 93.
30. (12) Michael McDowell, Ford, Accident, 88.
31. (23) Austin Dillon, Chevrolet, Accident, 88.
32. (34) James Davison, Chevrolet, Accident, 80.
33. (1) William Byron, Chevrolet, Accident, 77.
34. (7) Joey Logano, Ford, Accident, 77.
35. (30) Ryan Preece, Chevrolet, Accident, 77.
36. (17) Christopher Bell, Toyota, Accident, 77.
37. (5) Daniel Suarez, Chevrolet, Accident, 77.
38. (33) Anthony Alfredo #, Ford, Suspension, 68.
39. (35) Andy Lally(i), Ford, Rear Gear, 55.
40. (37) Cody Ware(i), Chevrolet, Accident, 46.
Average Speed of Race Winner: 69.171 mph.
Time of Race: 3 Hrs, 20 Mins, 59 Secs. Margin of Victory: 0.929 Seconds.
Caution Flags: 6 for 25 laps.
Lead Changes: 13 among 11 drivers.
Lap Leaders: W. Byron 1;C. Briscoe # 2-13;T. Reddick 14-16;M. McDowell 17;B. Keselowski 18-19;C. Elliott 20-33;T. Reddick 34-36;A. Dillon 37;K. Larson 38-54;D. Hamlin 55-62;M. DiBenedetto 63;K. Larson 64-74;D. Hamlin 75-93;*. Allmendinger(i) 94-95.
Leaders Summary: (Driver, Times Lead, Laps Led) Kyle Larson 2 times for 28 laps; Denny Hamlin 2 times for 27 laps; Chase Elliott 1 time for 14 laps; Chase Briscoe # 1 time for 12 laps; Tyler Reddick 2 times for 6 laps; * AJ Allmendinger(i) 1 time for 2 laps; Brad Keselowski 1 time for 2 laps; Matt DiBenedetto 1 time for 1 lap; William Byron 1 time for 1 lap; Austin Dillon 1 time for 1 lap; Michael McDowell 1 time for 1 lap.
Stage #1 Top Ten: 8,34,3,43,37,2,47,77,14,9
Stage #2 Top Ten: 8,3,37,47,21,77,7,78,5,9
Playoff Standings: 1. Kyle Larson – 953 (5 Wins), (Points Leader); 2. Martin Truex, Jr. – 762 (3 Wins); 3. Alex Bowman – 653 (3 Wins); 4. Kyle Busch – 796 (2 Wins); 5. Chase Elliott – 774 (2 Wins); 6. William Byron – 790 (1 Win); 7. Joey Logano – 763 (1 Win); 8. Ryan Blaney – 747 (1 Win); 9. Brad Keselowski – 696 (1 Win); 10. Kurt Busch – 607 (1 Win); 11. Christopher Bell – 562 (1 Win); 12. Michael McDowell – 480 (1 Win); 13. Aric Almirola – 416 (1 Win); 14. Denny Hamlin – 931; 15. Kevin Harvick – 733; 16. Tyler Reddick – 666.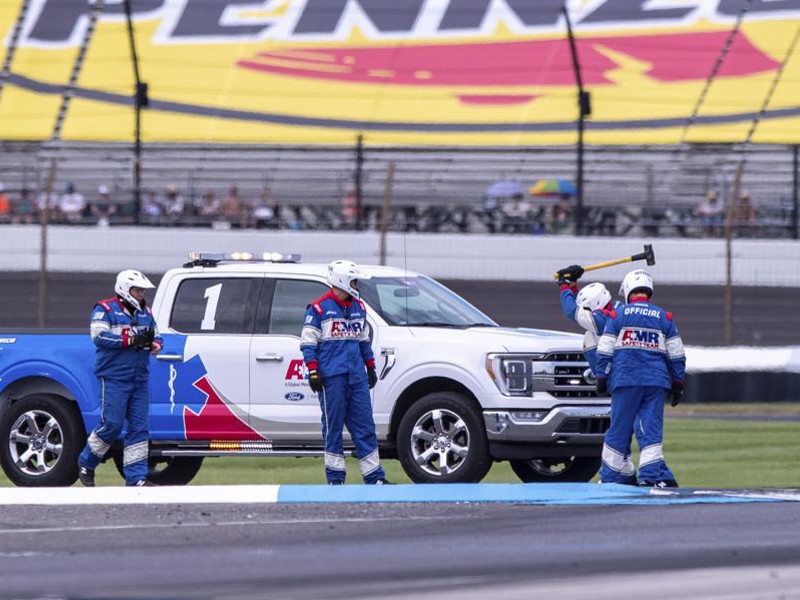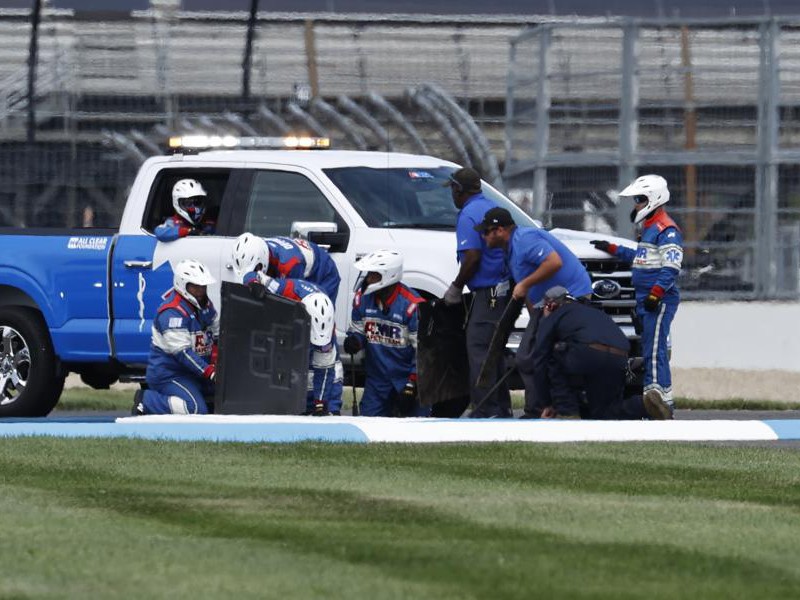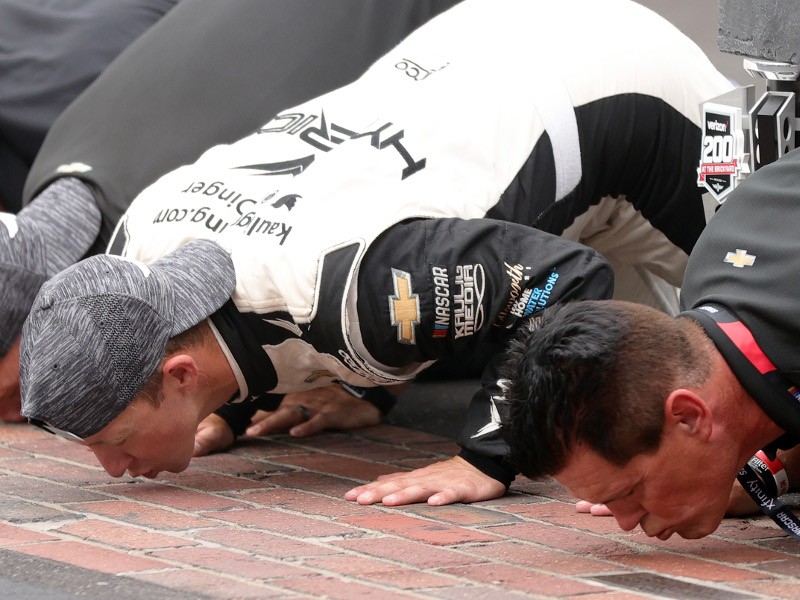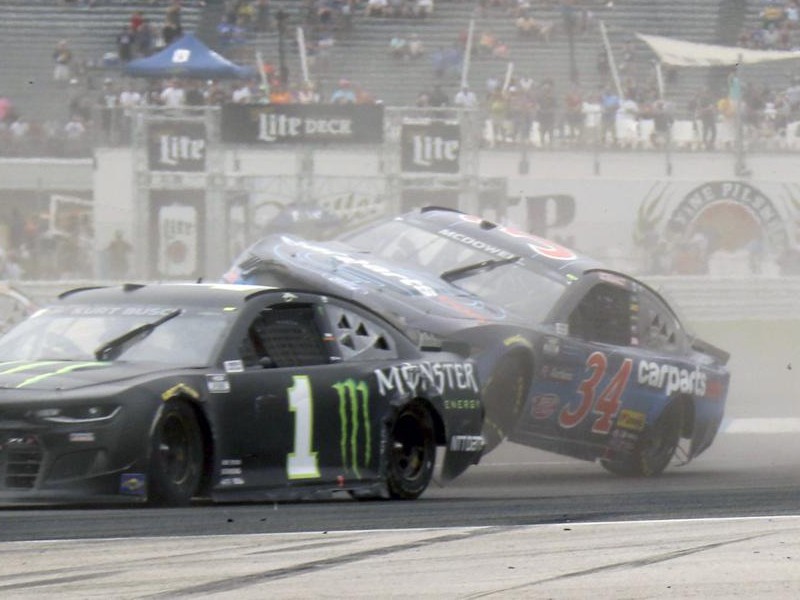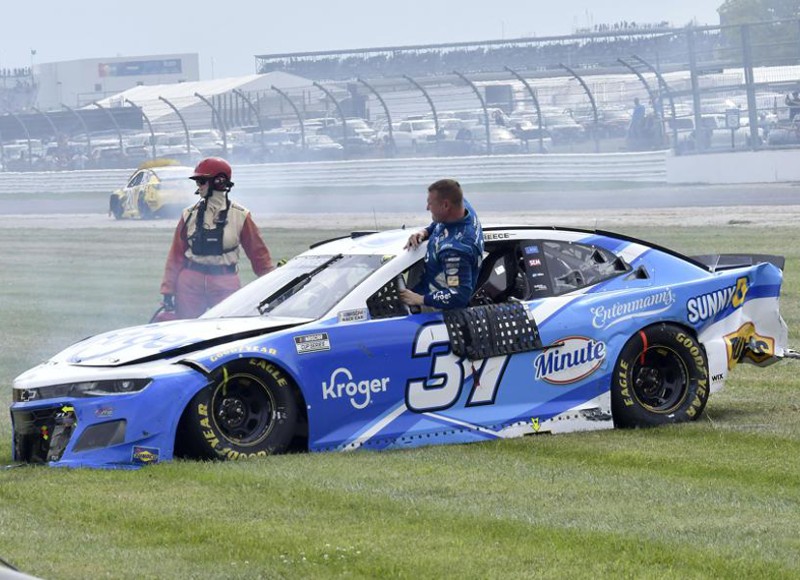 http://accesswdun.com/article/2021/8/1030905/allmendinger-wins-unpredictable-crash-filled-indy-cup-race