Nevin Harrison, a women's canoe sprint athlete, will represent the United States in the 2020 Olympics Tuesday night after training at the Lake Lanier Olympic Venue for the past two years.
Harrison, 19, of Seattle, made her way into the Olympics after winning the women's C1 200m at the 2019 ICF Canoe Sprint World Championships in Szeged, Hungary in August 2019. Harrison caught the world's attention as the first American to ever win a world title in a canoe sprint event.
This attention continues as she is now set to compete in heat two of the 200m women's canoe sprint event in Tokyo on Tuesday, Aug. 3 at 9:12 p.m. ET. The 2020 Olympics marks the first time women's sprint canoe has ever been considered an Olympic sport. Harrison said this really increases the intensity and pressure to perform well.
"It's definitely stressful, I think because being a part of the United States Olympic team, which is already a huge title, is a dream come true," Harrison said. "It's also a heavy weight to carry on your shoulders."
While Harrison is now an Olympian, she said canoe sprint was not always her favorite sport. She started canoeing when she was 12, but track had always been the sport she wanted to focus on competitively.
"I love track, and I would have picked it one-thousand times over, but I was diagnosed with hip dysplasia which made running track really hard," Harrison said. "I saw doctors and ... they told me I could never compete in any sport ever again."
Harrison said she could not simply stop competing in athletics, however. She decided to make the switch to canoe sprint so that she could preserve her health and still compete athletically.
Canoe sprint involves "sprinting" in a long, thin canoe over a set distance, something Harrison described as being similar to track, just on the water.
"It's more exciting, faster, but it is on water so you have that component of staying balanced and staying in your boat," Harrison said.
After picking up canoe sprint as her competitive focus, Harrison said qualifying for the Olympics was a sudden experience.
"Never in a million years did I think I was going to be qualifying for the Olympics by winning the world championships," Harrison said. "That seemed like not even in the cards of what could happen. So it was shocking."
Ever since then, Harrison has been training at the Lake Lanier Olympic Venue, preparing for the 2020 Olympics.
"I never thought that I'd be living in Georgia, but you know this place has its charm," Harrison said. "I love training on Lake Lanier. It's a really, really incredible venue."
Harrison said she was disappointed when the Olympics were delayed a year due to the COVID-19 pandemic, but at the end of the day, she said she feels the delay has better prepared her for the mental toll of being an Olympian.
"One year ago I was not ready to be an Olympian," Harrison said. "I was moving pretty quickly, but I just wasn't there mentally."
Watch the above video to see Harrison speak about her life as an Olympian several weeks before she left for Tokyo.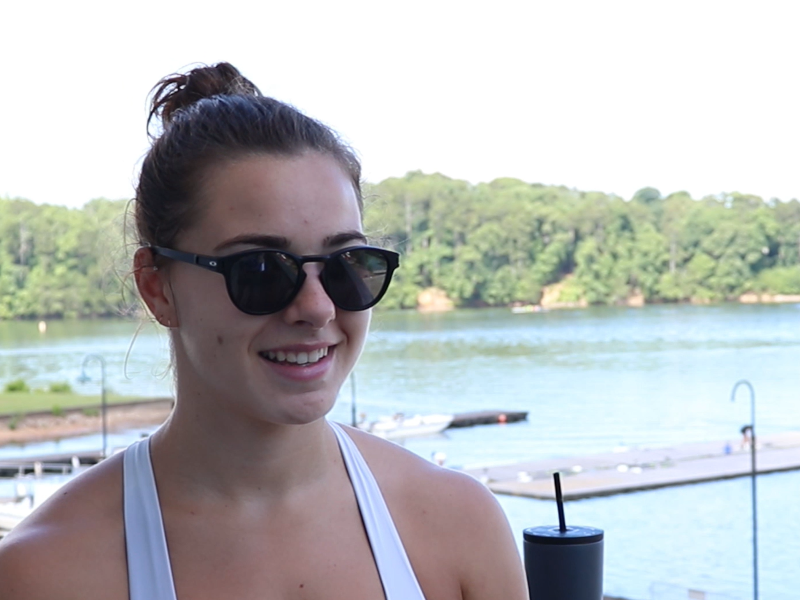 http://accesswdun.com/article/2021/8/1026922/nevin-harrison-ready-to-represent-us-at-2020-olympics