Dale McDowell and Tanner English scored wins in the Volunteer State over the weekend in Schaeffer's Oil Spring Nationals Series competition.
McDowell was the winner on Friday night at Tennessee's Crossville Speedway, while English took the victory on Saturday night at Tennessee's Clarksville Speedway.
On Friday night, McDowell started form the outside of the front row, and went on to lead ever lap en route to the win.
It's the 13th career series victory for the Chickamauga, Georgia racer, the most in series competition. It was worth a $4,053 winner's payday.
Fellow Peach State ace, Donald McIntosh of Dawsonville, Georgia, finished in second, with Jensen Ford in third, Will Roland in fourth, Brandon Williams in fifth.
On Saturday night, Tanner English scored his first career series victory at Clarkesville Speedway.
The win was worth $10,053 for the Benton, Kentucky driver.
English edged out Friday night winner Dale McDowell on the drop of the green, and went on to lead all 53 laps in the feature.
"I've run a lot of laps at this place, so I know just about every condition and where to go when it's a certain way, and everything like that, qualifying and all the way through (the program)," said English. "I grew up here and it's a pretty cool place to come back to and see all these good fans. I know everybody that supports me here and I appreciate it a ton. I've also gotta thank Riggs Motorsports. They've done a lot for me and I couldn't be standing here without them, for sure."
Jadon Frame finished in second, with Donald McIntosh in third, McDowell in fourth and David Seibers in fifth.
The Schaeffer's Oil Spring Nationals Series returns to action on May 7-8 with a doubleheader in the states of Virginia and Tennessee. Up first will be a trip to Wythe Raceway in Rural Retreat, Virginia on Friday night, while Saturday's stop be at Smoky Mountain Speedway in Maryville, Tennessee.
For more information, visit SouthernNationalsSeries.com.
Schaeffer's Oil Spring Nationals Series
Crossville Speedway – Crossville, TN
Race Results – April 30, 2021
1. (2) Dale McDowell $4,053
2. (3) Donald McIntosh $2,000
3. (1) Jensen Ford $1,400
4. (5) Will Roland $1,000
5. (10) Brandon Williams $800
6. (12) Spencer Hughes $700
7. (13) Jadon Frame $600
8. (6) David Crabtree $550
9. (11) John Ownbey $525
10. (4) Cory Hedgecock $500
11. (15) Stacy Boles $480
12. (9) Ruben Mayfield $470
13. (22) Johnny Cloer $460
14. (16) Steve Smith $450
15. (21) Jeff Neubert $440
16. (20) Joe Denby $430
17. (7) Ashton Winger $420
18. (8) Clay Coghlan $410
19. (18) Karl Tipton $400
20. (14) Josh Putnam $400
21. (17) David Payne $400
Schaeffer's Oil Spring Nationals Series
Clarksville Speedway – Clarksville, TN
Race Results – May 1, 2021
1. (1) Tanner English $10,053
2. (3) Jadon Frame $5,000
3. (5) Donald McIntosh $2,500
4. (2) Dale McDowell $1,800
5. (7) David Seibers $1,250
6. (6) Cory Hedgecock $900
7. (13) John Ownbey $800
8. (9) Spencer Hughes $700
9. (11) Mason Oberkramer $675
10. (12) David Payne $650
11. (8) Stacy Boles $625
12. (15) Caleb Ashby $600
13. (17) Gavin Schmidt $575
14. (20) Jeff Herzog $550
15. (18) Joe Denby $525
16. (22) Jeff Neubert $500
17. (16) John Minon, Jr. $500
18. (10) Levi Ashby $500
19. (4) Richard Frost $500
20. (19) Robert Ardry $500
21. (21) Jensen Ford $500
22. (14) Johnny Cloer $500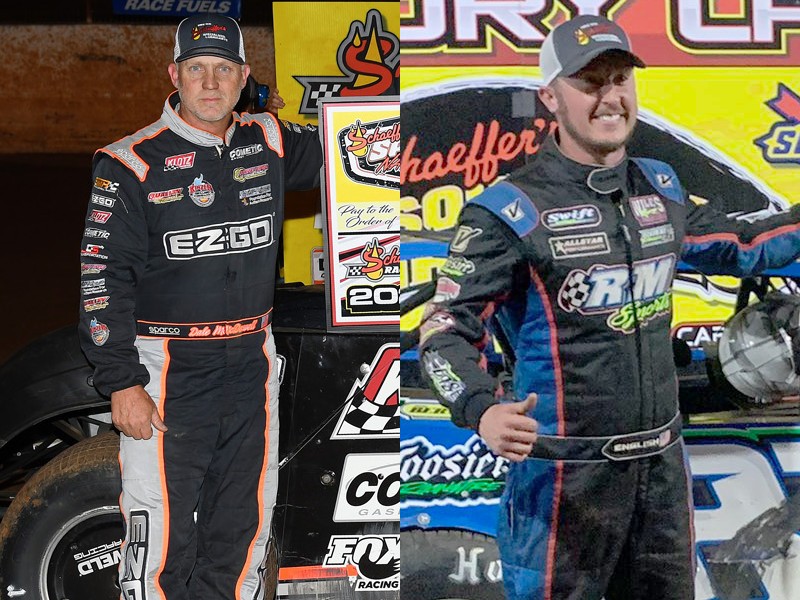 http://accesswdun.com/article/2021/5/1002670/mcdowell-english-top-tennessee-spring-nationals-action