You can say this about the NASCAR race weekend at Martinsville Speedway – it's been good for the flowers.
Saturday night's NASCAR Cup Series race has been postponed to Sunday afternoon at 4 pm after rain halted the event on lap 43.
The race had just gone under the caution due to a spin by James Davidson on lap 37. The field had hit pit road for the first pit stops of the night when the skies opened up for the second time on the evening.
It's the third straight night that racing action at the Virginia half-mile raceway has been affected by rain. The start of Thursday's NASCAR Whelen Modified Tour was delayed due to showers, while Friday night's NASCAR Xfinity Series race was stopped on lap 91 by rain. The latter will be completed on Sunday at noon.
As race time approached on Saturday, the rains began falling again at Martinsville, as a storm system stretching from Florida to Michigan dropped rain across the east cut across the area.
Just before 9:30 pm, the race finally went under the green flag. About 20 minutes later, the field sat silent on pit road under the red flag as the skies opened up again. NASCAR worked for just under an hour to try to keep the race track, but in the end the rains were just too much for the track crews, and the remainder of the race was postponed to Sunday.
Denny Hamlin took the early lead from pole sitter Joey Logano, and held the point when the race was halted. Logano was in second, with Ryan Blaney in third, defending race winner Martin Truex, Jr. in fourth and Dawsonville, Georgia's Chase Elliott in fifth.
William Byron, Brad Keselowski, Kyle Busch, Kevin Harvick, and Kyle Larson rounds out the top 10 under the red flag.
WDUN will have live MRN live MRN Radio coverage of the completion of the Blue-Emu Maximum Pain Relief 500 from Martinsville Speedway on Sunday beginning at 4 pm on 102.9 FM, AM 550 and streaming live on AccessWDUN.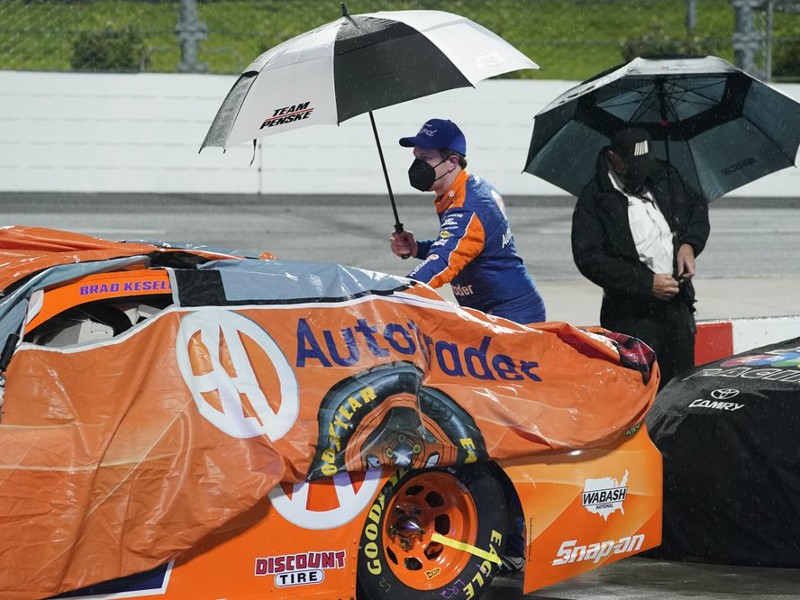 http://accesswdun.com/article/2021/4/996127/rain-postpones-nascar-cup-at-martinsville-to-sunday-afternoon