Chad Puckett picked up the Stock V8 feature win on Saturday night at Georgia's Hartwell Speedway.
The Statham, Georgia racer beat out Anthony Stephens for the victory on the 3/8-mile clay oval one night after winning up the road at Lavonia Speedway.
Jeremy Jones finished in third, with Mason Johnson in fourth and Zack Stewart in fifth.
In other action, Danny Sanders held off Lucas Ruark for the win in the Limited Late Model feature. Frankie Beard followed in third, with Tim Jones in fourth and Galen Robinson in fifth.
Cody Pritchett was the winner in the 602 Late Model feature, with Jimmy Ivester second, Chris Cape third, Mason Russell fourth and Dustin Mincey fifth.
Tye Nalley was flagged the winner in the Modified Street feature, only to lose the victory in post-race tech with a disqualification. That moved Michael Segars to the win, with Jason Burton, Johnny Pilgrim, Josh Tatum and Daniel Woods rounding out the top five.
Harley Holden took home top honors in the Stock 4 feature. J.J. Garrett finished in second, followed by Elliott Brayboy in third, Scott Hollars in fourth and Marcus Hughes in fifth.
Josh Thurmond crossed under the checkered flag first in the Open Wheel Modified feature, but saw the win go away when he was disqualified in post race tech. That gave David Dove the win, with Russell Baker and Chase Bair rounding out the podium.
Herbie Chinn was the winner in the Young Guns feature, with Justin Jacobs in second, Brandon Jones in third, Thomas Shaw in fourth and Noah Campbell in fifth.
Dillon Christian topped the Front Wheel Drive field to take the feature victory. North West finished in second, followed by Brandon Grimes in third, Matt Brown in fourth and Josh Whitfield in fifth.
Hartwell Speedway – Hartwell, GA
Race Results – April 3, 2021
Stock V8
1. Chad Puckett
2. Anthony Stephens
3. Jeremy Jones
4. Mason Johnson
5. Zack Stewart
6. Seth Brown
7. Terry Calhoun
8. Ricky Chamberlain
9. Wilton Bailey
10. Stacy Brooks
11. Chris Smith
12. Brandon Long
Limited Late Model
1. Danny Sanders
2. Lucas Ruark
3. Frankie Beard
4. Tim Jones
5. Galen Robinson
6. Adam Smith
602 Late Model
1. Cody Pritchett
2. Jimmy Ivester
3. Chris Cape
4. Mason Russell
5. Dustin Mincey
Modified Street
1. Michael Segars
2. Jason Burton
3. Johnny Pilgrim
4. Josh Tatum
5. Daniel Woods
6. Brett Sheidy
7. Mitchell Godfrey
DQ: Ty Nalley
Stock 4
1. Harley Holden
2. J.J. Garrett
3. Elliott Brayboy
4. Scott Hollars
5. Marcus Hughes
6. Benji Stewart
7. Bubba Nation
8. Shannon Ethridge
9. Geoff Holbrooks
10. Pete Whitley
11. Dustin Bales
12. Josh Epps
13. Jacob Rhome
14. Matt Maxwell
Open Wheel Modified
1. David Dove
2. Russell Baker
3. Chase Bair
DQ: Josh Thurmond
Young Guns
1. Herbie Chinn
2. Justin Jacobs
3. Brandon Jones
4. Thomas Shaw
5. Noah Campbell
6. Jacobi Marler
7. Noah Anglin
8. Koltin Bryant
FWD
1. Dillon Christian
2. North West
3. Brandon Grimes
4. Matt Brown
5. Josh Whitfield
6. Michael Davis
7. William Estop
8. Greg Gass
9. Matthew Barfile
10. Tony Grimes
11. Joel Hill
12. Josh Campbell
13. Dalton Taylor
14. Kevin Bryant
15. Stacy Foster
16. Bradley Tillman
17. Corey McGill
18. Wayne Glenn
19. Justin Sorrow
20. T.W. Shelton
21. Andrew Smith
22. Zack Cox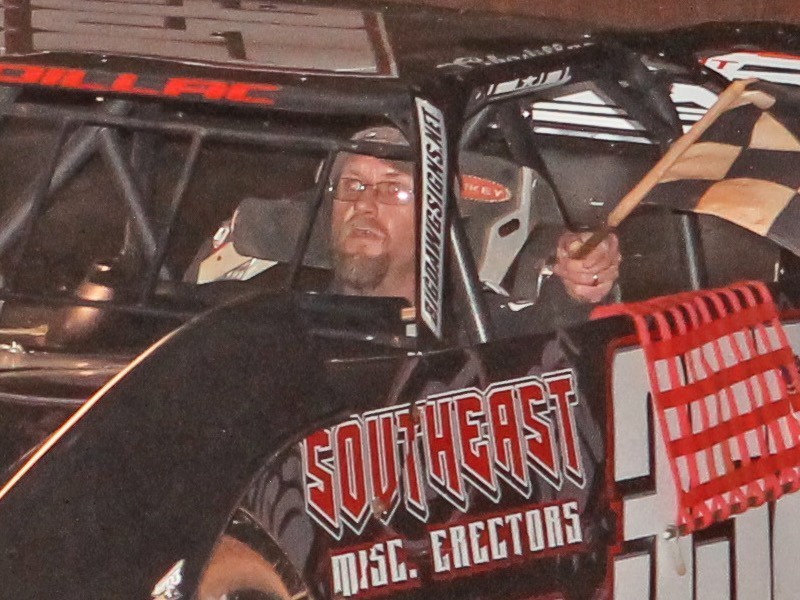 http://accesswdun.com/article/2021/4/995100/chad-puckett-tops-stock-v8-action-at-hartwell-speedway