Travis Rylee understands that a lot of people don't know what to expect when replacing a roof. That's where he comes in with his company Travis Rylee Roofing.
"When dealing with their insurance, people just don't know what they're doing because they don't do it every day," said Rylee. "It's something that's whether it's me or another contractor, you need to have someone out there who can advocate for you."
Rylee himself will come out to a client's home for a free roof inspection and, if the home is in need of roof repair, will meet with the insurance adjuster on the client's behalf.
"It's very, very important for me to meet the adjuster, so once we've called them and they schedule a time to come out, I will actually come back out to the house and meet the adjuster to make sure that they pay for the whole entire roof, not just a portion of it," said Rylee.
Rylee said that he has been working in the roofing industry for five years and built up a solid reputation even before striking out on his own two years ago.
"I built up a reputation of doing a good job for folks and being able to get the insurance company to pay for roofs and pay for all of it, not just a portion of it," he said.
Rylee said that there are several obvious signs of roof wear that homeowners can spot without ever having to get on top of their home. Some of these include the condition of the downspouts, maintenance of plumbing boots and granules.
According to Rylee, the latter is the most obvious to spot.
"The roof is made to shed water, but once those granules are gone and they're coming down your downspout, it looks like you have little pebbles all over your driveway or all over your yard," Rylee explained. "That means those granules have been damaged in some capacity and that roof is no longer shedding the water…and it's forming potholes in the roof, which makes water stand."
Rylee said that any of these signs mark a good time to call him. The easiest way to reach him is via his cellphone at 706-266-9386 or through a Facebook message.
Currently, Rylee and his wife are the only company employees. He said that he is considering hiring more people this year, but also enjoys running a small, family-owned business.
"I feel like when I go into someone's house, I'm getting to know them, [such as] what's their family like, how many kids do they have…so it's not like a client, I have a new friend and that's the way I want to run my business," said Rylee.
To learn more about Travis Rylee Roofing, click the video above.
Small Business Spotlight is a periodic feature highlighting unique small businesses in AccessWDUN's 10-county coverage area. Have a business that you would like to see featured? Email the author at [email protected]!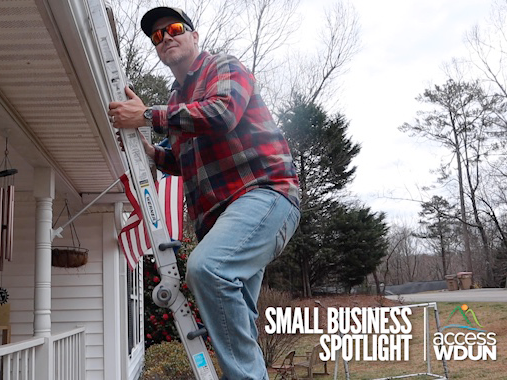 http://accesswdun.com/article/2021/3/991058/small-business-spotlight-travis-riley-roofing