MACON — Kolby Moss could not contain his smile, no matter how hard he tried.
And why not. The senior Towns County guard was instrumental in helping secure the Indians' first-ever state title.
Towns County knocked off defending champ Hancock Central 64-60 on Saturday in the Class A-Public state championship game at the Macon Coliseum.
"It started as a dream and we made it happen," Moss said during a jubilant team celebration afterwards. "It feels great. It sounds great. I felt we could win it going in."
Moss, who poured in 14 points and pulled down 14 rebounds before fouling out late in the game, and the rest of the Indians certainly had been showing they were ready to be prime-time players after winning two consecutive hostile road games to get into the title game. But most of the rest of the state probably had their doubts.
Towns County boys coach Rob Benson said it before and he said it again Saturday afternoon.
"I had a feeling that this team could win it all, especially as we kept advancing," Benson said. "We lost some close games early in the season to some really good teams and I think that was the first time I started to think this may be possible. They just kept getting better and better.
"We had a good game plan coming in (against Hancock Central) and the guys did a good job of executing for the most part."
The plan was a simple one for the Indians. Pound the ball inside to 6-foot-8 junior center Jake McTaggart and use a newly-discovered zone to make the Bulldogs beat them from 3-point range.
They pulled off both with near-perfection.
The Indians hammered the Bulldogs inside with 44 points in the paint, led by McTaggart's 22 points and 12 rebounds. They added 18 second-chance points off 10 offensive rebounds.
Almost on cue, and right from the start, Hancock Central tried to shoot over the Indians zone, eventually launching 40 3-pointers for the game. The Bulldogs never really found their groove, however, going 2-for-20 in the first half, missing all 11 in the second quarter as Towns County built a 31-24 halftime lead.
Hancock Central's best run came in the third quarter when they hit three consecutive treys, two by Leroy Wilson and one by Jamal Taylor, to cut a 39-30 Towns lead to 42-40. But Towns County answered with a 7-0 run into the fourth, capped by a pair of driving baskets from Kyle Oakes.
Towns County never led by more than nine in the fourth quarter but the Bulldogs never got closer than three, at 60-57 with 1:46 left. Almost appropriately, Hancock Central missed three desperation 3-pointers in the final 20 seconds as the Indians' defense did not allow them any clean looks.
"I had no idea (Hancock) shot that many (3-pointers)," Benson said. "But we felt our zone, and we didn't play it much during the season, would be able to give them trouble. Again, the kids did a great job of executing what we wanted to do."
Hancock Central had no real answer inside for McTaggart and was not able to stop the Indians driving attacks to the basket either. Collin Crowder had 12 points on several driving and stick back baskets. The Indians shot just seven 3-pointers for the game.
"Our goal was to go inside and we were able to do that," McTaggart said. "I also thought our offensive rebounding was a huge key for us. I felt coming in we could win this. It just feels great right now."
Hancock Central was paced by Wilson and Marquavious Lawrence with 18 points each. Wilson hit three of the Bulldogs' nine treys but was just 3-of-13 overall.
The final score may turn some heads around the state. But not for Moss.
"We knew they would come out shooting and that it would be a tough game," Moss said. "It was. But we also felt coming in that we could win this."
His dream, and the Indians' dream, became a reality.
"Now that we're here, it does sound great to be called champions," Benson said as he joined his group for one final impromptu photo session.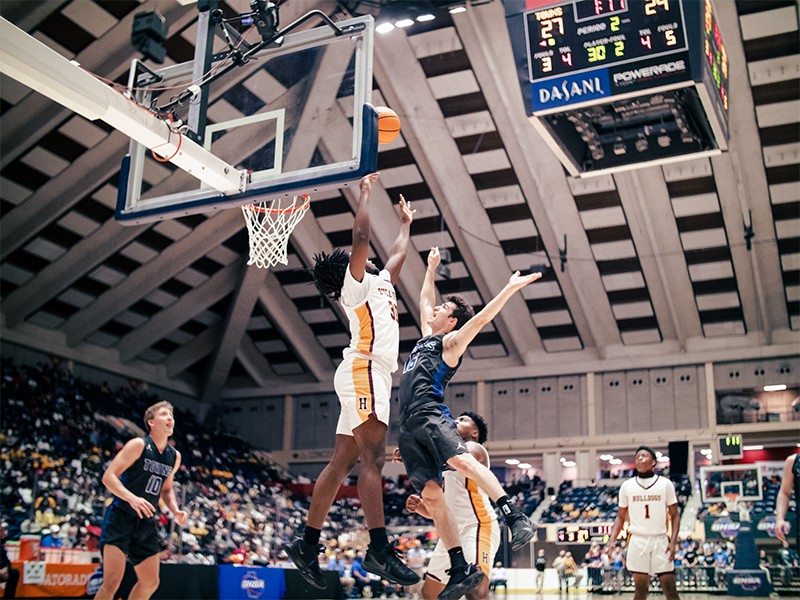 http://accesswdun.com/article/2021/3/987357/state-champs-towns-county-knocks-off-defending-champs-to-capture-first-ever-title