FLOWERY BRANCH — To tell the whole story would take more words than anyone has time to type.
So, here's the short story. The Flowery Branch girls are back.
The Lady Falcons have battled more than their fair share of problems. The days of COVID-19 quarantines and injuries had everyone thinking the perennial deep-run state tournament team was on the brink of failure.
But they've powered through all the adversity to find themselves in the Region 8-4A tournament. The Lady Falcons walked all over No. 2 seed North Oconee, 54-34, in the semifinals at home on Thursday.
"I'm extremely proud of them," Head Coach Courtney Newton-Gonzalez said. "They are playing well right now, and that's what it's all about. They have been through a lot but have continued to fight and are now in a region championship."
Ashlee Locke led the Lady Falcons (12-13 Region 8-4A No. 3 seed) with a double-double performance, scoring 15 points and 12 rebounds. Bella Brick, however, was the scoring leader with 16 points, and Shaina Kriews netted 13 in the winning effort.
The Branch held the Lady Titans (14-9 Region 8-4A No. 2 seed) to just 11 first-half points while surging ahead 31-11 by halftime. Locke scored 10 of her 15 points in the opening half, eight of which came in the first quarter.
The first half dominance helped set the cruise control in the second half and maintain the 20-point distance.
Flowery Branch will play No. 4-ranked Jefferson in the region championship on Saturday at Flowery Branch. Game time is set for 5 p.m. and can be heard live on AM 550 WDUN. The Lady Falcons split with Jefferson in the regular season, losing the first game 62-50 and winning the final meeting, 46-40.
"At the end of the day, you have to play well during this time of year to get in the state playoffs and region championship games," Newton-Gonzalez said, "and that's what they have stayed focused on."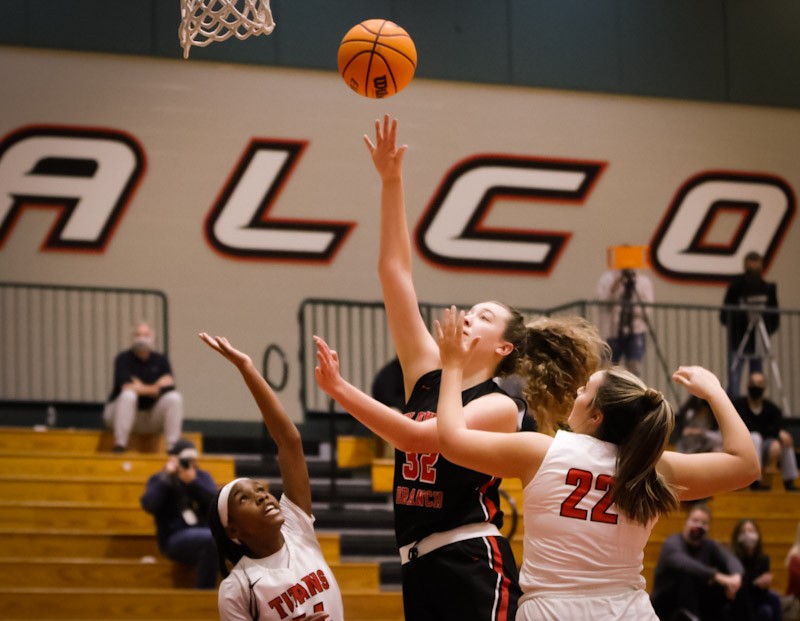 http://accesswdun.com/article/2021/2/981125/girls-basketball-flowery-branch-storms-into-regioon-8-4a-finals