GAINESVILLE — In all the hoopla that is the annual Lanierland Tournament, North Hall girls coach Kristi House almost walked away from a huge milestone in her career.
"I didn't understand why we weren't leaving the court," House said after her Lady Trojans knocked off No. 1 seed Gainesville 51-44 on Wednesday night in the semifinals at the Gainesville gym.
The win gave House a berth in Thursday's finals and also was her 200th career win at North Hall.
"With trying to get prepared and the holidays, I forgot about it," House admitted. "It's a great accomplishment, but really I've been blessed with having a lot of great players over the years. It's really more a statement of the environment that the girls themselves have created in the program."
The game itself was a typical North Hall-Gainesville affair. Their previous two meetings in Lanierland ended in an overtime win for the Lady Trojans, and a Gainesville win in the final seconds. This was nearly the same.
Gainesville (7-6) led 4-0 early, but North Hall (8-5) stormed back with a 6-0 run. The Lady Red Elephants answered with an 8-2 run behind Caloni Young only to see the Lady Trojans respond back with a 5-0 spurt to close out the first quarter with a 13-12 lead.
The Lady Red Elephants looked ready to take control opening the second quarter with an 11-0 run, highlighted by 7 points from Keidra Young, for a 23-13 advantage. But North Hall answered back, again.
Rylee McCall caught fire scoring 7 points over the final three minutes of the half, including a long 3-pointer with 3 seconds left, to pull North Hall back within 27-26 by halftime.
In the third quarter, the Lady Red Elephants led 33-28 following a Keke Jones 3-pointer. But North Hall held Gainesville scoreless over the final 4 minutes and used a 10-0 run to take a 38-33 lead heading into the fourth quarter. The Lady Trojans would not trail again.
North Hall opened up a 42-34 lead on a Rylee Thompson shot, but Keidra Young single-handedly got the Lady Red Elephants back in it. Young scored 7 consecutive points to pull Gainesville within 42-41 with 3:27 left.
North Hall would survive a frenetic final two minutes as Kristina Peach scored 7 straight points for the Lady Trojans, including a 3-pointer that hit every part of the rim before falling through to give them just enough cushion to hold on.
"(Kristina) willed that shot in. That was huge for us," House said.
Now, North Hall will take on an upstart Lakeview Academy squad that has pulled two upsets in the first two rounds in the finals on its home floor. It'll be a rematch of the 2019 Lanierland title game. North Hall won that game 66-58.
"We like playing at home, but Lakeview is really playing with a lot of confidence right now," House said. "But the key for us will just be playing hard on defense and just doing what we do."
McCall finished with 11 points and Peach had 10 -- all in the second half -- to pace North Hall. Thompson and Amelia Shoemaker each had 7 for the Lady Trojans.
Keidra Young poured in a game-high 19 to lead Gainesville. Jones finished with 13 points for the Lady Red Elephants.
---
LAKEVIEW ACADEMY 50,
FLOWERY BRANCH 36
"Just crazy!"
That was about all that acting Lakeview Academy girls coach Karen Towles could muster in trying to explain how the seventh-seeded Lady Lions pulled off their second upset in two days on Wednesday in the semifinals of the 62nd annual Lanierland Tournament.
Lakeview never trailed in its stunning win over the Lady Falcons at the Gainesville gym. A 22-5 first-quarter explosion set the tone for one of the biggest upsets in recent tournament memory.
"I think that big run early was a huge confidence booster for the girls," said Towles, who is standing for a sick head coach John Carrick.
"The girls are playing with a 'nothing-to-lose' attitude right now. Just unbelievable."
Lakeview (3-7) came into the 2021 event riding a seven-game losing streak and averaging just 42 points/game. They have averaged 54 ppg so far in Lanierland as freshman Dynesty Putnam (10 points against Branch) is having a breakout tournament to compliment senior Joelle Snyder (22 points) who came in leading Hall County in scoring.
Putnam opened the game with a driving layup, and Branch answered with an Alana Veiga free throw to make it 2-1 in the first two minutes. That was as close as the Lady Falcons (6-7) would get.
Putnam and Snyder broke down the Branch defense for a combined 22 points in the opening period. Meanwhile, the Lady Falcons offense struggled mightily hitting just 2-of-13 shots and committing four turnovers.
It didn't get any better for Branch as the Lady Lions opened the second quarter with a 6-2 run for a 28-7 lead. Lakeview eventually took a 32-12 lead into halftime and led by as many as 24 points in the fourth quarter.
Branch made it closer closing out the game on a 10-0 run.
Now, Towles and her improbable band will get ready for another stern test against North Hall. The finals will be on Thursday at North Hall.
"We're a young team without a lot of experience. But these girls are starting to figure things out," Towles said. "No matter who we play, we know it's going to be even tougher in the finals. We know we're the underdog. But I feel like these girls have another (upset) in them."
Ashley Henderson finished with 10 points and 11 rebounds for Lakeview.
Shaina Kriews led Branch with 17 points. Veiga had 12 points for the Lady Falcons.
---
CHEROKEE BLUFF 54,
JOHNSON 17
The Lady Bears had 10 different players score in advancing to the fifth-place game on Wednesday.
Johnson got off to a hot start with two quick baskets but Cherokee Bluff (6-7) closed out the opening period with a 16-3 run and then turned up the defense.
The Lady Knights (2-9) were held to just 10 points over the final three quarters. Bluff took a 27-11 lead into the intermission and led 39-13 heading into the fourth quarter.
Timber Gaither paced the Lady Bears with 16 points. Taliah Gaither had 9 points for Bluff.
Sarah Johnson led Johnson with 5 points.
Cherokee Bluff will take on East Hall in the fifth-place game on Thursday at North Hall. Johnson will take on Chestatee in the seventh-place game on Thursday.
---
EAST HALL 56,
CHESTATEE 47
The Lady Vikings (8-5) rallied from an early deficit to advance to the fifth-place game on Wednesday. They will take on Cherokee Bluff on Thursday at noon at North Hall.
Chestatee (8-5) led 16-9 after the first quarter and took a slim 30-28 lead into halftime. East Hall turned up the defense in the second half.
The Lady Vikings outscored the Lady War Eagles 17-9 in the third quarter to grab a 45-39 advantage and held Chestatee to just 8 points in the final period to pull away.
Freshman Amari Burce poured in 17 points, including four 3-pointers, to pace East Hall. Senior Audrey Griffin had 15 points and senior Alexis Burce 12 points for the Lady Vikings.
Riley Allison led Chestatee with 16 points, including four 3-pointers. Riley Black added 12 points and Addison Boyd and Caroline Bull each chipped in with 6 points for the Lady War Eagles.
Chestatee will play Johnson in the seventh-place game at 9 a.m. at North Hall on Thursday.
---
LANIERLAND TOURNAMENT, Dec. 29
(at Gainesville High School)
(Girls scores)
East Hall 56, Chestatee 47 (consolation bracket)
Cherokee Bluff 54, Johnson 17 (consolation bracket)
Lakeview Academy 50, Flowery Branch 36 (semifinals)
North Hall 51, Gainesville 44 (semifinals)
LANIERLAND TOURNAMENT, Dec. 30
(at North Hall High School)
(Girls bracket)
7th place game: Chestatee vs. Johnson, 9 a.m.
5th place game: East Hall vs. Cherokee Bluff, noon
3rd place game: Flowery Branch vs. Gainesville, 3 p.m.
Championship game: Lakeview Academy vs. North Hall, 6 p.m.
LANIERLAND TOURNAMENT, Dec. 28
(Girls 1st round scores)
North Hall 42, Cherokee Bluff 37
Flowery Branch 49, Chestatee 44
Lakeview Academy 58, East Hall 52
Gainesville 55, Johnson 30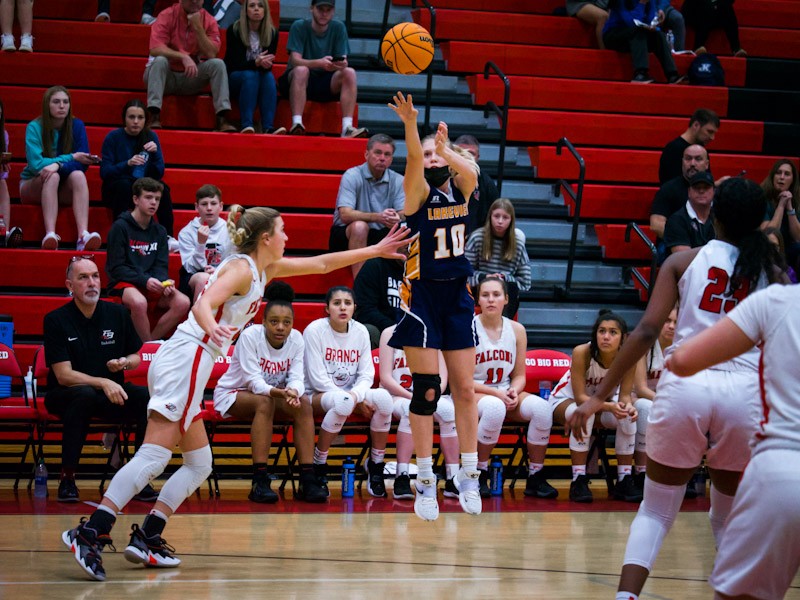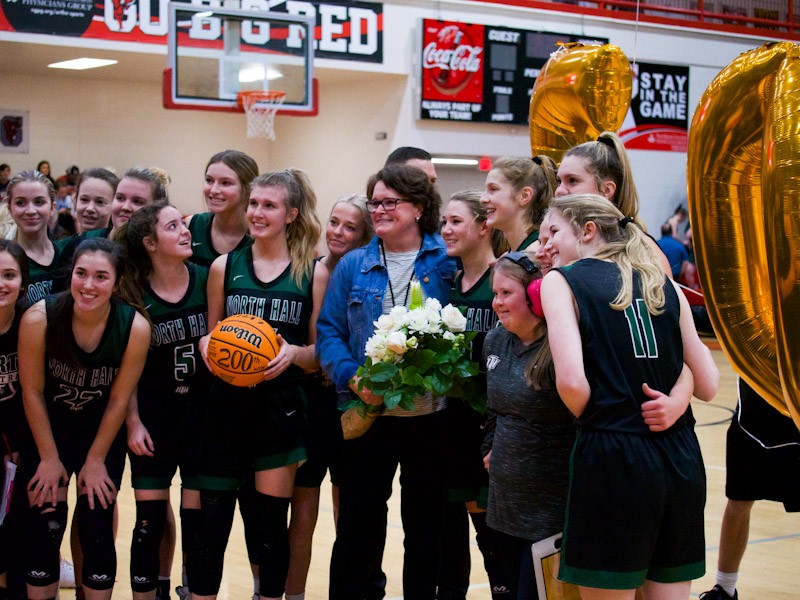 http://accesswdun.com/article/2021/12/1066103/lanierland-girls-semifinals-day-2