TIGER — Class 2A has proven to be one of the more powerhouse classifications so far in the 2021 Georgia High School Association playoffs.
Five region champs, three No. 2 seeds, and seven of the eight teams left in Elite 8 finished the regular season ranked in the top 10, navigated their way to Friday's quarterfinals. Three of four semfinalists from 2020 -- Rabun County, Callway, Fitzgerald -- are still alive.
Three of the four quarterfinal matchups involve a pair of ranked teams. One has the top two teams -- No. 1 Rabun County and No. 2 Thomasville -- meeting in Leesburg.
Kickoff around the state in all four games is scheduled for 7:30 p.m.
---
CLASS 2A
This is still a powerhouse classification where 7 of the top 10 ranked teams and five region champs moved through. Defending champion Callaway is still alive though was a No. 2 seed entering the playoffs. ... The 8 teams left averaged 10.3 wins to this point with 6 10-game winners, 3 that have 11 wins, and one team, Putnam County, that is a perfect 12-0. ... Three of the four matchups in the Elite 8 involve ranked teams matchups, including No. 1 Rabun County traveling to No. 2 Thomasville. ... No. 8 Northeast, out of Macon, is into the quarterfinals for the first time in its history. The Raiders, however, match up with No. 10 Swainsboro, a team they have never beaten (0-3). ... No. 4 Fitzgerald was state runner-up in 2020 and is a playoff stalwart with now 11 trips to the quarterfinals in 14 years. No. 5 Putnam County is having its best season in a quarter-century. The War Eagles made it out of the first round this season for the first time since 1996 and are in the Elite 8 round for the first time since 1994. ... No. 7 Callaway, the defending state champion, is one of three No. 2 seeds and is making its 6th-straight Elite 8 appearance. South Atlanta, the only non-ranked team to make it to the quarterfinals, is making its first-ever trip to the Elite 8 and already owns a school-record 11 wins.
---
RABUN COUNTY at THOMASVILLE
-- WHEN: 7:30 p.m.
-- WHERE: Veterans Memorial Stadium, Thomasville
-- RABUN COUNTY (11-1, Region 8, Seed 1): Defeated Jeff Davis 56-7 in the second round
-- THOMASVILLE (11-1, Region 1, Seed 1): Defeated Heard County 42-16 in the second round
-- NOTABLE: Thomasville leads series 1-0. The Bulldogs won 38-24 in 2019 in the quarterfinals in Thomasville. ... Rabun is into the Elite 8 round for the 7th consecutive season. This is the 5th time they will have been on the road in the quarterfinal round. They are 1-3 in Elite 8 road games in that span, including losing to the Bulldogs two years ago. ... Thomasville is into the Elite 8 for the 3rd consecutive season. ... The key matchup will be if the Bulldogs defense, which is allowing 14.2 ppg can slow down the state's No. 1 offense (608, 50.6 ppg). The Yellow Jackets last week had given up just 54 total points before they were blitzed for 56 by Rabun County. ... Thomasville is averaging 30.8 ppg on offense while the Rabun defense is giving up just 12.3 ppg on the season. ... Georgia-commit and Sr. QB Gunner Stockton accounted for 468 yards passing and all 7 TDs last week for the Wildcats. The state's leading receiver, Jaden Gibson, had 8 catches for 233 yards and 4 TDs, including three catches for 49 yards or more. ... Stockton, who has 13,492 yards passing, is now just 411 yards shy of Trevor Lawrence's state record of 13,902. Stockton has 53 TD passes this season. ... Despite being middle of the pack on defense, the Bulldogs have 48 sacks on the season with 13 INTs. Stockton has thrown just 1 INT all season. Sr. DB Jimmy Bowdry has 5 INTs and 16 PBUs for Thomasville. ... Special teams could be a key area. Thomasville has blocked 6 punts on the season.
---
QUARTERFINAL ROUND PLAYOFFS FOR Nov. 26
(Games listed by date and classification, highest to smallest)
(Games listed by visiting team in alphabetical order)
(All kickoffs at 7:30 p.m. unless otherwise noted)
FRIDAY, Nov. 26
CLASS 6A
Buford (Region 8, Seed 1) at Lee County (Region 1, Seed 1)
CLASS 2A
Rabun County (R8, S1) at Thomasville (R1, S1)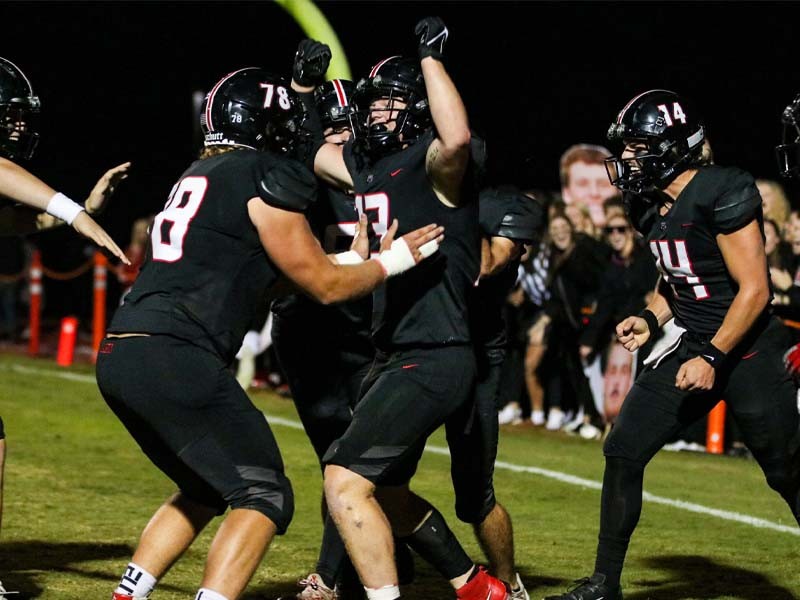 http://accesswdun.com/article/2021/11/1058252/football-playoffs-no-1-rabun-no-2-thomasville-set-for-titanic-elite-8-showdown