LAKE BURTON – When the Georgia Department of Natural Resource's trout hatchery in the back of Moccasin Creek on Lake Burton turned eighty, it was evident that the facility was in need of a face lift.
Crumbling hatchery raceway walls, the inability to regulate the temperature in the area where trout food was stored, and vulnerability to drought situations led to a two-year closure of the facility constructed in 1938 and a complete renovation of the complex along State Route 197 in Rabun County.
The Burton Trout Hatchery is one of three state operated trout hatcheries which combine to produce over 1-million trout each year. The other two hatcheries are in Summerville and Buford, just below Buford Dam. There is also a federal trout hatchery in Suches, known as the Chattahoochee Forest National Fish Hatchery, and it is operated by the U.S. Fish and Wildlife Service.
According to a release from the Georgia DNR renovations to the existing campus include a new trout production building, office building, residence, warehouse, and a climate-controlled feed storage building, an oxygen injection system, new dam/water intake and repaving the parking area and boat ramp.
According to the DNR new technology was incorporated into the design allowing nearly 100 percent of the water flowing from the circular tanks to be cleaned and reused in downstream raceways, further enhancing Burton's new drought-resistant operating system.
John Lee Thomson manages the Lake Burton hatchery and is also the Trout Stocking Coordinator for the State of Georgia. He said spawning materials from the male and female brood parents are acquired and processed offsite, but the fertilized eggs are sent to his facility to allow them to hatch and grow to a sustainable size before being released into area streams and lakes.
"The U.S. Fish and Wildlife Service supply us with all of our rainbow trout; we get our brown trout from the South Carolina Department of Natural Resources. And this year we're also going to – because of the renovation – we're going to try some brook trout," Thomson explained.
Thomson said the trout are released when they reach ten to twelve inches in length. "It takes two years to grow a trout so the new eggs that arrive now will be stocked in 2023."
"There are probably about 100 different water bodies that we stock in Georgia and it's got to be where the public can access them," Thomson said. "We try to put these fish out where folks can get to them to catch them."
"We have seven trucks in our trout stocking fleet that are specially designed to haul trout. Each truck can haul about 2000-3000 catchable trout," he said, adding that most of the stocking activity is when water conditions are optimal, usually in the early spring.
Funding for Georgia's trout hatcheries comes from federal Sport Fish Restoration Fund grant monies (which is based on the number of fishing licenses sold in the state), from the sale of trout license plates, taxes imposed on fishing equipment and boat fuel, and various bond funds.
Visitors are welcome at the hatchery which is open during normal business hours and guided tours for larger groups are available by appointment.
For more information about the Lake Burton trout hatchery, click here.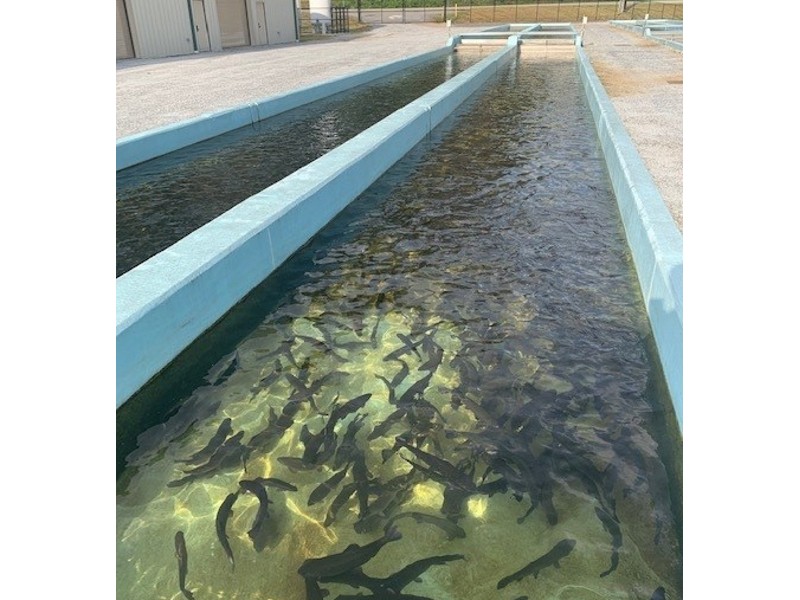 http://accesswdun.com/article/2021/11/1057333/renovated-lake-burton-hatchery-anxious-to-get-back-to-growing-trout