Ronnie Johnson added to his 2021 win total on Saturday night at Boyd's Speedway in Ringgold, Georgia.
The Chattanooga, Tennessee native started from the pole, and outdistanced Jordan Rodabaugh en route to the Late Model victory at the 3/8-mile clay raceway, situated on the Georgia-Tennessee state line.
It marks the third win in five starts for Johnson since July 29, and came on the track's inaugural Breast Cancer Memorial "Pretty in Pink" race weekend.
Rodabaugh finished in second, with John Ownbey in third, Tod Hernandez in fourth, and Canon Cochran in fifth.
Josh Walker, Brad Lowe, Danny Turner, Shannon Elrod and Carden Cochran rounded out the top 10.
In other action, Booger Brooks doubled up on the night with wins in both the 604 Crate and 602 Sportsman features.
In the 604 Crate feature, Brooks beat out Jesse Lowe for the win, with Cameron Weaver in third, Chip Brindle in fourth and Jimmy Elliott in fifth.
In the Sportsman feature, Brooks led Jake Green under the checkered flag for the victory. Dylan Perry followed in third, with Matt Steward in fourth and Derek Franks in fifth.
Dylan Johnson topped the B-Hobby field to take the feature win over Jim Gilbert in second, Logan Exum in third, Michael Brooks in fourth, and Brandon Francis in fifth.
Nick Hoffman recorded the victory in the Open Wheel Modifieds feature. Ricky Arms finished second, followed by Cole Falloway third, Brandon Kinzer fourth and former NASCAR driver Kenny Wallace in fifth.
Koty Campbell scored the victory in the Pony feature, with Bruce Kimber, Josh McKee, Dustin Stephens, and Michael Fitzgerald rounding out the top five.
Dustin Duncan was the winner in the Front Wheel Drive feature, with Billy Bailey in second, Jacob Sharp in third, Nathan Adams in fourth, and Jayce Swint in fifth.
Jack Gresham took home the win in the Enduro feature. Braxton Coffman finished second, with Travis Banther third, Corey Vickers fourth, and Alex Vance fifth.
Boyd's Speedway returns to action on Friday, October 29. For more information, visit BoydsSpeedway.com.
Boyd's Speedway – Ringgold, GA
Race Results – October 9, 2021
Late Models
1. 5-Ronnie Johnson
2. 66-Jordan Rodabaugh
3. J0-John Ownbey
4. T6-Tod Hernandez
5. 33C-Canon Cochran
6. 2-Josh Walker
7. 16-Brad Lowe
8. 38-Danny Turner
9. 99-Shannon Elrod
10. 3C-Carden Cochran
11. P1-Andy Pickelsimer
12. H31-Robby Mason
13. 31-Bobby Giffin
B-Hobby
1. 01-Dylan Johnson
2. 19-Jim Gilbert
3. 32-Logan Exum
4. 48-Michael Brooks
5. 8-Brandon Francis
6. 75-Joey Walker
604 Crate
1. 85-Booger Brooks
2. P4-Jesse Lowe
3. 16-Cameron Weaver
4. 17B-Chip Brindle
5. J39-Jimmy Elliott
6. 00C-A.J. Carlisi
7. 15-Matt Shannon
8. 17H-Steven Holcolmb
9. 1-Mitchell Stanley
10. 38-Kenny Hall
11. 5-Josh Walker
12. 5R-Lucas Ruark
13. 33-Michael Evans
14. 44R-Taylor Ruth
15. R4-Ricky Arms
16. 31H-Clayton Cooper
DNS: 44-Colby Kilgore
602 Sportsman
1. 148-Booger Brooks
2. 41-Jake Green
3. P7-Dylan Perry
4. M7-Matt Steward
5. 4-Derek Franks
6. 05-Carson Ruark
7. 25-David Singelton
8. 9P-Dillion Peterman
9. 07B-Baily Cardwell
10. 2-Dustin Bunch
11. 83-Chad Miller
12. 87Z-Zane Littleton
13. 35-Alan McMichen
14. 11-Jeffry Viar, Jr.
15. BR549-Cody Moffett
DNS: 9-Cass Fowler
DNS: 2S-Jody Shaw
DNS: T21-Sawyer Tinker
Open Wheel Modifieds
1. 2-Nick Hoffman
2. 4R-Ricky Arms
3. 66-Cole Falloway
4. 18-Brandon Kinzer
5. 36-Kenny Wallace
6. 155-Peyton Harlow
7. 21C-Taylor Cook
8. 13-Charlie Mefford
9. 67-Garret Stewart
10. 1H-Ben Harmon
11. 7-Seth Geary
12. 9-Kenny Shrader
13. 50-Amos Bunch
14. 26-Adam Ogle
15. 4-Wayne James
16. 14-Skylar Douglas
17. 5X-Joe Freels
18. 102-Kyle Shadden
19. 72-Ricky Tinch
20. 56A-Michael Asberry
21. J2-Larry James
22. 56-Chris Wilson
23. 4D-David Lester
24. 11-Reece Ogle
25. 77-Robby Reagan
Pony
1. 1-Koty Campbell
2. 9-Bruce Kimber
3. J17-Josh Mckee
4. 12-Dustin Stephens
5. 14-Michael Fitzgerald
6. CP11-Caylee Payne
7. 18-Brad Gladden
8. 51-Dan Duggan
9. 24-Matthew Roberson
10. 0G-Brian Smith
11. 49T-Shaun Tenpenny
DNS: 77-Mike Rittenberry
FWD
1. 21-Dustin Duncan
2. S6-Billy Bailey
3. 1-Jacob Sharp
4. A93-Nathan Adams
5. J38-Jayce Swint
6. 21B-Dusty Branstetter
7. S7-Josh Scealf
8. 21S-Austin Schiller
9. 6-Jack Gresham
10. S13-Joe Scealf
11. 72X-Shannon Segler
12. 10-Jay Dunaway
13. 77-Waid Bishop
14. K19-Samuel King
15. 15-Ronnie Stewart
16. 72X3-Jerry McCrary
17. 13-Greg Jolley
18. 934-Rick Kilburn
19. B19-Nick Adams
20. 78-Josh Childers
21. 46-Cody Rector
22. 47-Lilly Qualls
23. 20-Savanna Merriman
24. P15-Larry Patterson
DQ: 1A-Roger Adkins II
Enduro
1. 6-Jack Gresham
2. 30-Braxton Coffman
3. 21-Travis Banther
4. 7-Corey Vickers
5. 95-Alex Vance
6. 20-Josh Lemely
7. 17-Tyler Levy
8. 7B-Scott Boe
9. 27-Steve Eddington
10. 16OZ-Marshal Tompkins
11. 59X-Ken Norton
12. 911-Austin Breedlove
13. 22-Johnathan Allen
14. J6-Josh Campbell
15. 3-Joseph Collins
16. 31-Bill Levy
17. 71-Billy Hogan
18. 4T-Josh Cook
19. 18-Michael Jenkins
20. 01-David Stonebrooke
21. 731B-Steve Brubaker
22. 83X-BIlly Smith, Jr.
23. G7-Jason Cook
24. 731-Tyler Walton
25. 51C-Chase Thurman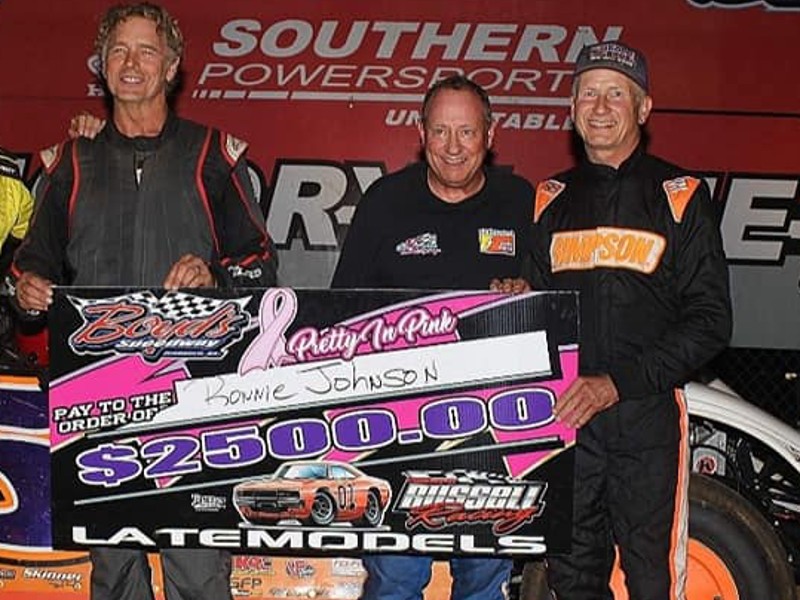 http://accesswdun.com/article/2021/10/1046528/johnson-takes-boyds-cancer-memorial-late-model-win