Jonathan Davenport made it a home state sweep in Lucas Oil Late Model Dirt Series action over the weekend.
The Blairsville, Georgia speedster scored the win on Saturday night at Dixie Speedway in Woodstock, Georgia, and then followed that up with a victory at Georgia's Rome Speedway on Sunday night.
On Saturday, Davenport led all 50 laps at the 3/8-mile clay Dixie Speedway en route to his seventh series win of 2021.
Brandon Overton of Evans, Georgia finished in second followed by Chris Madden in third, Tim McCreadie in fourth, and Earl Pearson, Jr. in fifth.
Davenport took the lead at the start of the race and was never seriously threatened.
"This one is for Jason Durham. He is a huge part of this deal, we definitely miss him," said Davenport, who scored his 57th career series win. "We worked at my house this week on the car and it's the first time I have had a race car at my house or my shop. It's kind of cool to come out here and set fast time, win my heat and the feature at a place I have never won at before.
"I have wanted to win here for so long; to be honest when me and my dad were racing, we were almost scared to come here to race because the competition was so good. It's so hard to win here so we just stayed up in the North Georgia mountains and into Tennessee. This place is tough. I have come close here several times, but I have never had a race car like I had tonight here."
Davenport completed his Georgia sweep on Sunday at Rome Speedway.
Davenport took the lead from Jimmy Owens on lap 28 at the half-mile raceway after Owens had led the first 27 circuits of the 40-lap feature. Davenport then pulled away for the win, the second night in a row he bested Brandon Overton for the win, this time by 1.731 seconds.
Tim McCreadie finished in third followed by Kyle Bronson, and Ricky Thornton, Jr.
"Jimmy's car was really good at first there, said Davenport after his 58th career series win. "I was trying to figure out a line getting into turn three, but I never could figure that out until later.
"He's so good, I had to mess up his rhythm and that was the only way I was going to pass him if it wasn't in lapped traffic. I tried to stay patient at the first and not try and run the top so early and maybe get a flat. I just hoped I cleared him getting into one. I race with him with the utmost respect. I love racing with him, he's never done me wrong."
For more information on the Lucas Oil Late Model Dirt Series, visit LucasDirt.com.
Lucas Oil Late Model Dirt Series
Dixie Speedway – Woodstock, GA
Dixie Shootout – October 9, 2021
| | | | | | |
| --- | --- | --- | --- | --- | --- |
| Pos | Start | Car # | Competitor | Hometown | Pay |
| 1 | 1 | 49 | Jonathan Davenport | Blairsville, GA | $15,800 |
| 2 | 3 | 76 | Brandon Overton | Evans, GA | $6,500 |
| 3 | 4 | 44 | Chris Madden | Gray Court, SC | $3,500 |
| 4 | 2 | 39 | Tim McCreadie | Watertown, NY | $3,800 |
| 5 | 8 | 46 | Earl Pearson, Jr | Jacksonville, FL | $3,300 |
| 6 | 19 | 18X | Michael Page | Winston, GA | $2,400 |
| 7 | 6 | 71 | Hudson O'Neal | Martinsville, IN | $3,000 |
| 8 | 10 | 40B | Kyle Bronson | Brandon, FL | $2,900 |
| 9 | 14 | 14 | Josh Richards | Shinnston, WV | $2,900 |
| 10 | 18 | 20 | Jimmy Owens | Newport, TN | $3,000 |
| 11 | 12 | 16H | Austin Horton | Whitesburg, GA | $1,600 |
| 12 | 9 | 1T | Tyler Erb | New Waverly, TX | $2,100 |
| 13 | 13 | 10J | Joseph Joiner | Milton, FL | $1,300 |
| 14 | 17 | 15H | Christian Hanger | Winchester, TN | $1,200 |
| 15 | 5 | 2S | Stormy Scott | Las Cruces, NM | $1,750 |
| 16 | 20 | 25 | Shane Clanton | Zebulon, GA | $1,700 |
| 17 | 16 | 31 | Tyler Millwood | Kingston, GA | $1,000 |
| 18 | 11 | 11H | Spencer Hughes | Meridian, MS | $1,700 |
| 19 | 15 | 20RT | Ricky Thornton, Jr. | Adel, IA | $1,700 |
| 20 | 21 | 66C | Matt Cosner | Ridgeley, WV | $1,000 |
| 21 | 23 | 33X | Cody Overton | Evans, GA | $1,000 |
| 22 | 22 | 42K | Cla Knight | North Augusta, SC | $1,000 |
| 23 | 24 | 8P | David Payne | Murphy, NC | $1,000 |
| 24 | 7 | 0 | Scott Bloomquist | Mooresburg, TN | $1,000 |
Lucas Oil Late Model Dirt Series
Rome Speedway – Rome, GA
Rome Showdown – October 10, 2021
| | | | | | |
| --- | --- | --- | --- | --- | --- |
| Pos | Start | Car # | Competitor | Hometown | Pay |
| 1 | 2 | 49 | Jonathan Davenport | Blairsville, GA | $10,800 |
| 2 | 6 | 76 | Brandon Overton | Evans, GA | $5,500 |
| 3 | 3 | 39 | Tim McCreadie | Watertown, NY | $4,300 |
| 4 | 9 | 40B | Kyle Bronson | Brandon, FL | $3,400 |
| 5 | 11 | 20RT | Ricky Thornton, Jr. | Adel, IA | $3,200 |
| 6 | 17 | 16H | Austin Horton | Whitesburg, GA | $2,300 |
| 7 | 1 | 20 | Jimmy Owens | Newport, TN | $3,200 |
| 8 | 5 | 14 | Josh Richards | Shinnston, WV | $2,900 |
| 9 | 12 | 31 | Tyler Millwood | Kingston, GA | $2,050 |
| 10 | 10 | 46 | Earl Pearson, Jr. | Jacksonville, FL | $2,800 |
| 11 | 21 | 9C | Jason Croft | Woodstock, GA | $1,600 |
| 12 | 15 | 10J | Joseph Joiner | Milton, FL | $1,400 |
| 13 | 14 | 7M | Donald McIntosh | Dawsonville, GA | $1,200 |
| 14 | 19 | 10G | Garrett Smith | Eatonton, GA | $1,000 |
| 15 | 18 | 1T | Tyler Erb | New Waverly, TX | $1,650 |
| 16 | 16 | 25 | Shane Clanton | Zebulon, GA | $1,625 |
| 17 | 7 | 42K | Cla Knight | North Augusta, SC | $900 |
| 18 | 23 | 2S | Stormy Scott | Las Cruces, NM | $1,575 |
| 19 | 4 | 44 | Chris Madden | Gray Court, SC | $850 |
| 20 | 8 | 11H | Spencer Hughes | Meridian, MS | $1,525 |
| 21 | 13 | 71 | Hudson O'Neal | Martinsville, IN | $1,500 |
| 22 | 22 | 15H | Christian Hanger | Winchester, TN | $800 |
| 23 | 20 | 66C | Matt Cosner | Ridgeley, WV | $800 |
| 24 | 24 | 92 | Dalton Cook | Columbus, GA | $800 |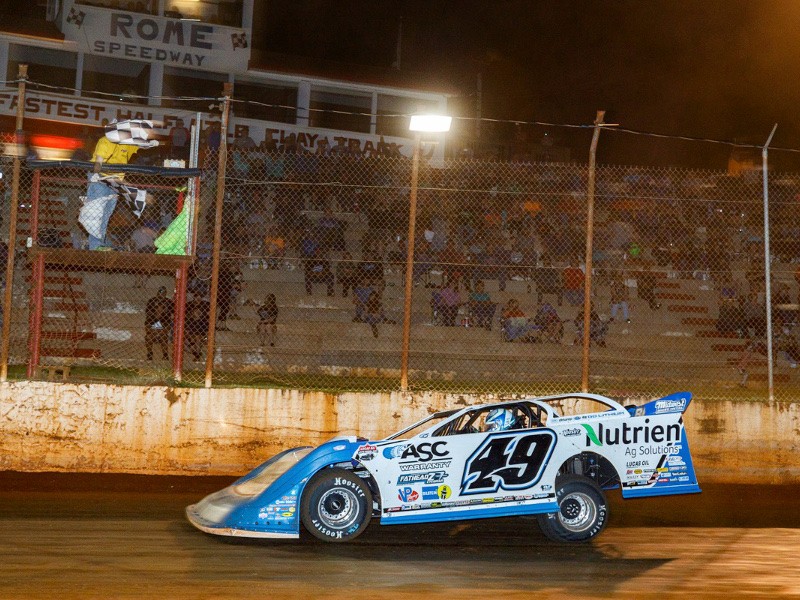 http://accesswdun.com/article/2021/10/1046228/jonathan-davenport-sweeps-georgia-lucas-oil-weekend