The Buffingtons have faced their fair share of struggles in their journey to becoming homeowners. But today was a day for celebration as staff with Habitat for Humanity of Hall County hosted their first Home Dedication Parade of Cars for the family's move-in day.
To celebrate the special occasion, a group of several cars drove by the Buffington's new home this morning in parade style, while the Buffingtons and family friends stood in the driveway and waved.
"Things are so different now than any other dedication that we've ever had. What is not different is the joy of the celebration," said Christine Osasu, director of Strategic Marketing, Communications and Grant Development for Habitat Hall County. "In an effort to keep everyone safe, we tried to keep everyone in their cars doing the parade rather than everyone coming together."
The Buffington home is the 66th completed through Habitat Hall County and the 14th completed in the non-profit's Copper Glen subdivision in Gainesville. It is also the first home to be completed since the start of the COVID-19 pandemic.
Josh and Heather Buffington, the new homeowners, each work in fields directly impacted by the COVID-19 pandemic. He works as a school bus driver for Hall County Schools, while she is a MedTech at a local retirement home.
Both have balanced their jobs while fulfilling the requirements of Habitat Homeowners and raising two sons- all in the midst of a pandemic.
As Habitat Homeowners, the Buffingtons were expected to help with the construction of a neighbor's home as well as their own, take financial literacy classes and work in the Habitat Hall County ReStore in Gainesville.
"We're definitely stronger after everything we've been through this year," said Heather Buffington. "Not only us, our jobs, the people we take care of, we're definitely stronger I would say."
"The Buffingtons embody grit," said Osasu. "If you think of someone who gets knocked down and just steps up ten times more strong than they were before, that's the Buffingtons."
Habitat for Humanity of Hall County is a nonprofit, Christian organization that offers limited-income families the opportunity to own their own home. Habitat staff partner with these families to construct simple, decent homes sold that are then sold to the families at an affordable, zero percent interest mortgage.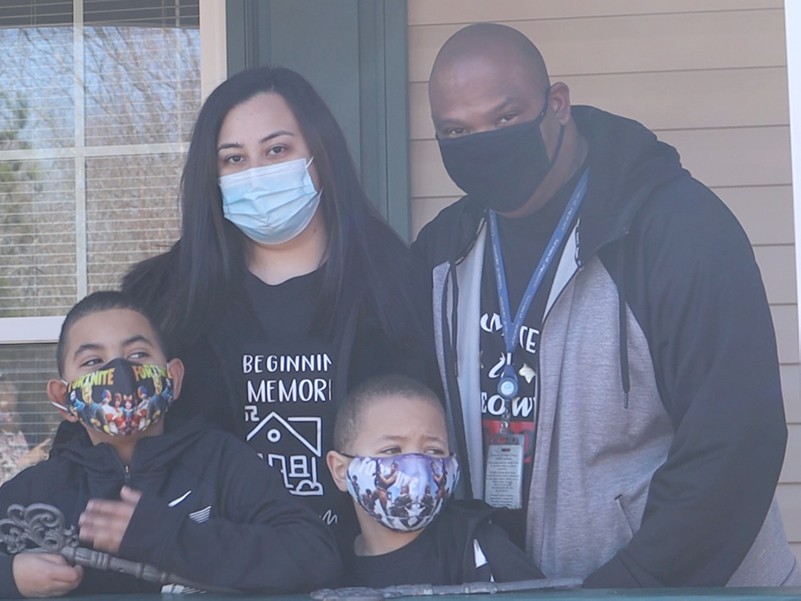 http://accesswdun.com/article/2021/1/971315/habitat-hall-county-hosts-dedication-parade-of-cars-to-celebrate-first-homeowners-since-pandemic