It's been said that on some days, it's better to be lucky than good. On Sunday night at Darlington Raceway, Kevin Harvick would have to agree with that sentiment.
Harvick inherited the lead in the Cook Out Southern 500 with a couple of laps after Martin Truex, Jr. and Chase Elliott tangled and hit the outside wall in turn one while fighting for the lead.
Harvick then held off a frantic last lap charge from Austin Dillon to score the win, punching his ticket to the Round of 12 in the NASCAR Cup Series Playoffs.
It marks Harvick's eighth win of the season, and the 57th of his series career, moving him into ninth on the all-time win list. It's also his second career Southern 500 victory.
"Anytime you can win the Southern 500 is a good day," said Harvick. "This is one of the most prestigious races in our sport and this is one the most prestigious racetracks in our sport, so anytime you can win at Darlington it's a big deal, but, man, Southern 500."
Harvick struggled with handling all night on his No. 4 Ford Mustang, but a break on pit strategy when a caution came out helped get him into the lead pack on the final restart.
Elliott and Truex, Jr. had moved away on the final restart, and seemed set to settle the race between the two of them. Over the final 25 laps, Truex, Jr. began reeling in Elliott's No. 9 Chevrolet.
Coming to 15 to go, Elliott had a bad run off the fourth turn, allowing Truex, Jr. to get a run for the lead going into turn 1.
But Truex, Jr.'s car pushed up going into turn 2, making contact with Elliott and sending both cars into the wall.
Truex, Jr. had the lead, but the damage had been done. Two laps later he brought his No. 19 Toyota to pit road with a cut tire. Elliott, meanwhile, began losing positions and plummeting back through the field.
Elliott would be credited with a 20th place finish, with Truex, Jr. in 22nd, one lap down.
"He (Truex) had a run on me there, off of four and he just kind of cleared himself into one," Elliott said. "He was close, but he wasn't all the way clear, obviously. I hate it, obviously we had a fast NAPA Camaro – fast enough to contend. We needed a little pace there to extend our lead instead of playing defense, but regardless I thought we were in a good spot. I ran the bottom in three and four to see if there was anything left down there, that's what kind of gave him the run and then he just slid up in to my left front, I felt like and on we went."
"Two drivers going for the same spot," said Truex, Jr. "It was close obviously and I thought I had enough momentum and distance on him that he was going to let me in there. I didn't expect him to be on my right rear and I was committed. Once I figured he was still there, nothing I could do. Really unfortunate for our Bass Pro Toyota. Unbelievable job by the guys and a smoking fast race car. A lot to be proud of. I hate it for the 9 (Elliott) team. Obviously, it was nothing intentional, just two guys going for the win and not enough room for both of us there. If it was my fault, I apologize. I really felt like I had the position to get in there to one. That's how it goes, and we'll see what goes on from here."
Meanwhile, Harvick found himself in the lead and trying to hold off Dillon with just a few laps to go. Harvick had pulled out to almost a second advantage, but Dillon was not giving up. Coming through turns 3 and 4, Dillon almost got to Harvick's back bumper, but came up short at the end.
"Obviously, those guys had trouble," Harvick said of the Elliott/Truex tangle. "I didn't see what happened. I just heard my spotter tell me that something had happened. I've just got to thank everybody on our Busch Beer Ford Mustang. They did a heck of a job tonight just keeping us in the game. Our car wasn't very good, but we just kept fighting and kept ourselves up in the front with some great pit strategy and were able to stay up there and fight and wound up in the right spot."
Dillon finished in second, coming back from a penalty at the start of the race for unapproved adjustments to his No. 3 Chevrolet – carrying a livery in honor of NASCAR Hall of Famer Junior Johnson – that sent him to the rear of the field for the start.
"I'm proud of our second-place finish, especially after dropping to the rear of the field at the start of the race and recovering from that setback," said Dillon. "We battled. We had a really good long run car and Kevin Harvick was getting tighter and tighter. I caught him earlier in the run, but he took my low line in turns 1 and 2 and that was where I was really good. I'm really happy that we had a great run for Junior Johnson during NASCAR Throwback Weekend. He's one of my heroes so it was an honor to run a tribute paint scheme to him this weekend. We showed up when it mattered."
Joey Logano – who had to come back from a mid-race incident that left his No. 22 Ford with heavy left rear damage – finished in third.
"We had a right-front go down the last lap of the second stage, hit the wall and we did a good job fixing the car and then strategy worked well, so Paul (Wolfe, crew chief) did great there, and then they had an amazing pit stop the last stop, had a good restart and all of a sudden I was like, 'Shoot, we could win this thing'," said Logano. "To see what the left-rear looks like after that I was pretty impressed to get whatever we got. It's funny how the team always tells you, 'How does the damage look?' 'It looks great. It looks great.' You get out and you're like, 'Whoa!' Overall, that's what we needed to do. We need to come out of these playoffs running hard and having a solid top three finish to start the playoffs with a couple stage points is a good way to start."
One driver who had expected to play into the finish of the race was two-time Southern 500 winner Denny Hamlin. Hamlin, who came into the race as the number two seed in the Playoffs, ran with the leaders all night. He was the leader during green flag pit stops, and attempted to bring his No 11 Toyota to pit lane, but tangled with Jimmie Johnson – who had already stopped – causing Hamlin to miss the entrance to pit road.
Hamlin made his stop one lap later, but had lost a lot of ground on the race track. In the end, he would finish 13th.
Another Playoff driver to suffer a setback even before the race began was Ryan Blaney, whose No. 12 Ford was found to have improperly mounted ballast during pre-race inspection.
Blaney was sent to the rear of the field, had his crew chief, Todd Gordon, ejected from the track and was penalized 10 points, dropping him from seventh to 13th in the Playoffs before taking the green flag. He would soldier home to a 24th place finish, and now sits tied for 15th in the Playoffs.
Defending race winner Erik Jones crossed the line in fourth, with William Byron in fifth.
Alex Bowman, Kyle Busch, Kurt Busch, Aric Almirola and Clint Bowyer rounded out the top 10.
Among the remaining Playoff drivers, Brad Keselowski finished in 11th, with Cole Custer in 12th and Matt DiBenedetto in 21st.
NASCAR Cup Series
Darlington Raceway – Darlington, SC
Cook Out Southern 500 – September 6, 2020
1. (8) Kevin Harvick (P), Ford, 367.
2. (12) Austin Dillon (P), Chevrolet, 367.
3. (13) Joey Logano (P), Ford, 367.
4. (30) Erik Jones, Toyota, 367.
5. (3) William Byron (P), Chevrolet, 367.
6. (4) Alex Bowman (P), Chevrolet, 367.
7. (15) Kyle Busch (P), Toyota, 367.
8. (16) Kurt Busch (P), Chevrolet, 367.
9. (10) Aric Almirola (P), Ford, 367.
10. (9) Clint Bowyer (P), Ford, 367.
11. (5) Brad Keselowski (P), Ford, 367.
12. (14) Cole Custer # (P), Ford, 367.
13. (2) Denny Hamlin (P), Toyota, 367.
14. (26) Matt Kenseth, Chevrolet, 367.
15. (31) Ryan Newman, Ford, 367.
16. (19) Michael McDowell, Ford, 367.
17. (35) Ryan Preece, Chevrolet, 367.
18. (22) Jimmie Johnson, Chevrolet, 367.
19. (29) Ricky Stenhouse, Jr., Chevrolet, 367.
20. (1) Chase Elliott (P), Chevrolet, 367.
21. (11) Matt DiBenedetto (P), Ford, 366.
22. (6) Martin Truex, Jr. (P), Toyota, 366.
23. (24) Tyler Reddick #, Chevrolet, 366.
24. (7) Ryan Blaney (P), Ford, 366.
25. (28) Daniel Suarez, Toyota, 364.
26. (20) Chris Buescher, Ford, 364.
27. (25) Ty Dillon, Chevrolet, 363.
28. (23) Brennan Poole #, Chevrolet, 362.
29. (34) Ross Chastain(i), Chevrolet, 360.
30. (37) J.J. Yeley(i), Ford, 360.
31. (32) Quin Houff #, Chevrolet, 357.
32. (38) Josh Bilicki(i), Chevrolet, 356.
33. (39) Joey Gase(i), Ford, 351.
34. (21) Christopher Bell #, Toyota, 349.
35. (33) Timmy Hill(i), Toyota, Overheating, 296.
36. (18) John Hunter Nemechek #, Ford, Accident, 245.
37. (27) Corey LaJoie, Ford, Accident, 234.
38. (17) Bubba Wallace, Chevrolet, Transmission, 217.
39. (36) James Davison, Chevrolet, Engine, 162.
Average Speed of Race Winner: 132.256 mph.
Time of Race: 3 Hrs, 47 Mins, 26 Secs. Margin of Victory: .343 Seconds.
Caution Flags: 7 for 34 laps.
Lead Changes: 18 among 6 drivers.
Lap Leaders: C. Elliott (P) 1-71;D. Hamlin (P) 72;K. Busch (P) 73-74;C. Elliott (P) 75-83;K. Busch (P) 84-85;M. Truex Jr. (P) 86-117;C. Elliott (P) 118;M. Truex Jr. (P) 119-172;K. Busch (P) 173;K. Harvick (P) 174-181;A. Bowman (P) 182;M. Truex Jr. (P) 183-231;D. Hamlin (P) 232-247;M. Truex Jr. (P) 248-306;D. Hamlin (P) 307-308;K. Harvick (P) 309-319;C. Elliott (P) 320-352;M. Truex Jr. (P) 353-354;K. Harvick (P) 355-367.
Leaders Summary: (Driver, Times Lead, Laps Led): Martin Truex Jr. (P) 5 times for 196 laps; Chase Elliott (P) 4 times for 114 laps; Kevin Harvick (P) 3 times for 32 laps; Denny Hamlin (P) 3 times for 19 laps; Kurt Busch (P) 3 times for 5 laps; Alex Bowman (P) 1 time for 1 lap.
Stage #1 Top Ten: 19,48,9,11,1,88,22,24,18,4
Stage #2 Top Ten: 19,11,4,88,48,18,20,3,14,1
Top 16 in Points: 1. Kevin Harvick – 2106 (8 Wins)*; 2. Denny Hamlin – 2087 (6 Wins); 3. Joey Logano – 2060 (2 Wins); 4. Brad Keselowski – 2055 (3 Wins); 5. Alex Bowman – 2052 (1 Win); 6. Martin Truex, Jr. – 2049 (1 Win); 7. Chase Elliott – 2045 (2 Wins); 8. Austin Dillon – 2043 (1 Win); 9. William Byron – 2042 (1 Win); 10. Kyle Busch – 2040; 11. Kurt Busch – 2037; 12. Aric Almirola – 2033; 13. Clint Bowyer – 2033; 14. Cole Custer – 2030 (1 Win); 15. Matt DiBenedetto – 2016; 16. Ryan Blaney – 201 (1 Win).
*Locked into the Round of 12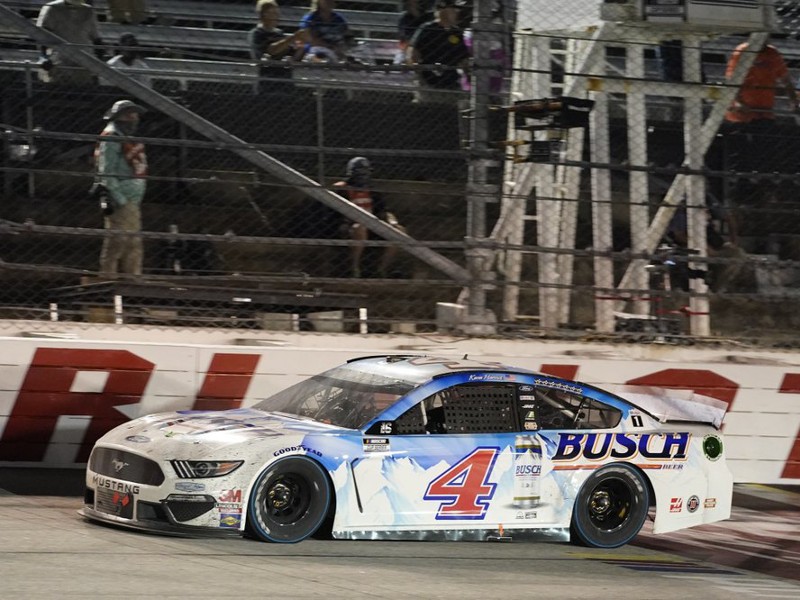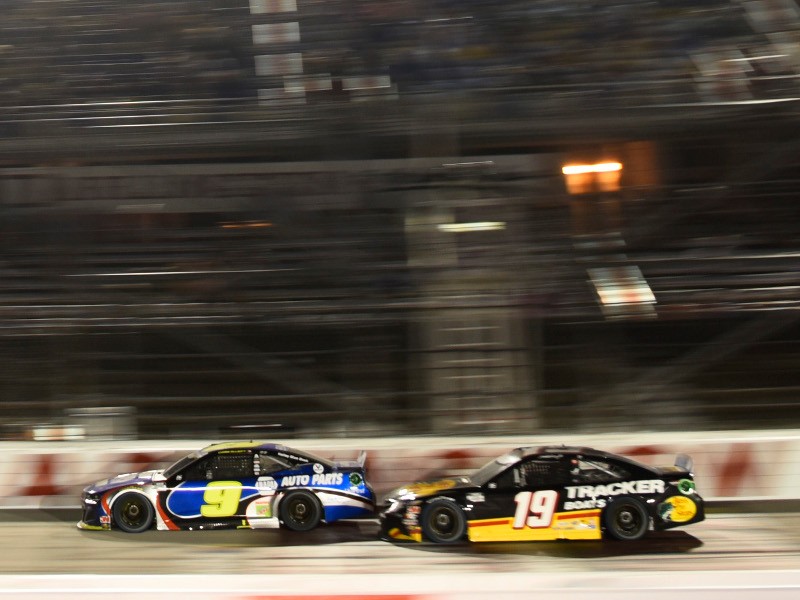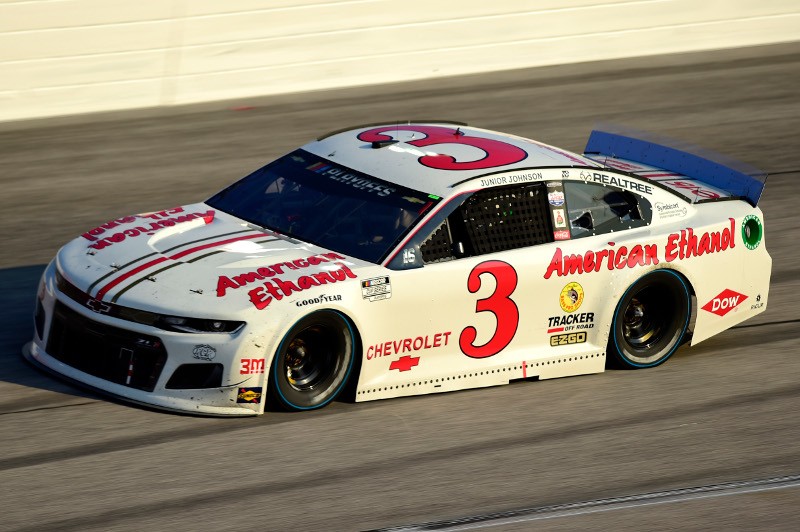 http://accesswdun.com/article/2020/9/935872/elliott-truex-jr-tangle-harvick-wins-southern-500