According to a press release from Gwinnett County Fire and Emergency Services, 111 people were rescued from the Chattahoochee River in Duluth on Saturday after a thunderstorm caused river conditions to become turbulent.
The Gwinnett County Fire and Emergency Services and the Johns Creek Fire Department responded to a report at 4:48 p.m. that multiple people were stranded at Abbotts Bridge in Duluth. The group was participating in a tubing tour on the river, according to the release.
When both departments arrived at the river, they removed people from the water and brought them to the riverbank. The firefighters who first arrived positioned an apparatus on Abbotts Bridge and began to rescue a group of people that had taken shelter beneath the bridge, according to the press release.
The group beneath the bridge had exited the turbulent river, but the threat of lightning and wind made it impossible for the group to stay where they were. Crews redirected the group to safety at a nearby staging hut for a river tubing company.
Thirty five additional people were rescued with the assistance of Johns Creek Fire and Gwinnett Fire rescue boats over the two-hour incident. A local fisherman also brought several people to safety.
According to the press release, there were no injuries or medical complaints following the incident. Gwinnett County Fire and Emergency Services is urging river goers to stay weather aware and avoid being on the river during strong thunderstorms.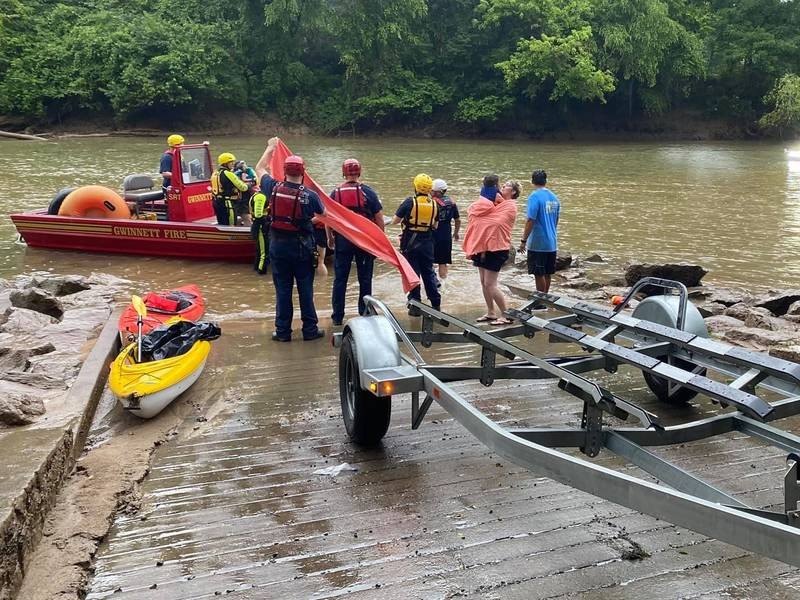 http://accesswdun.com/article/2020/6/915612/111-people-rescued-from-chattahoochee-river-in-duluth