HOMER – Banks County Sheriff's Office officials said the victim of a Friday-morning wreck victim is blessed to be alive due to the magnitude of the crash.
Sharon Lee Jordan, 72, of Lavonia was southbound on U.S. 441/Ga. 15 in a 2001 Nissan Maxima that struck the rear of a trailer pulled by a 2021 Kenworth T680 owned by Marten Transportation Ltd. of Zionsville, Ind., according to the accident report.
Jordan told deputies she did not look up from her GPS to see that the truck was stopped at the traffic light at Pottery Factory Drive, the report states.
The resulting collision caused the car to be trapped under the back of the tractor-trailer, driven by Stephen Daniel Sampson, 59, of Fort Myers, Fla.
Neither driver was injured. Jordan was wearing a seatbelt and received a Saved by the Belt coin from the sheriff's office for doing so.
The wreck happened about 9:15 a.m.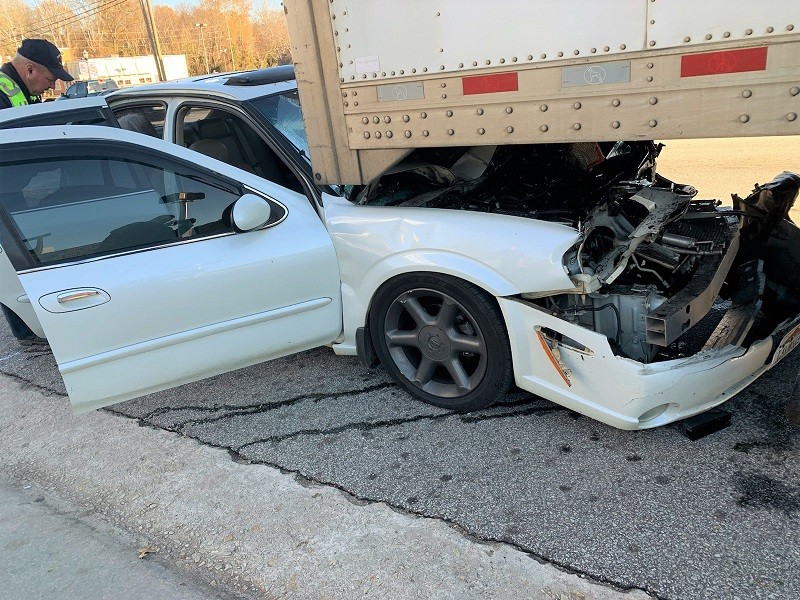 http://accesswdun.com/article/2020/12/964737/drivers-escapes-injury-after-car-becomes-trapped-under-truck-at-banks-crossing