FLOWERY BRANCH – Don't be fooled by North Oconee's record.
While it's true the Titans began the season 0-4, they also played some pretty good non-region competition. Three of the four losses came to teams with a combined record of 16-2, but since that final non-region game, the Titans have come alive in Region 8-4A play, averaging 40-plus points per game.
It has the eye of Flowery Branch coach Ben Hall, who said two weeks ago that North Oconee would have some say so in the region title. That's looking like a pretty good prognostication from the Falcons' leader and now, the No. 6-ranked Falcons are facing the Titans with a possible No. 2 state playoff seeding on the line tonight at Falcon Field. Kickoff is set for 7:30 p.m. and can be heard live on AM 550 WDUN.
(NOTE: For a look at all of Friday's football games for area teams, click here.)
"North Oconee is a very talented team," Hall said. "We do need to win out to secure a No. 2 seed. When I drew the numbers out of the hat at the region meeting, kind of like last year with playing Marist and Blessed Trinity back-to-back, we drew Jefferson and North Oconee – the two teams most everyone picked to compete for the region title. We have to come out and avoid any kind of lull from a bye week, establish the run early and not put pressure on our defense on Friday to create some needed momentum."
The Falcons, coming off a 40-10 loss to No. 1 Jefferson in Week 6 and an off date in Week 7, will face another Power 5 recruit in Clemson-commit and Titan quarterback Bubba Chandler this week. Chandler was 7-for-11 with 193 yards and five touchdowns in a 44-0 blowout of Chestatee last week.
His target passing and ability to escape the pocket will have a young Falcons' defense on its toes.
"The Chandler kid can run the ball too, he doesn't run it a lot, but when he does break contain and steps up and gets out the pocket, he's a long stride and a big strong kid," Hall said. "We're going to have to contain the quarterback and work to keep those receivers in front of us. Their best plays are when the coverage breaks down or he gets out of the pocket. He can throw it 65 yards on a rope, and he does a good job and those receivers do a great job in their scramble drill. They can hit big plays on you."
Those receivers Hall is talking about are juniors Chance Cross and Eli Warrington. Cross led the Titans in Week 7 with three catches for 93 yards and two scores, while Warrington caught three passes for 88 yards and two touchdowns.
"Bubba has definitely played a big role in our ability to move the ball and score points the last couple of weeks, but we have had several players step up and make plays over the last 2-3 games that have provided a spark in our offense," North Oconee coach Tyler Aurandt said. "We will need to execute at a high level offensively. Flowery Branch has a very solid team defensively and if we want to have a chance to win this week we are going to have to find ways to run the football efficiently."
The Titans also have two solid running backs that complement the passing game and make the offense more balanced. Dominic Elder Jr and Rodrick Finch are both threats out of the backfield. Elder Jr rushed six times for 61 yards, and Finch scored the Titans' only rushing touchdown last week.
"We're going have to maintain coverage and pressure inside out on the quarterback," Hall said. "And just keep him in the pocket and contain him there. We also can't lose sight of their running backs as well."
Likewise, the Falcons offense has the explosive capability, thanks to junior quarterback and Class 4A's top passer David Renard, a solid run game and some pretty good hands downfield. In Renard's second season as the starter, he's put up Class 4A's best numbers, 1,290 yards passing and completed 67 of 99 passes for eight touchdowns.
Also breaking out is sophomore running back Myles Ivey. Ivey rushed onto the scene when senior running back Jaizen Ellingham went down in Week 3 with an injury. He's rushed for 205 yards on 54 carries and a touchdown since then.
Aurandt has done his homework on the Falcons and says they'll have to play disciplined and physical on defense to slow the Branch offense.
"The running backs are very talented players and their quarterback has had a phenomenal year," Aurandt said. "The quarterback is very smart and extremely accurate with the football. Coach Hall and their offensive staff have done a great job getting guys open and taking advantage of throws down the field that are set-up by their running game. The two tight ends are two of the more dynamic players that I have watched on film this year. They do a great job both in the run game and the passing game. They have made some big-time plays for them this year."
Wide receiver Conner Larson, tight end Baxley O'Brien and H-back Sal Sengson combine for a sure-handed triple threat in the Falcons' receiving game. The trio has caught the majority of Renard's passes and makes it tough for defenders to tackle.
Larson leads the team in receiving with 465 yards, while O'Brien (304 yards, 4 TDs) and Sengson (354 yards, 2 TDs) lead the three in scoring, but will be tested with an athletic and tall North Oconee secondary.
"We've got to establish the run and we're playing well upfront," Hall said. The tight end position has been steady for us this year -- Sal and Baxley are playing well. So, we have to be able to establish the run and hit some intermediate play-action passes with those guys and stay out of third and long situations. They're long on defense -- 6-foot plus at every position in the secondary and are as athletic as we are on the perimeter. We're not going to line up and go vertical. We're going to have to be efficient and when we take shots, hit them and execute. But first and foremost, we've got to establish the line of scrimmage and the run game to have success offensively."
A WORK IN PROGRESS
Those that follow the Falcons closely knew coming into the 2020 campaign, the greatest concern was the defense. The graduation losses have created, as Hall describes it, musical chairs with several positions on defense.
"It's kind of musical chairs right now in practice," Hall said. "We have a couple of guys at each position, young 10th graders and a couple of 11th graders sprinkled in there that are battling for jobs. It's just we're waiting on somebody to take the bull by the horns and take these positions; because we roll a lot of guys there. They play hard and they're playing well. It's just the uncertainty at times, that we feel slows them a step and that just comes with reps, growth and just the overall experience and playing. That's what we're gaining right now."
The Falcons are rotating 15 players in and out of the defense to find the right combination. Hall said Christian Mendoza, Nick Linkowski, Max Eubanks, Jahiem Hayes and Tre Augustine are repping in the secondary, and Anthony Menjivar has stepped in for injured Zion Moon at linebacker.
'I feel good about moving forward and continuing to get those guys reps," he said. "It's really going to pay dividends the next year or two and it's just one of those growth years for us on defense."
MYLES AWAY OR NOT
Myles Ivey has been a welcomed surprise for the Falcons this season. The sophomore running back was pushed into action when Jaizen Ellingham went down with an injury in Week 3. Initially, Ivey was to get around 10-15 carries a game but has been pressed into duty, as Hall says. He has answered the call, posting a couple of 100-yard rushing games in Ellingham's absence. It's given Hall and his staff another option out of the backfield and a possible fierce attack when Ellingham is 100 percent.
Hall said he's pleased with Ivey's play.
"He is running extremely hard," Hall said. "He's quick as a cat, and he's strong. He's a strong runner for his size – pound for pound, he might be one of our strongest players. He weighs 145 pounds and benches 250. We were counting on having a solid 10-15-carry a guy game behind Jaizen this year, but, now, he's pressed into the primary duty, and we are having to fast forward a freshman. So, you have to be careful not to overdo it with Myles. From a player caller's standpoint, you try to take some of the load off his shoulders and David has stepped up and the receivers are doing a great job."
GAME OF THE WEEK
NORTH OCONEE at FLOWERY BRANCH
-- WHEN: 7:30 p.m.
-- TICKETS: Pre-sale only at each school; 40 percent capacity
-- WHERE: Falcons Field, Flowery Branch
-- RADIO: WDUN AM 550
-- NORTH OCONEE (2-4, 2-0 Region 8-4A): Defeated Chestatee 44-0 last week
-- FLOWERY BRANCH (3-2, 0-1 Region 8-4A): Ranked No. 6 in Class 4A; off last week; lost 40-10 to Jefferson two weeks ago
-- COVID PROTOCOLS: Mask/face coverings and temperature will be required to get into the stadium. Concessions will be prepackaged.
-- NOTABLE: First-ever meeting between the two programs. ... The Titans were a team expected to challenge in 8-4A but started the season 0-4. However, region play has gotten them back on track. After scoring just 82 points (20.5 ppg) in their first 4 games, they have exploded for 85 points (42.5 ppg) in their last two games in the region. ... The Falcons defense has been improving each week, the exception being against a powerful Jefferson offense. After allowing 80 points in their first 2 games, the Falcons have given up just 69 points (23.0 ppg) since. ... Branch piled up the yards vs. Jefferson but were just 1-for-5 (FG) in the red zone, including a crucial goal-line stand to end the half with no points. QB David Renard is still among the state leader's averaging just under 300 yards/game passing. ... The Titans defense is giving up 28.8 ppg but just 26 total points (13.0 ppg) in region play.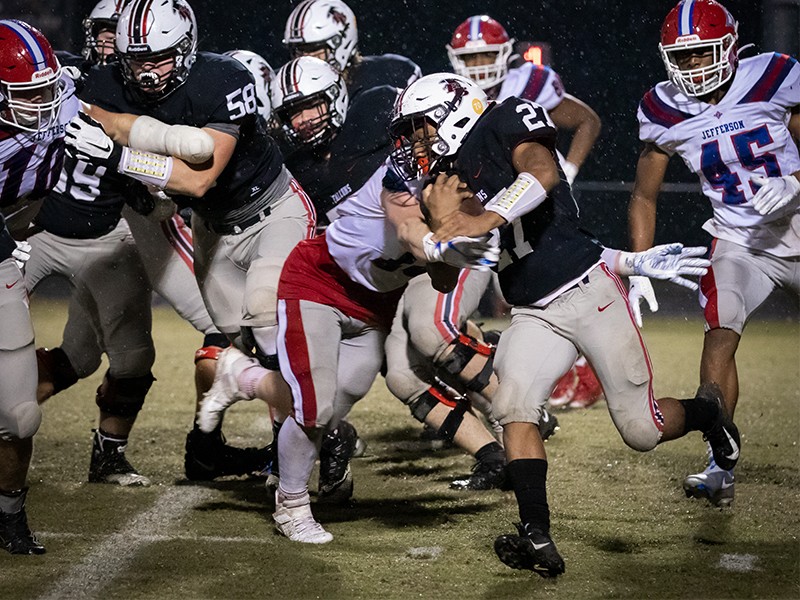 http://accesswdun.com/article/2020/10/949386/game-of-the-week-region-implications-on-line-as-falcons-titans-set-to-clash