FLOWERY BRANCH — Jayquan Smith and Charles Tolbert combined for 262 yards and three touchdowns to lead Cherokee Bluff to a 21-6 win over Gilmer on Friday night.
The win for the Bears (5-0, 1-0 Region 7-3A) kept them unbeaten and put them in a three-way tie for first place after the opening night of region play.
The Bluff defense also did its part holding the Bobcats to just 174 total yards, none through the air. Gilmer's only score came in the third quarter following a bad punt snap by the Bears giving the Bobcats a short 9-yard drive.
After a scoreless first quarter, Smith put the Bears on the board in the second quarter with a 4-yard TD run. It stayed that way early in the third.
The Bobcats trimmed the lead to 7-6 on a short 9-yard drive after the botched punt. But Bluff answered with a long drive capped by a 5-yard TD run from Tolbert.
Tolbert and the Bears put it away in the fourth when he rambled 65-yards for a score.
The Bears finished the game with 255 yards on the ground and just 33 yards passing on one completion to Eric Gohman.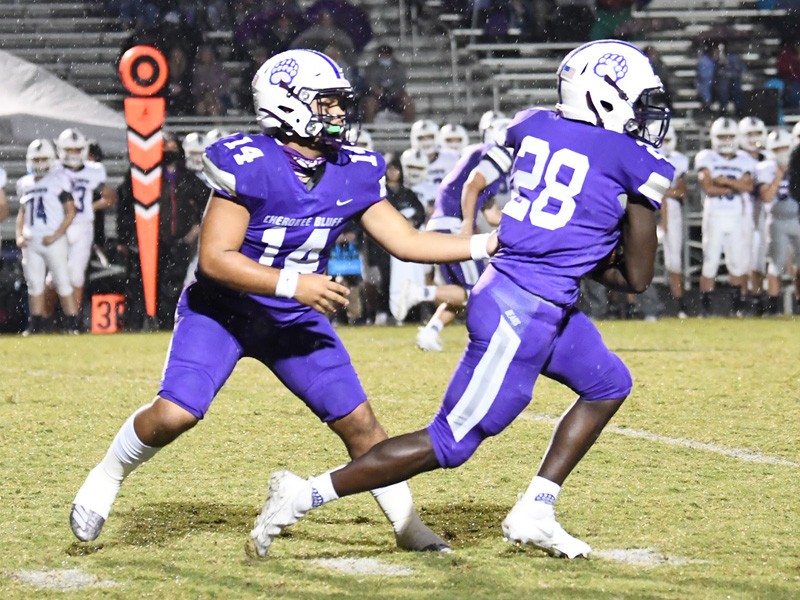 http://accesswdun.com/article/2020/10/945981/bluff-opens-7-3a-with-win-over-gilmer