Grant Jordan was fast when it counted on Saturday night at Georgia's Hartwell Speedway.
Jordan held off pole sitter Kenny Collins for the Limited Late Model feature win at the 3/8-mile clay raceway.
After qualifying second to Collins in time trials earlier in the evening, Jordan made the most of his outside pole starting spot. The Bowman, Georgia driver got the edge on Collins as the two raced into turn one on the opening lap, and grabbed the lead as the duo raced off turn two.
Collins would look to the inside time and again, but Jordan ran his car high, wide and handsome throughout the 25 lap feature en route to the victory.
Collins had to settle for second, with Chris Woods in third, Bryce Alewine in fourth and Chris Segars in fifth.
In other action, Cody Pritchett held off Danny Sanders to take the Crate Late Model feature win. Parker Herring finished third, with Adam Partain fourth and Jimmy Mason fifth.
Jesse Ivester scored his first career Hobby feature victory by edging out his father, Jimmy Ivester for the win. Aftewards, Jimmy dragged Jesse into the mud in victory lane for the traditional first win celebration. Shun Thomas, Shane Yarbrough and John Howard rounded out the top five.
Chad Puckett was the winner in the Modified Street feature. Johnny Pilgrim was second, with Joe Nash third, Smoky Roberts fourth and Tye Nalley fifth.
Chance Segars scored the victory in the Stock V8 feature, with Bradlee Jones in second, Hayden Collett in third, Jake Jordan in fourth and Keith Ross in fifth.
Tyler Riddle held off Elliott Brayboy to take the Stock 4 feature win. Jacob Rhome followed in third, with Dustin Bales in fourth and Pete Whitley in fifth.
Tanner Nation was leading in the final laps of the Young Guns feature when he was held up by a lap car. When Nation dove to the inside of the slower car, Hoyt Partain went three wide to the outside in turn three. Partain came away with the lead and the win, leaving Nation to settle for second. Alden Fortson, Lane Fortson and Jayce Brown rounded out the top five.
Alex Powell led wire-to-wire to win the Front Wheel Drive feature, with Eddie Segars finishing in second.
Hartwell Speedway is back in action on Saturday, September 7. Visit Hartwell-Speedway.com for more information.
Hartwell Speedway – Hartwell, GA
Race Resuts – August 31, 2019
Limited Late Models
1. Grant Jordan
2. Kenny Collins
3. Chris Woods
4. Bryce Alewine
5. Chris Segars
6. Stephen Segars
7. Tim Jones
8. Wesley English
Crate Late Models
1. Cody Pritchett
2. Danny Sanders
3. Parker Herring
4. Adam Partain
5. Jimmy Mason
6. Nick Dietz
7. Goat Fortson
Hobby
1. Jesse Ivester
2. Jimmy Ivester
3. Shun Thomas
4. Shane Yarbrough
5. John Howard
6. Ervin Atkinson
7. Colby Jordon
8. Andon Doster
9. Cody Segars
Modified Street
1. Chad Puckett
2. Johnny Pilgrim
3. Joe Nash
4. Smoky Roberts
5. Tye Nalley
6. Thomas Segars
7. Steve Tucker
8. Chris Cape
9. Tracy Addison
Stock V8
1. Chance Segars
2. Bradlee Jones
3. Hayden Collett
4. Jake Jordan
5. Keith Ross
6. Seth Brown
7. Ethan Fortson
8. Sarah Dorn
9. Cameron Collett
Stock 4
1. Tyler Riddle
2. Elliott Brayboy
3. Jacob Rhome
4. Dustin Bales
5. Pete Whitley
6. Mike Little
7. Austin O'Kelley
8. Nathaniel Little
9. Shane Elliott
10. Joshua Till
Young Guns
1. Hoyt Partain
2. Tanner Nation
3. Alden Fortson
4. Lane Fortson
5. Jayce Brown
6. Alyssa Goldsmith
Front Wheel Drive
1. Alex Powell
2. Eddie Segars
3. Jessie Smith
4. J.J. Sorrow
5. Joel Powell, Sr.
6. Austin Kinsey
7. Dillon Christian
8. Bradley Tillman
DQ: Steven Powell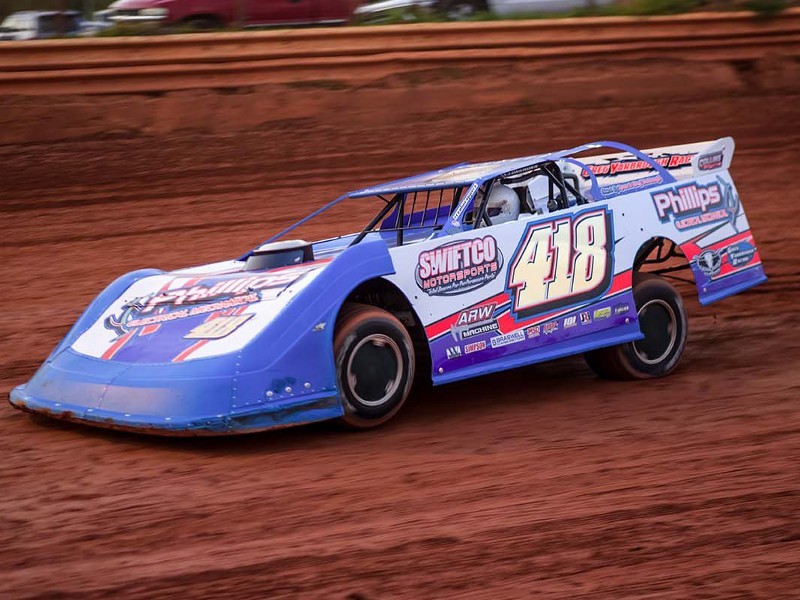 http://accesswdun.com/article/2019/9/828566/grant-jordan-edges-kenny-collins-for-hartwell-llm-win