Just call Danny Sanders "The Bounty Hunter."
Sanders powered to the lead in Saturday night's Crate Late Model feature at Georgia's Hartwell Speedway, and went on to score the victory on the 3/8-mile clay raceway.
The win meant a big payday for the Nicholson, Georgia driver. Between the regular winner's payout and a $1,500 bounty on the head of Adam Partain, Sanders came home with a $2,200 total for his efforts.
Starting on the outside of the front row, Sanders edged out pole sitter Blake Craft on the start. From there, he went on to hold off all comers to score the win.
Craft finished in second, with Partain in third, Dale Timms in fourth and Cody Pritchett in fifth.
In other action, Kenny Collins edged out Mason Tucker to win in the Limited Late Model feature, with Brandon Haley in third, Drew Collins in fourth and Jody Russell in fifth.
Jimmy Ivester held off a late charge from Ricky Smith to score the Hobby feature victory. Shane Yarbrough came home in third, with Joe Yarbrough in fourth and Cody Segars in fifth.
Evan Brown scored the Stock V8 feature victory, with Rocky Jones, Chance Segars, Eric Dove and Dustin Moore rounding out the top five.
Ty Nalley topped the Modified Street field to take home the feature victory over Chad Puckett in second, Cal Moon in third, Johnny Pilgrim in fourth and Terry Calhoun in fifth.
J.J. Garrett beat out Ryan Boles to record the Stock Four feature win. Bubba Nation finished third, with Dalton Bailey fourth and Dustin Bales fifth.
Tanner Nation appeared to be on his way to victory in the Young Guns feature until he made hard contact with the front stretch wall, ending his night. Hoyt Partain went on to take the win, with Ryan Baker in second, Logan Gunter in third and Alyssa Goldsmith in fourth.
Russell Baker ran away from the field to score the Open Wheel Modified feature win, with Stanley Hill and Dwayne McCannon rounding out the podium.
Alex Powell took the victory in the Front Wheel Drive feature. Dillon Christian finished in second, followed by Randy Shaw in third, Steven Powell in fourth and Timothy Jones in fifth.
Hartwell Speedway returns to action on Saturday, July 13. For more information, visit Hartwell-Speedway.com.
Hartwell Speedway – Hartwell, GA
Race Results – July 6, 2019
Crate Late Models
1. #4 Danny Sanders
2. #01 Blake Craft
3. #87 Adam Partain
4. #07 Dale Timms
5. #15 Cody Pritchett
6. #19 Sam Hicks
7. #23 Ahnna Parkhurst
8. #511 Austin Reed
Limited Late Models
1. #1c Kenny Collins
2. #23 Mason Tucker
3. #51 Brandon Haley
4. #D5 Drew Collins
5. #17 Jody Russell
6. #16 Wesley English
7. #23 Ahnna Parkhurst
8. #1F Scott Frady
9. #17 Chris Segars
10. #121 Drew Cole
11. #18 Mike Ashley
12. #07 Larry Timms
Hobby
1. #115 Jimmy Ivester
2. #88 Ricky Smith
3. #141 Shane Yarbrough
4. #41 Joe Yarbrough
5. #114 Cody Segars
6. #1A Brant Carey
7. #14 Rusty Jordan
8. #34 Wayne Scott
9. #418 Colby Jordan
10. #3 Nick Coleman
Stock V8
1. #9 Evan Brown
2. #101 Rocky Jones
3. #14 Chance Segars
4. #194 Eric Dove
5. #35 Dustin Moore
6. #K5 Tyler Kennedy
7. #4 Jake Jordan
8. #71 Stewart Thomas
9. #55 Seth Brown
Modified Street
1. #44 Ty Nalley
2. #357 Chad Puckett
3. #J19 Cal Moon
4. #19 Johnny Pilgrim
5. #4 Terry Calhoun
6. #95 Alex Vance
7. #37 Smokey Roberts
8. #93 Richard Jones
9. #55 Shannon Price
Stock Four
1. #47 J.J. Garrett
2. #2 Ryan Boles
3. #7N Bubba Nation
4. #71 Dalton Bailey
5. #34 Dustin Bales
6. #7x Pete Whitley
7. #01 Phil Wood
8. #7 Mark Parker
9. #2B Elliott Brayboy
10. #13 Jeffery Lord
Young Guns
1. #87 Hoyt Partain
2. #10 Ryan Baker
3. #11 Logan Gunter
4. #25 Alyssa Goldsmith
5. #111 Tanner Nation
Open Wheel Modified
1. #39 Russell Baker
2. #17 Stanley Hill
3. #636 Dwayne McCannon
Front Wheel Drive
1. #1 Alex Powell
2. #15 Dillion Christian
3. #44 Randy Shaw
4. #6 Steven Powell
5. #J18 Timothy Jones
6. #45A J.J. Sorrow
7. #7 Bradlee Tillman
8. #89 Joel Powell
9. #45 Josh Campbell
10. #18 Kalen Holmes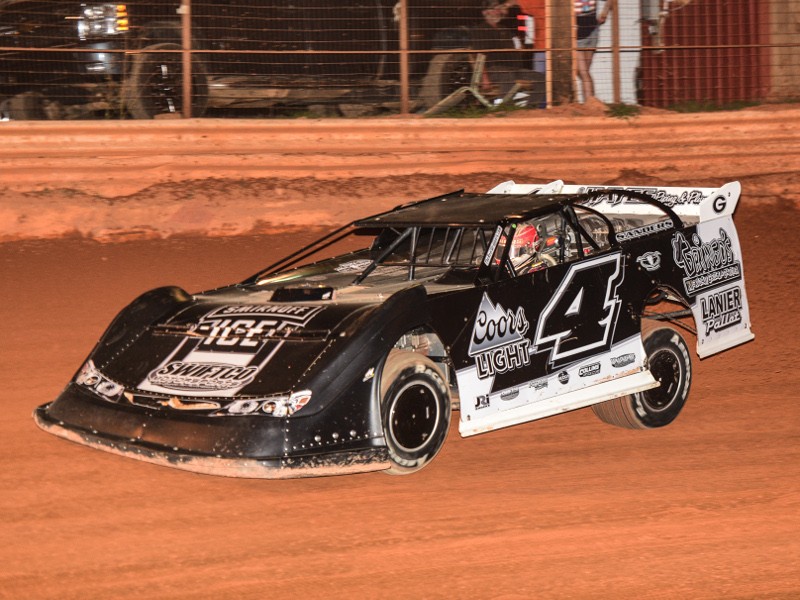 http://accesswdun.com/article/2019/7/812810/sanders-claims-bounty-takes-crate-lm-win-at-hartwell