Just three northeast Georgia baseball teams remain in the GHSA playoffs, which has now reached the quarterfinal round.
And if either Buford in Class 5A, North Hall in Class 3A, or Commerce in Class A Public are to advance to the Final 4, they will have to endure long road trips.
The quarterfinals begin with doubleheaders on Wednesday at the site of the higher-seeded team. Game 3s, if necessary, are scheduled for Thursday.
Buford, the No. 2 seed from Region 8-5A, has looked solid in taking sweeps of Arabia Mountain and Kell in the first two rounds. Ramsey David and Sean Adams have dominated on the mound as the Wolves have given up just 8 runs while the offense has averaged 9 runs a game in the playoffs. But they will head to Region 4-5A champ Ola, which has allowed just 3 runs and scored 32 runs (8.0 rpg) in sweeps of Veterans and McIntosh. Buford is looking for a second straight trip to the semifinals and fifth time in the last six seasons.
North Hall has battled injuries as much as the opposition over the past month yet somehow finds itself in the quarterfinals for the fourth time in seven years. The Trojans have been without No. 1 starter Caleb Clark for more than a month, lost starting outfielder David Seavey for about the same amount of time, and had to beat Westminster last week without having No. 2 starter and starting third baseman Kelton Kieschnick for the first two games.
But North Hall rallied to win the final two games against the 2018 Class 3A state runner-up Wildcats and now faces a 5-hour road trip to take on Region 2-3A champion Appling County. The Trojans, the 2017 Class 3A state champions, are looking for their second Final 4 berth in three seasons.
Commerce is the newcomer having won two series in the same playoffs for the first time since 1996 dispatching Crawford County at home and then Pelham on the road in three-games. The Tigers will travel to 2017 Class A Public state champion Schley County, who swept Telfair County but in a pair of tight 4-3 victories. Commerce pummeled Crawford County scoring 31 runs n a two-game sweep in the first round but used its pitching in the second round holding Pelham to five runs in a three-game series. A series win for Commerce will push the Tigers into their first semifinal round since 1996.
(Check below for the complete quarterfinal round schedule.)
GHSA Baseball playoffs, quarterfinal round
(All series are best-of-3)
WEDNESDAY'S SCHEDULE (May 7)
(Area teams in bold)
Class 5A
Buford (Region 8, Seed 2) at Ola (Region 4, Seed 1), DH 4 p.m.
Class 3A
North Hall (R7, S2) at Appling County (R2, S1), DH 5 p.m.
Class A Public (uses Power Rankings to seed)
Commerce (No. 9) at Schley County (No. 1), DH 4 p.m.
THURSDAY'S SCHEDULE, May 8
(Game 3, if necessary)
Class 5A
Buford (8, S2) at Ola (R4, S1), 6 p.m.
Class 3A
North Hall (R7, S2) at Appling County (R2, S1), 5 p.m.
Class A Public (uses Power Rankings to seed)
Commerce (No. 9) at Schley County (No. 1), 3 p.m.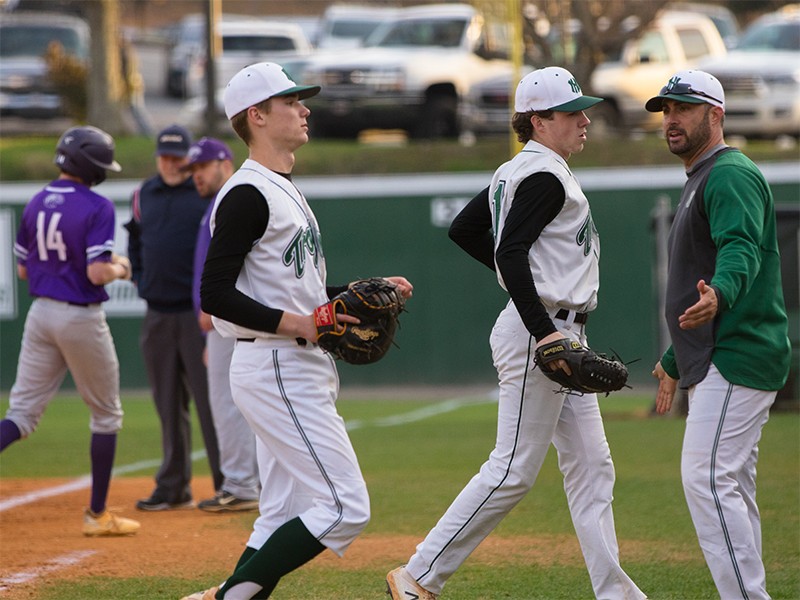 http://accesswdun.com/article/2019/5/791793/playoff-baseball-preview-buford-north-hall-commerce-all-face-stiff-road-matchups