Gainesville City School students are becoming better readers, according to an update shared at the Gainesville City School Board meeting Monday night.

Deputy Superintendent Sarah Bell showed the board a graph that compared the student reading inventory for Fall 2018 and Spring 2019. The data reflects the student population from each school in the district, elementary through high school.

"At all schools, we saw a fairly substantial increase from performance in the fall," said Bell after the meeting. "We also saw a year-over increase in performance versus last year. So we're very pleased but at all levels we're seeing a lot of progress with out students and our reading ability."

Bell said the reading inventory test is issued three times a year, and this year's results were an improvement over last year's results as well. The assessment is both part of scheduled assessments and the L4GA grant.

"We've worked very hard over the past several years to put in place an elementary structure for our reading program, make sure our teachers have the supplies and professional development that they need. From a middle school perspective, there have been some new initiatives this year, making sure that they're really looking deeply at instruction and working hard collaborate together as teachers," said Bell. "We really do attribute the hard work of our teachers to this success."

In two weeks, students will be taking the Georgia Milestones end of grade tests. Those tests are now 100% online.

Also at the meeting, Bertha Shields was officially recognized as the new principal of New Holland Knowledge Academy, which was also the host school for the meeting. The announcement that Shields was coming out of retirement to take the reigns at New Holland was made Friday.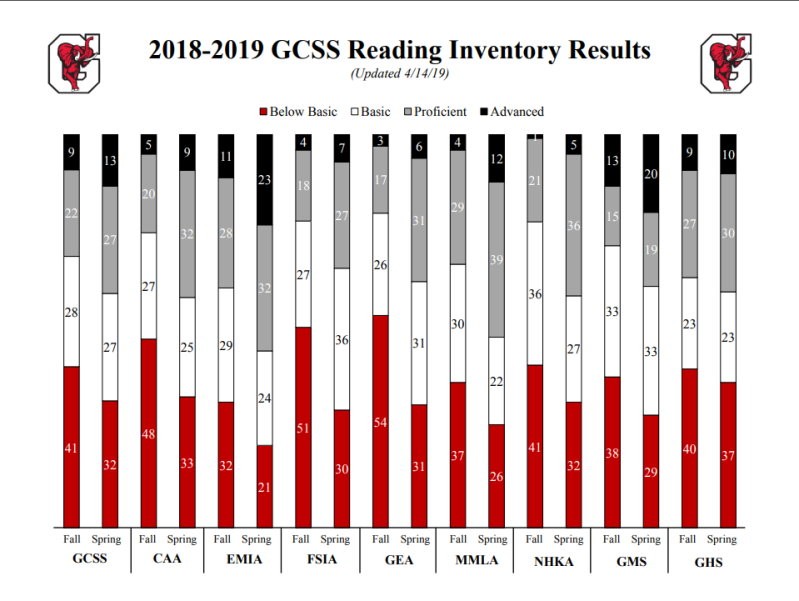 http://accesswdun.com/article/2019/4/785748/gainesville-students-improve-reading-skills-new-holland-officially-welcomes-new-principal