Looking at 16-year-old Jacob Stevens today, you would never know just four months ago he was fighting for his life after suffering severe cardiac arrest at a fall festival hosted at his church in Oakwood.
AccessWDUN covered the story at the time of the accident, but the teen remains recognized for the events that unfolded leading to his recovery.
"He and his friends were walking across the parking lot toward the back where the pumpkin launcher was," Jan Stevens, Jacob's mom, said. "And I was just sitting in my car thinking he'll be coming and getting in the car in a little bit and we'll go home," she said.
Moments later, Jacob's mom received a call no parent wants to receive. Jacob was involved in a serious accident while using a "Pumpkin Chunckin" device, an oversized slingshot used to launch pumpkins into the air.
Jacob pulled back on the banding to release the pumpkin, but instead of the pumpkin soaring forward, it slammed backward into his chest. A bystander began CPR and 911 was called.
"I remember my oldest son Trevor calling me and telling me Jacob had been in an accident," Jacob's father, Michael Stevens said. "I stood up and said okay and he said, 'they're doing chest compressions on the way to the hospital.'"
Cardiologist Dr. Prad Tummala said Jacob came into Northeast Georgia Medical Center with a rare condition, but a condition that is more common than people may think. The rarity of Jacob's heart agitation was the blow to his chest had to happen at a certain phase of his heart beat in a specific location.
"If an object like a baseball or a softball hits the heart in a certain place at a certain time, it can actually cause chaos of the heart where it goes into cardiac arrest," Tummala said.
Jacob's family and friends followed closely behind the teen headed to NGMC. The crowd was on standby while news of Jacob's condition was unknown. Jacob's older brother Trevor said he guessed nearly 100 people anxiously filled the hospital waiting room.
"I don't know how much time passed, but it was a scary time. And I'm just thinking this might very well be happening. He could be dying," Jan Stevens said.
NGMC follows a system called "STEMI System," or ST-Elevation Myocardial Infarction, one of the deadliest types of heart attacks. The STEMI System is a partnership between emergency medical services, community hospitals and NGMC. With this system, trauma to the heart is diagnosed in the field by emergency medical services, immediate treatment is initiated and the status of the heart is communicated to physicians prior to the patient arriving at the hospital. The system's slogan: When it comes to trauma of the heart, "seconds matter."
In Jacob's case, the immediate CPR shocked his heart out of the chaotic rhythm of cardiac arrest, a factor that saved the teen's life Tummala said. But after a blow to the chest and constant compressions, Jacob suffered significant damage to his chest.
"He ended up having a lot of fractures and damage to the lungs and inflammation," Tummala said. "The trauma team and trauma doctors had a hard time oxygenating him, and that's when I got called to maybe help with the oxygenation portion with a device called ECMO," he said.
ECMO, or Extracorporeal Membrane Oxygenation, is a relatively new piece of technology at NGMC. Charlie Nix, the ECMO Coordinator at NGMC, said the hospital has had the machine for three years. ECMO works like a bypass machine, Nix said. It adds oxygen to the blood and removes the carbon dioxide before returning the blood to the body. ECMO allows the blood to bypass the heart and lungs until they are healthy enough to work on their own, he said.
Jacob spent 12 days on ECMO before his heart and lungs were strong enough to function independently. Without the machine, Jacob's body would have begun to shut down, according to Tummala.
But placing technology aside, there was a whole team of people responsible for saving Jacob's life that traumatic day.
"It's human nature," medical director and trauma surgeon Dr. Charles Richart said. "Everyone is always concentrated on the technology. And the technology certainly played an important role in this, but the technology would have never had the opportunity to make a difference in his case had it not been for all of the people, beginning with the bystander," Richart said.
Jacob was honored Friday at the 11thAnnual Northeast Georgia STEMI Summit alongside the team of responders who worked to save his life.
"I'm not really able to express the gratitude I have for them," Jacob said. "But I do have a newfound appreciation for people who sacrifice so much of themselves and into their jobs the way that they do."
The STEMI Summit brings paramedics, EMS staff, nurses and doctors together to discuss rapid response and treatment of deadly heart attacks, cardiac arrest, cardiogenic shock and ECMO technology.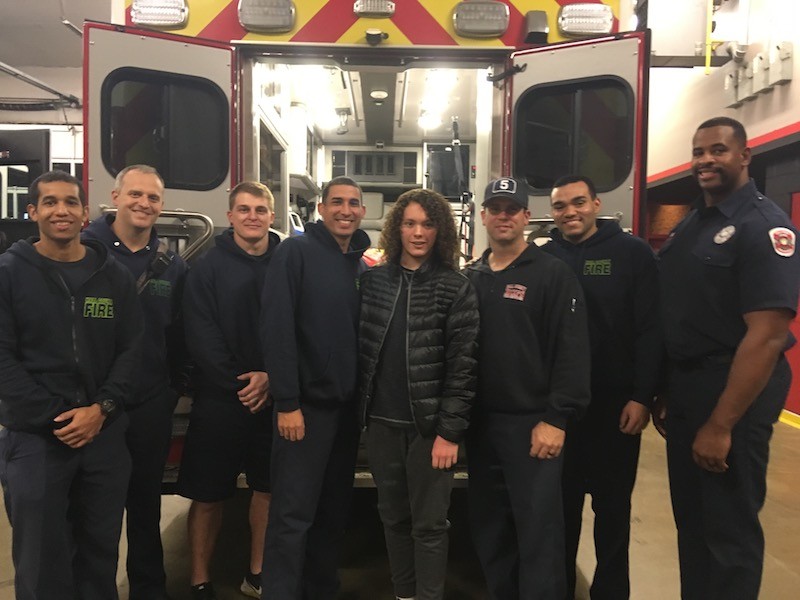 http://accesswdun.com/article/2019/3/777095/11th-annual-stemi-summit-honors-teen-struck-by-pumpkin