RABBITTOWN — It's been a rough start to the season for the Cherokee Bluff girls, but Friday's 57-45 win over Gainesville in the opening round of the 60th annual Lanierland Tournament could be the catalyst to get things turned around.
The win snapped a six-game losing streak for the Bears (3-10) and also moved them into the semifinals for the first time in their brief two-year history.
"The girls needed that," Cherokee Bluff coach Lindsay Justice said. "Lanierland is a big deal so for us to get to the semifinals means a lot. They've been working and practicing hard. But we're young and inexperienced and have played a brutal schedule. Right now we're just focused on the next possession."
The Bears next will take on the North Hall-East Hall winner at 3:30 p.m. on Saturday at Johnson.
The two teams traded the lead five times in the early going with Gainesville (3-8) taking a 14-11 lead at the end of the first quarter. But Cherokee Bluff used a 10-0 second-quarter run to grab the lead and held a 27-21 halftime advantage.
Gainesville rallied to tie the game at 33 late in the third quarter but the Bears again responded with a 9-1 spurt for 42-34 lead with just over five minutes left. The Red Elephants got to within 47-42 but the Bears answered again with a 10-3 run to put the game out of reach.
"That was a couple of big possessions in the fourth quarter," Justice said. "It was the first time the girls did a really nice job of playing with the lead in a tight game. That was nice to see."
Senior Maddie Phillips paced Cherokee Bluff with 23 points, her fifth straight 20-point-plus game. Timber Gaither added 13 points for the Bears.
Lauren Teasley led Gainesville with 12 points. Sadie Roach and Zaria Williams each had 9 points for the Red Elephants.
Gainesville will take on the North Hall-East Hall loser at 9:30 a.m. on Saturday at Johnson.
---
LAKEVIEW ACADEMY 52,
CHESTATEE 51
Joelle Snyder drained a 3-pointer with 5 seconds left to lift the Lions to a thrilling win over the War Eagles to open the tournament in grand style.
Snyder's shot capped a frantic final 30 seconds as Chestatee's Emma Eastwood converted a stick-back basket with 27 seconds left to give the War Eagles a 51-49 lead. Both teams then missed shots to either increase or take the lead.
The Lions' winning shot came after a missed shot and after a timeout by coach John Carrick with 7 seconds left.
"We had good luck on the one before and missed it but (Joelle) was able to get that one," Carrick said. "A typical Lanierland game."
Lakeview (9-4) looked in control through three quarters leading 18-11 after the first, 35-26 at halftime, and building double-digit leads half-a-dozen times behind Eliza Snyder, who poured in 12 points in the first half. The Lions led 38-26 on a Jackie Allen three-point play early in the third quarter before Eliza Snyder picked up her fourth foul with 5:09 left in the third.
Chestatee used that to spark an 18-6 run, capped by a Maggie McNair 3-pointer for a 46-44 lead with 5:33 left. The two teams traded the lead twice more to go with two ties before the wild finish.
"We got in foul trouble and that hurt us," Carrick said. "We had chances but couldn't get the shots to fall. Now we'll just look at the film and get ready for (Saturday)."
Joelle Snyder paced Lakeview with 18 points, but her only field goal of the second half proved the difference. Eliza Snyder added 15 points and Maddie Towles had 9 for the Lions.
Chestatee (6-7) was led by McNair, who poured a game-high 23 points, including five 3-pointers. Eastwood and Bowen Corley each had 9 points for the War Eagles.
Lakeview will play the West Hall-Flowery Branch winner t 6:30 p.m. on Saturday in the semifinals, which moves to Johnson. Chestatee will take on the West Hall-Flowery Branch loser at 12:30 p.m.
---
NORTH HALL 52,
EAST HALL 30
Lauren Swanson and Grace Hollifield combined for 21 points to lead Trojans (9-4) past East Hall and into the semifinals of the Lanierland Tournament.
Swanson scored 11 points and Hollifield added 10. Smallwood chipped in 9 points.
It was just a six-point difference after the opening period, 14-8, and 24-14 at the break and the Vikings (4-7) opened the third quarter on a 6-0 run to close within four points, 24-16.
North Hall, however, behind Hollifield and Swanson led the Trojans on a 9-0 run to quiet the Vikings and take a 33-16 advantage late in the third quarter. The Trojans extended the lead to 41-20 by the end of the third quarter, the largest of the game, thanks to freshman Sophie Cleveland's back-to-back 3-pointers.
Alexis Burce led the Vikings with 8 points and Maleah Harrison hit 7.
North Hall will play Cherokee Bluff at 3:30 p.m. on Saturday in semifinals at Johnson High. East Hall gets Gainesville in the consolation round at 9:30 a.m.
---
FLOWERY BRANCH 55,
WEST HALL 24
Ashlee Locke scored 22 points and freshman Bella Brick had 14 in a blowout win over the Spartans in the final girls game of the night.
"I thought Locke played great defense and shot close to perfect from the floor," Branch coach Courtney Newton-Gonzalez said. "Our guards did a great job getting her the ball. I'm very proud of Bella for coming in as a freshman and her first Lanierland game playing like she did. She hit shots early and played well on defense. We will need that play from her all weekend.
The win advanced the Falcons to the semifinals for the fifth straight year and keeps their goal of a record fifth-straight Lanierland title.
"We are happy as always to get the first-round win," Newton-Gonzalez said. "Sometimes getting that first one can be hard and I'm proud of how focused the girls were coming into the game. We will face a very good Lakeview team and we know it will be a battle."
It was a slow start for the Falcons only scoring 12 first-quarter points. By halftime, Branch extended its lead 27-9 by the half, holding the Spartans to just four second-quarter points.
In the second half, the Falcons pushed the lead to 20, 42-22, off a Locke basket.
Branch advances to play Lakeview in the semifinals at Johnson on Saturday. Tipoff is set for 6:30 p.m.
West Hall will play Chestatee in the consolation round at 12:30 p.m.
---
FIRST-ROUND RESULTS (at East Hall)
(5) Lakeview girls 52, (4) Chestatee 51
(5) Cherokee Bluff boys 62, (4) North Hall 48
(6) Cherokee Bluff girls 57, (3) Gainesville 45
(6) Johnson boys 60 (3) Lakeview 59
(2) North Hall girls 52, (7) East Hall 30
(7) West Hall boys 56, (2) East Hall 52 OT
(1) Flowery Branch girls 55, (8) West Hall 24
(1) Gainesville boys 75, (8) Chestatee 39
SECOND ROUND SCHEDULE DEC. 28 (at Johnson)
Girls
East Hall vs.Gainesville, 9:30 a.m.
Chestatee vs. West Hall, 12:30 p.m.
North Hall vs. Cherokee Bluff, 3:30 p.m.
Lakeview vs. Flowery Branch, 6:30 p.m.
Boys
East Hall vs. Lakeview, 11 a.m.
North Hall vs. Chestatee, 2 p.m.
West Hall vs. Johnson, 5 p.m.
Cherokee Bluff vs.Gainesville, 8 p.m.
CONSOLATIONS SCHEDULE DEC. 30 (at Cherokee Bluff)
Girls
Seventh place, 9 a.m.
Third place, 3 p.m.
Boys
Seventh place, 10:30 a.m.
Third place, 4:30 p.m.
FINALS SCHEDULE DEC. 30 (at Cherokee Bluff)
Girls, 6 p.m.
Boys, 7:30 p.m.
**Semifinals and finals will be broadcast live on WDUN FM 102.9 & AM 550 and streaming at accesswdun.com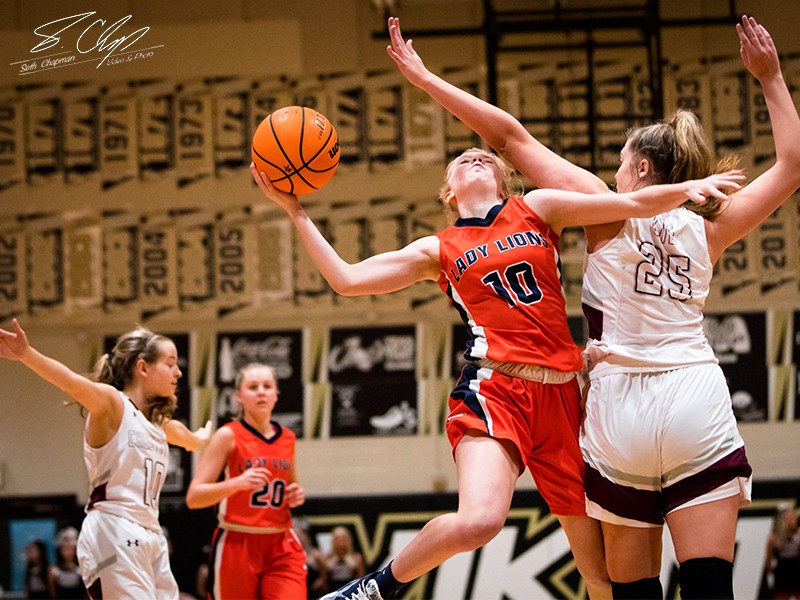 http://accesswdun.com/article/2019/12/862586/lanierland-1st-round-girls