Rutledge Avalon "Rusty" Griffin, a former student at Riverside Military Academy who went on to become the chairman of the school's board of trustees, died unexpectedly Tuesday. He was 75.
The Valdosta native, who had been chairman of the board since October 2017, entered Riverside in 1958 as a freshman and stayed for two years. He joined the board in 2016.
"Rusty represented the best of what Riverside Military hopes to instill in a cadet," Stas Preczewski, president of Riverside Military Academy, said. "He was a visionary leader among his peers, whether in business, philanthropic endeavors, or in his many positions of service at the state, regional, and local levels. His business acumen, enthusiasm, loyalty, strong moral compass, and tireless work ethic are not easily replicated, therefore, the loss to Riverside Military is huge."
After graduating from the University of Georgia, Griffin served in the U.S. Air Force Reserve before returning to Valdosta to join the family business, Parramore & Griffin Seed Company. After his father's death, Griffin ran the business, a manufacturer of agriculture chemicals opening in virtually effort U.S. market and more than 90 countries, until 2003 when it was sold to DuPont.
He also served the state of Georgia in several capacities including as a member of the Georgia Ports Authority and, most recently, the Georgia Board of Regents. He was later named a trustee emeritus for the University of Georgia Foundation.
As a student a Riverside, Griffin earned the rank of private first class in Delta Company, and in his sophomore year, his leadership skills were recognized as he was promoted to sergeant and then sergeant first class. Through the Marine Corps Physical Fitness test, he earned a Muscle College ribbon in RMA parlance, and participated in football, swimming, and track, and was a member of the Delta Company intramural wrestling championship team.
Griffin left Riverside in his junior year because he wanted to play football for Wright Bazemore, the legendary coach at Valdosta High School. The Wildcats won the state championship in 1962, Griffin's senior year.
In 2016, he returned to Riverside, this time as a member of the board of trustees.
"Because Rusty attended Riverside Military his heart was definitely with the school's mission of making young men leaders," Tony Herdener, board treasurer and chairman of the finance committee, said. "He brought to the board his business experience which, for him, revolved around making Riverside Military sustainable. He wanted to make sure RMA would continue to be here for young men for many years to come."
"Everything he did in the boardroom was toward that mission," Herdener said.
Griffin is survived by his wife of 52 years, Barbara Talley Griffin, three daughters and sons-in-law, and nine granddaughters.
The family will receive friends from 5-7 p.m. today at Carson McLane Funeral Home in Valdosta. The funeral will be at 10:30 a.m. Saturday at his home church, Valdosta First United Methodist Church.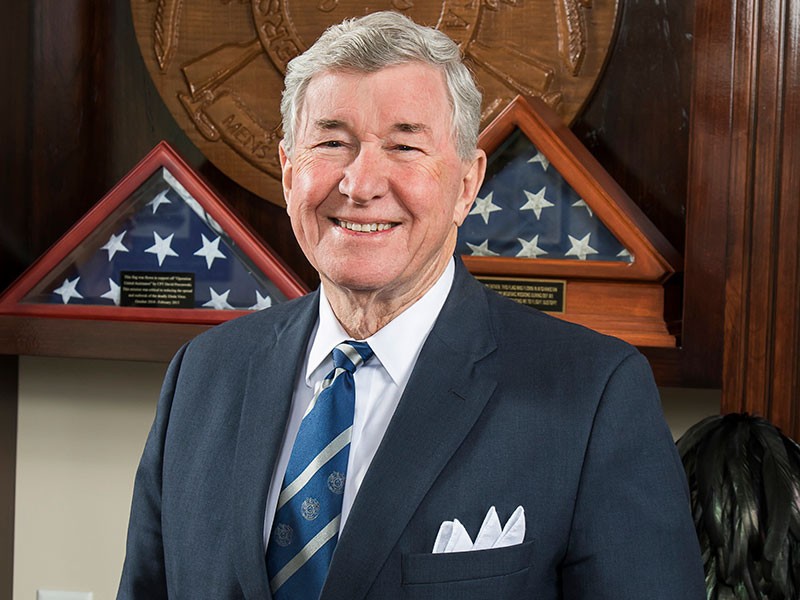 http://accesswdun.com/article/2019/11/848970/rusty-griffin-chairman-of-riverside-board-dies