GAINESVILLE – The Gainesville City Council will consider an ordinance at their voting session on Tuesday that amends the current alcoholic beverage code to allow for distilleries, to reflect requests received from local business owners and patrons, and to better synchronize the existing city regulations with each other and state regulations.
Assistant City Manager Angela Sheppard told city council members at their work session Thursday morning that her office had deliberately held off on presenting numerous small changes appropriate to the city alcohol ordinance that had arisen over the past several months until a time when she could present them together as one single ordinance change.
(Click here to view the ordinance; then select "Presentation of Ordinance Amendment" near the bottom of the page to see Sheppard's seven page presentation of the collective changes.)
Sheppard said that while the ordinance she was presenting brought harmony to existing regulations it also included one significant change to the existing code.
"One of the things that's a big change…is we've had several requests for some distilleries to come in. A lot of people are thinking about starting one up in the city, asking some questions about how to do it. Right now our ordinance doesn't have a provision to allow for that."
"What we're looking at is going in and adding a new section…to allow for distilleries," Sheppard added.
"We try to gather information from many different sources; try to consolidate some of the requests so that we can come forward with an ordinance change all at one time," Sheppard said following the meeting.
GAINESVILLE POLICE TO GET HIGH-POWER-BULLET PROOF VESTS
As Gainesville Deputy Chief of Police Jay Parrish took a seat at the presentation table he hoisted a 45-pound bullet-proof vest and set it on the table with an audible thud.
"It's a rifle vest," Parrish said.
"What it does," Parrish said as he tapped the front of his uniform shirt, "is the vest I'm wearing right now, it stops small arms."
Pointing at the vest on the table he said, "This is designed to stop high-power rifles."
Parrish had come seeking the council's permission for GPD to accept $12,765 of grant money that would allow for the purchase of 42 "Tactical rifle plate body armors". He cited the shooting incident in Las Vegas last October where a sniper perched high in a nearby hotel shoot and killed 59 concert-goers with a high powered rifle as an example of when such vests would be needed.
Parrish said his department has encountered situations where rifles were involved.
"It will only be worn by our officers in critical incidents," Parrish said. "They put it on in time of need. You wouldn't see them on traffic stops."
Parrish said light-heartedly after seeing the amazement of the council members to the size of the vest, "When you see them (officers) in this get out of the area."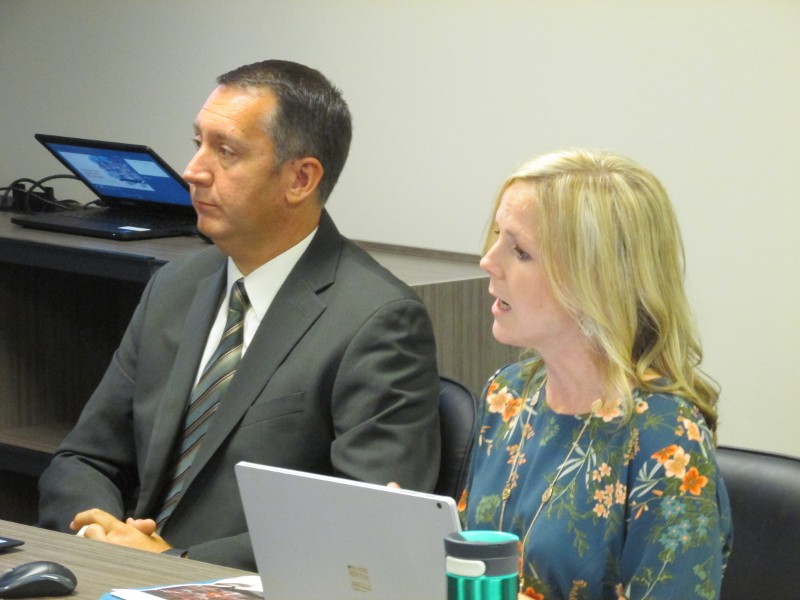 http://accesswdun.com/article/2018/9/712969/gainesville-council-considers-alcohol-code-amendment-to-allow-distilleries