PRINCETON, W.V. – Benji Hicks used a lap 13 restart to take the lead in Saturday night's FASTRAK Racing Series feature at West Virginia's Princeton Speedway, and went on to score the victory in the UBB 29 Miners Memorial.
It marked the second straight win in the in the event, giving him a $3,000 payday.
Fast qualifier Brandon Umberger led the early laps. But it was Hicks taking advantage on a restart after a caution 13 laps in, as the leaders stacked up four-wide. Hicks used the outside line to sweep into the lead.
A late race caution set up a 12-lap shootout, with Hicks coming home with the victory. Umberger finished in second, followed by Matthew Nance in third, Tyler Arrington in fourth and Henry Hornsby III in fifth.
Brett Hamm, Michael Bland, Carder Miller, Eddie Hambrick and Hunter Stinnett rounded out the top ten.
The FASTRAK Racing Series will return to action at Beckley Motorsports Park in Mt. Hope, West Virginia on Friday August, 31. Visit FASTRAKRacing.com for more information.
FASTRAK Racing Series
Princeton Speedway – Princeton, WV
UBB 29 Miners Memorial – August 4, 2018
1. Benji Hicks
2. Brandon Umberger
3. Matthew Nance
4. Tyler Arrington
5. Henry Hornsby III
6. Brett Hamm
7. Michael Bland
8. Carder Miller
9. Eddie Hambrick
10. Hunter Stinnett
11. Trey Watson
12. Jonathon Miracle
13. Brad Basey
14. Shane Greco
15. Matt Long
16. Tate Hughes
17. Brandon Riffe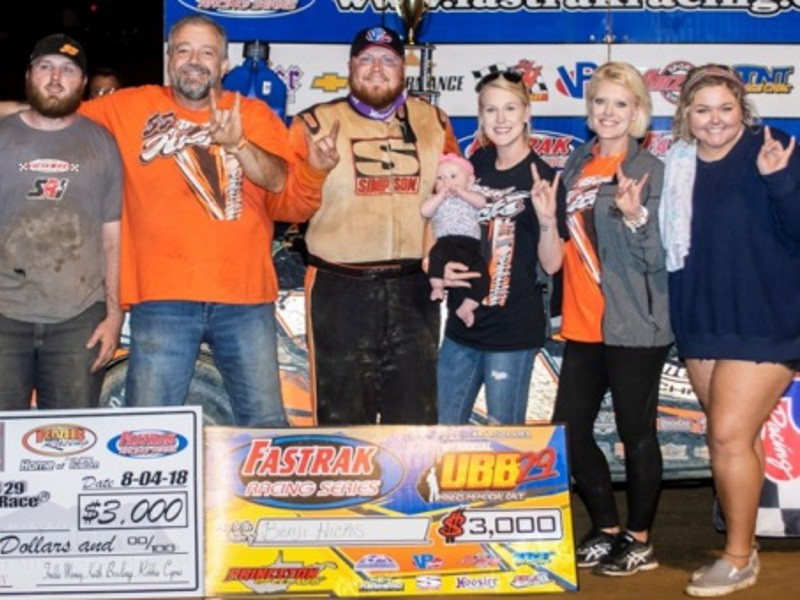 http://accesswdun.com/article/2018/8/700855/benji-hicks-wins-second-straight-fastrak-ubb-memorial