HAMPTON, Ga. - Eagerly awaiting the beginning of the points season of the O'Reilly Auto Parts Friday Night Drags series, competitors gathered at Atlanta Motor Speedway's pit lane drag strip to collect points for the first time this season on Friday night.
The event also featured the debut of the Peach Pass Burnout Zone, which saw New Edge Division competitor Jacob Turner take home the first victory in his 1995 Ford Mustang.
"My goal was to pretty much make it the best I could, without blowing the tires out", said Turner. "My tires were pretty worn out anyway so I thought 'what the heck, let's make it a good one.'"
Turner later moved on to the finals of the New Edge Division, but popped a belt before his final round run. He quickly went to work on his Mustang doing what he could to reattach the belt before it was time to go. Turner and his Mustang miraculously pulled it all together in time to make a final run to take home the trophy.
"It may have worked its way loose because it doesn't have an automatic tension arm," said Turner as he explained his belt issues, "So you basically have to tighten it up as you go along. The belt must have stretched or something like that and popped off."
"It was fun to go out for that final run", said Turner. "It was more exciting than the first couple of rounds because of the situation I was in when everything was on the line."
Kevin Mayo, who finished second in the QuikTrip Pro Division points standings last year, raced his 1969 Chevy Nova to an early points lead after defeating Greg Fowler and his 1964 Chevrolet II in the division's final round.
Other notable winners include Scott Charette in the Summit Racing Equipment Sportsman Division, driving a 1995 Pontiac Firebird, and Nick Nicholson in the Diamond Resorts Factory Street Division driving his 2014 Ford Mustang GT/CS.
Atlanta Motor Speedway's O'Reilly Auto Parts Friday Night Drags continues with week 5 action on the pit lane drag next Friday, June 14. More information can be found at AtlantaMotorSpeedway.com.
Atlanta Motor Speedway – Hampton, GA
Friday Night Drags – June 8, 2018
New Edge: Jacob Turner – 1993 Mustang
Super Pro: Robert Cheney – 2014 American Dragster
Pro: Kevin Mayo – 1969 Chevy Nova
Street Outlaw: Doug Ragan – 1998 Ford Cobra
Sportsman: Scott Charette – 1995 Pontiac Firebird
Street Performer: Brandon Sampler – 1995 Chevrolet S10
Domestic: David Smith – 1990 Isuza
Street Modified: Kelly Morgan – 1968 Ford Mustang
Factory Street: Nick Nicholson – 2014 Ford Mustang GT/CS
Diesel Truck: Christian Parker – 2012 Dodge Ram 2500
Truck: Brian Leath – 1976 Chevrolet 610
Tuner: Steven Mallet – 2004 Subaru WRX
Sport Compact: Courtney Perry – 1995 Honda Civic
Super Bike: Robin Malcolm – 2003 Busa
Sport Bike: Bryan Berube – 2013 Suzuki Hayabusa
Motorcycle: Dylan Nisaff – 2017 Suzuki 750
Cruiser/Dirt Motorcycle: Robert Thomas – Harley Davidson
ATV: Wayne Cline – Yamaha Banshee
Junior Dragsters: Gracie Haralson – 2005 Mov. Tub Jr.
Burnout Zone: Jacob Turner – 1993 Mustang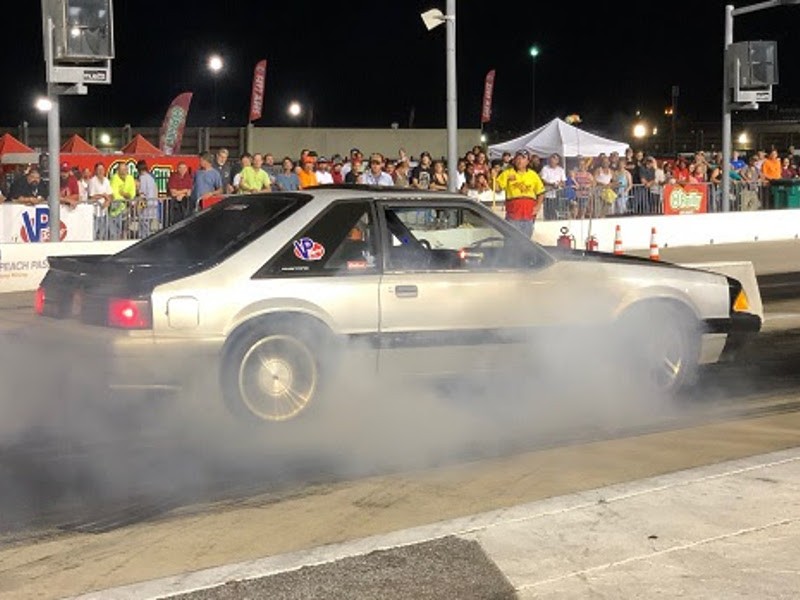 http://accesswdun.com/article/2018/6/680693/turner-takes-new-edge-friday-night-drags-win-at-ams