Cory Hedgecock and Jimmy Owens both recorded home state victories in World of Outlaws Craftsman Late Model Series action in Tennessee over the weekend.
Hedgecock, from Loudon, Tennessee, was the winner on Friday night at 411 Motor Speedway in Seymour, Tennessee. Owens, who hails from Newport, Tennessee, won on Saturday night at Volunteer Speedway in Bulls Gap, Tennessee.
On Friday evening, Hedgecock collected the biggest win of his career in front of a packed house at 411 Motor Speedway.
"I knew if I ever had a chance at winning one of these races, it was no doubt going to be here," said Hedgecock. "I am tickled to death… This track was absolutely phenomenal tonight… We were no doubt going to wreck her or bring her home."
Hedgecock claimed the lead from rookie of the year contender and race-long leader David Breazeale on lap 23 and never looked back. Two late race cautions on lap 44 and lap 45 of the 50-lap event posed no threat to Hedgecock, who held off charges from Jimmy Owens.
"I just had mixed emotions. I did not want them cautions," said Hedgecock. "During that long green run (lap 5-41), I'm not sure if I didn't use my right rear a little bit up. It got hot on me. So, then I was like, 'OK, well maybe I do want a caution'… I knew the No. 57 (of David Breazeale) was behind me and then the No. 20 (Owens) popped up and I thought, 'Oh shoot. This one is going to be tough.' You know, we got that caution but I just kept getting the thumbs up. I am tickled to death. This is awesome."
Owens finished in second, with Mike Marlar in third, Chris Madden in fourth and Michael Chilton in fifth.
One night after finishing second, Jimmy Owens bettered his results by one spot by scoring the win at Volunteer Speedway on Saturday night.
Owens and Chris Madden battled for the lead for the majority of the race until Owens successfully completed the pass on lap 47 of the 50-lap feature. From there, he went on to score he second feature victor of the season.
"Man, it was an awesome, awesome track tonight," said Owens. "It's just one of those deals where you didn't want to be leading because you didn't know if the track groove was going to be up high or down low, but the groove was pretty much wherever you wanted it to be. We had a good car but hats off to Chris and them. It was a heck of a race. I enjoyed every bit of it. I hope we made the fans happy."
Madden commanded the lead from pole-sitter Michael Chilton on lap 13 and continued to hold off a close battle within the top-five between Owens, Dale McDowell, Chilton, and Brandon Sheppard. The 50-lap event had zero cautions which made it difficult for the race leader to pull away from the pack.
With only three laps remaining, Owens pulled the trigger and slid by Madden for the lead. Unfortunately for Madden, who had led nearly three-fourths of the event, a lapped car kept him contained ultimately allowing Owens to pull away and claim the $10,000 payday in his home state.
McDowell finished in third, followed by Chilton in fourth and Sheppard in fifth.
The World of Outlaws Craftsman Late Model Series will continue its busy month of June with a three-race swing at Stateline Speedway in Jamestown, New York on June 14, New York's Ransomville Speedway on June 15 and Wayne County Speedway in Orrville, Ohio on June 16.
For more information, visit WoOLMS.com.
World of Outlaws Craftsman Late Model Series
411 Motor Speedway – Seymour, TN
Race Results – June 1, 2018
1. 9h-Cory Hedgecock
2. 20-Jimmy Owens
3. 157-Mike Marlar
4. 44-Chris Madden
5. 97-Michael Chilton
6. 91-Tyler Erb
7. B1-Brent Larson
8. 54-David Breazeale
9. 25-Shane Clanton
10. 1-Brandon Sheppard
11. 7-Rick Eckert
12. 18c-Chase Junghans
13. 50-Shanon Buckingham
14. 53-Ray Cook
15. 3v-Kyle Hardy
16. 14m-Morgan Bagley
17. 22-Chris Ferguson
18. 1g-Ryan King
19. 9-Devin Moran
20. 116-Brandon Overton
21. 101-Casey Roberts
22. 21-Robby Moses
23. C5-David Crabtree
24. 17M-Dale McDowell
World of Outlaws Craftsman Late Model Series
Volunteer Speedway – Bulls Gap, TN
Race Results – June 2, 2018
1. 20-Jimmy Owens
2. 44-Chris Madden
3. 17M-Dale McDowell
4. 97-Michael Chilton
5. 1-Brandon Sheppard
6. 18C-Chase Junghans
7. 157-Mike Marlar
8. 101-Casey Roberts
9. 50-Shanon Buckingham
10. 22-Chris Ferguson
11. 25-Shane Clanton
12. 91-Tyler Erb
13. 9H-Cory Hedgecock
14. B1-Brent Larson
15. 54-David Breazeale
16. 7-Rick Eckert
17. 9-Devin Moran
18. 55-Benji Hicks
19. 144-Chris Barton
20. 14m-Morgan Bagley
21. 21-Robby Moses
22. 10-Chad Ogle
23. 53-Ray Cook
24. 116-Brandon Overton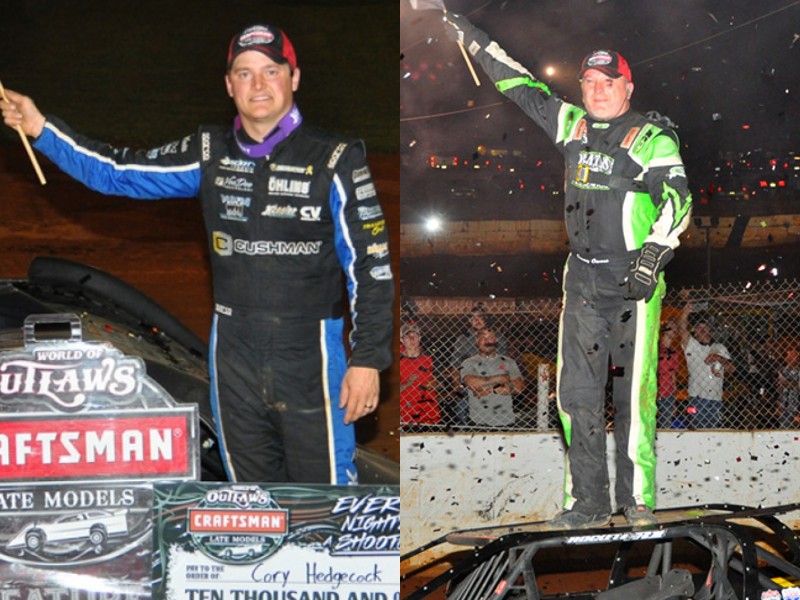 http://accesswdun.com/article/2018/6/678336/hedgecock-owens-score-woo-lms-tennessee-victories