For Kenny Collins, it was a return to his home track that put him in the winner's circle at Georgia's Toccoa Raceway on Saturday night.
After setting fast time in qualifying, the Colbert, Georgia driver went on to take the victory in the 20 lap FASTRAK Pro Late Model feature at the historic 5/16 mile clay speedway. It marked his first win at Toccoa since May of 2015.
Parker Herring finished in second, with Colby Cannon in third, Daniel Wilson in fourth and Adam Smith in fifth.
In the Midsouth Cage Equipment Limited Late Model feature, David McCoy took the win over Drew Collins and Nick Sellers.
In the Safety Plus 602 Sportsman feature, Nick Sellers led every lap of the 18 lap race en route to the win. Brandon Stroud finished second with Chris Wilbanks in third. Former NASCAR driver Jeremy Mayfield started 7th and had moved up to second when he encountered a flat tire. Then, was working his way back through the field when something happened to the car and he had to retire for the night.
Sterling Helm took the win in the Modified Street feature, followed by Billy Buffington in second and Daniel Doster in third.
Joey Kelly was the winner of the Stock 4 feature, finishing just ahead of Ryan Crawford, with Bobby Boshears in third.
Jack Hill topped the Stock V-8 division feature. Hayden Collett was second, followed by Chance Segars in third.
Matthew Ferguson powered to the Toccoa Pro Truck feature win. Spud Nicholson was second with Sterling Helm in third.
Troy McDonald got his first win in the O'Reilly Auto Parts Front Wheel Drive division feature. Tony Stevens was second and David Creighton claimed third.
In the Kettle Construction Company Young Guns feature, Preston Kelly edged out Will Kettle for the win.
Toccoa Raceway returns to action on Saturday, May 19, as the speedway plays host to the Alpha Art 602 Thunder Series. For more information, visit ToccoaRaceway.com.
Toccoa Raceway – Toccoa, GA
Race Results – May 12, 2018
FASTRAK Pro Late Models
1. Kenny Collins
2. Parker Herring
3. Colby Cannon
4. Daniel Wilson
5. Adam Smith
6. Nich Schlager
7. Ricky Smith
8. Sylvan Schuette
9. Jereome Loudermilk
10. David McCoy
11. Steve "Hot Rod" LaMance
Limited Late Models
1. David McCoy
2. Drew Collins
3. Nick Sellers
4. Mason Tucker
5. Danny Ledford
6. David Conley
7. Chris Segars
8. Jr. Headen
9. Stephen Segars
602 Sportsman/Hobby
1. Nick Sellers
2. Brandon Stroud
3. Chris Wilbanks
4. Mark Wilbanks
5. Josh Roberts
6. Kevin Tullis
7. Rusty House
8. John Howard
9. Ben Riggins
10. Jeremy Mayfield
11. Jermey Kastner
12. Walker Kastner
13. Shannon Defoor
14. Blake Craft
Modified Street
1. Sterling Helm
2. Billy Buffington
3. Daniel Doster
4. Smokey Roberts
5. Chris Nickerson
6. Tye Nalley
7. Robert Stewart
8. Glenn Holcomb
9. Justin Sims
10. Scott Arrowood
11. Thomas Segars
Stock V8
1. Jack Hill
2. Hayden Collett
3. Chance Segars
4. Stacy Watts
5. Ricky Jones
6. Nickoli Holcomb
Toccoa Pro Trucks
1. Matthew Furgerson
2. Spud Nicholson
3. Sterling Helm
4. Ralph Anderson
5. Bill Pulliam
6. Terry Calhoun
Stock 4
1. Joey Kelly
2. Ryan Crawford
3. Randy Boshears
4. Bobby Rhinehart
5. Jamie Brown
6. Bubba Nation
7. Randy Edmonds
8. Nathan Nation
9. John Sanford
10. Daniel Partain
11. Aaron Calvert
Young Guns
1. Preston Kelly
2. Will Kettle
3. Caylan Kettle
FWD
1. Troy McDonald
2. Tony Stevens
3. David Crenighton
4. Jessy Smith
5. Ronny Goodson
6. Michael Elrod
7. Justin Sorrow
8. David Glenn
9. Daryle Sutton
10. North West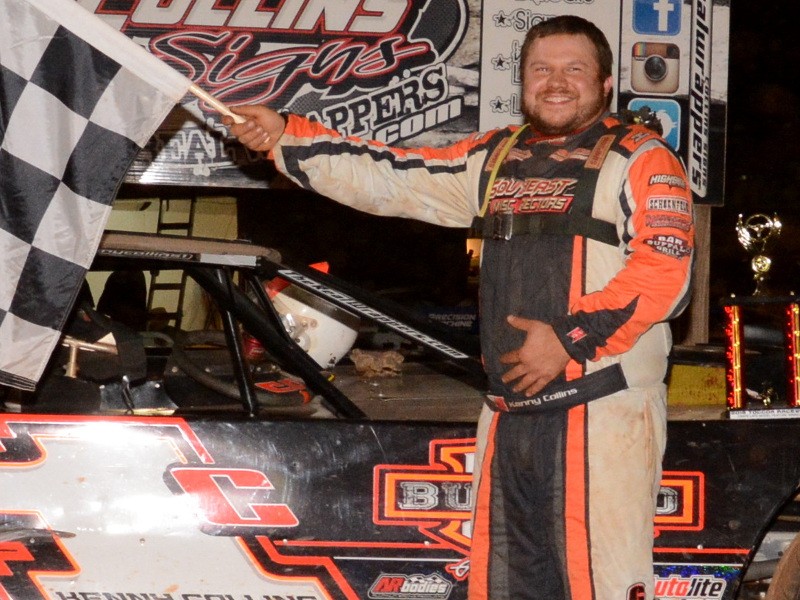 http://accesswdun.com/article/2018/5/671123/kenny-collins-back-in-victory-lane-at-toccoa-raceway