BRISTOL, Tenn. — When it comes to the K&N Pro Series East in 2018, Todd Gilliland is batting 1.000.
The Sherrils Ford, North Carolina, native won the Zombie Auto 150 at Bristol Motor Speedway on Saturday afternoon, holding off Harrison Burton on the final 10-lap sprint to the finish. Gilliland crossed the finish line 1.494 seconds ahead of Burton, the defending race winner.
The victory is Gilliland's second in a row in the K&N Pro East, as he took the season-opening New Smyrna 175 at New Smyrna Speedway one month ago. The win is also Gilliland's 20th in 50 starts across both the K&N Pro East and West series.
"It means so much," said Gilliland, who is running a partial schedule in the K&N Pro Series and Camping World Truck Series after winning the last two K&N Pro West titles. "I think once you get that first one out of the way, you kind of get that winning feeling and you just know what it's like.
"I've just driven for really great teams, they've brought me really fast cars every weekend."
In two previous K&N Pro East starts at Thunder Valley, Gilliland started 21st and finished eighth in 2016 and started eighth and finished ninth last season. But on Saturday, the third time was the charm.
It didn't come easy, though, as three red flags for a combined 22 minutes and one second, coupled with 10 cautions slowed the race and continually erased the leader's advantage.
"It's really nerve-wracking for sure," Gilliland said. "Especially during red flags, it gets really hot and you just have a lot of time to think about it. Overall, you just have to have a really good spotter and crew chief. My dad was on the radio. It's all about staying focused.
"Noah (Gragson) was laying back really far on the restarts, and it was kind of getting in my head. I felt like our car was the best after we'd get going for a few laps, but for two laps everyone is so close because the stuff is down on the bottom. Overall, a really fast car just kept me that much more focused."
Gilliland, Burton and third-place place finisher Noah Gragson are Camping World Truck Series teammates for Kyle Busch Motorsports. Gilliland is racing in the K&N Pro Series this year for his father's DGR-CROSLEY team.
Burton finished third in the opener at New Smyrna after battling Gilliland for the lead over the final laps. This time, however, Gilliland was able to get away on the final restart.
"I just wanted to get a shot at him," Burton said. "And I think we had a good long run car, just struggled on the short runs. I was too loose. After about four or five laps we really came on and I thought we were probably the strongest car out there. But there just wasn't enough time and I'm disappointed but happy that I am disappointed with second."
Tyler Ankrum finished in fourth, with Brandon McReynolds in fifth.
Tyler Dippel, Dawsonville, Georgia's Spencer Davis, Ronnie Bassett, Jr., Eddie MacDonald and Ruben Garcia Jr. completed the top 10.
The K&N Pro Series East returns to the track in two weeks at Virginia's Langley Speedway for the Visit Hampton VA 150.
NASCAR K&N Pro Series East
Bristol Motor Speedway – Bristol, TN
Zombie Auto 150 – April 14, 2018
1. Todd Gilliland
2. Harrison Burton
3. Noah Gragson
4. Tyler Ankrum
5. Brandon McReynolds
6. Tyler Dippel
7. Spencer Davis
8. Ronnie Bassett, Jr.
9. Eddie MacDonald
10. Ruben Garcia, Jr.
11. Reid Lanpher
12. Marcos Gomes
13. Ryan Vargas
14. Brandon Oakley
15. Max Tullman
16. Dillon Bassett
17. Salvatore Iovino
18. Anthony Alfredo
19. Grant Quinlan
20. Juan Manuel Gonzalez
21. Cole Rouse
22. Hailie Deegan
23. Tanner Thorson
24. Derek Kraus
25. Matt Levin
26. Chase Cabre
27. Jesse Iwuji
28. Chuck Buchanan, Jr.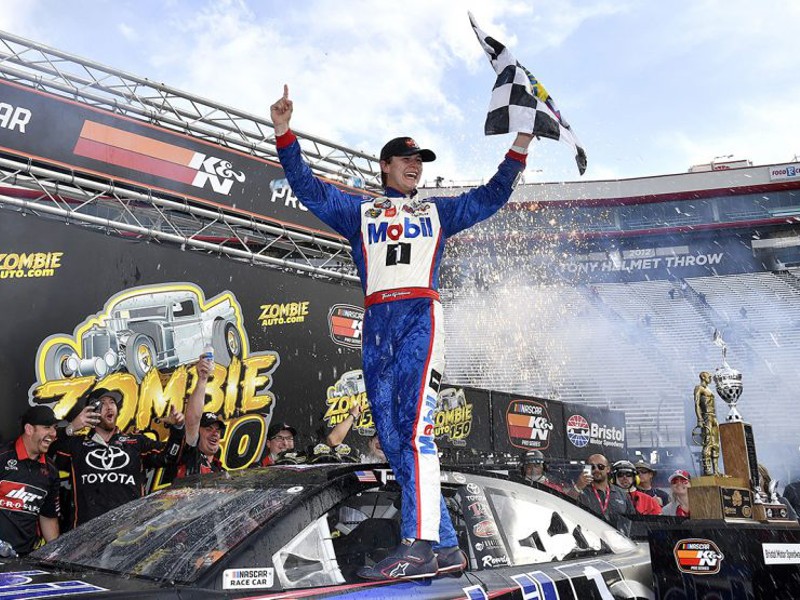 http://accesswdun.com/article/2018/4/660061/todd-gilliland-conquers-bristol-for-kn-east-series-win