RABBITTOWN — East Hall goalkeeper Oscar Rosas had saved just one penalty kick all season -- and that save was overturned on an infraction.
And yet when Friday's de facto Region 7-3A championship went to a penalty shootout against Greater Atlanta Christian, the Vikings shot stopper felt strangely calm.
"I have guessed right so many times this season and was so close to stopping one -- I knew I'd get it right soon," Rosas said.
Rosas got it absolutely spot on against the Spartans, saving three of four penalties faced to help propel East Hall to a 3-1 victory in the shootout -- after the Vikings battled back from a two-goal deficit to force overtime at 2-2.
"I was really confident in him," East Hall coach Chris Horton said of Rosas. "Plus we were standing back there trying to help him out and pointing which way we thought their guys were going. We were looking at their hops and guessing; we weren't always right, but we got a lot of them."
"My teammates were my cheat code," Rosas chuckled. "This feels amazing. We lost to them last year (for the region title), and it feels great to get it back for the second time."
Rosas denied the first three penalties faced, and while East Hall missed its first attempt, the Vikings then bagged three straight, Maury Ibarra converting to touch off wild celebrations on the field and in the stands.
"I was just hoping the team would feed off my energy," Rosas said.
The fourth-ranked Vikings (11-2-2, 5-0 Region 7-AAA) were all energy in the second half -- and they needed it all to peg back the fifth-ranked Spartans (8-6-1, 4-1) after going 2-0 down just after the interval.
GAC got a first half free kick goal from Jack Jacquet and then a quick strike from Oscar Vanegas eight minutes into the second half to pull ahead.
But East Hall refused to yield, mixing young legs and veteran talent to great effect, as longtime standouts Ibarra and then Sergio Turcios each scored on free kicks to knot the score with just over four minutes to play.
"In reality I felt a peace that we'd be able to come back," Horton said of facing a two-goal deficit. "We subbed a lot -- we played nine freshmen tonight -- and it looked like they wore down. We could see them wilting a little, and I told our guys to keep pressing high and keep the pressure on them."
The plan paid off with the Vikings' second region crown in three seasons -- which could prove important for the upcoming state playoffs.
"It's huge (to have a No. 1 seed)," Horton said. "In the second round we're playing Westminster and Lovett's region (5-3A), and being at home for that should be very important."
GAC actually controlled the pace of the game in the early going, as Jacquet, Mekhi Royes and Chris Barbieri made the most of their size advantage to crowd out smaller Vikings players, win tackles and then retain possession.
East Hall waited patiently for a chance to make the most of its speed, however, and Ibarra finally found space on the counter -- only to roll his 15-yard shot into the arms GAC goalkeeper Hunter Winkler with 26 minutes remaining in the first half.
Jairo Valdez also sprinted into space but could only blast his close-range effort wide of the Spartans' post.
No sooner had the Vikings built momentum, however, than GAC served notice of its own, as Jacquet drove a 45-yard free kick off the under side of the East Hall crossbar. The ball bounced right back into the path of Nicolas Veltmaat, but the Spartans sophomore volleyed harmlessly over Rosas' open goal.
Yet Jacquet found his range on the next attempt, and this time Rosas could do nothing to stop Jacquet's 20-yard free kick from slamming into the back of the East Hall net.
The set-piece goal yielded a 1-0 Spartans lead with 8:33 remaining in the half, and the Vikings battled for a response -- only to see separate efforts blasted wide of the goal as GAC entered the interval with an advantage.
East Hall came out determined to find an equalizer, and Valdez was most eager to provide it, whipping in a dangerous cross that eluded two teammates in front of goal and then firing at Winkler from a tight angle.
But again GAC responded, and this time it was from open play.
Running on to a perfectly-weighted chip from Jacquet, Vanegas beat Rosas to the ball on the edge of the Vikings penalty area, rounding the keeper before drilling the ball into the net from the tightest of angles for a 2-0 lead with 31:42 remaining.
The goal only invigorated East Hall further, however, and Freddy Rebollar and Ibarra took turns testing the Spartans defense and keeper. But when the breakthrough did come it proved unexpected.
Winning a free kick 40 yards from goal, Ibarra lofted the ball toward the penalty spot. Winkler charged out to claim it, but misjudged the flight and ended up palming the ball into the back of his own net with 14:04 to play.
Smelling blood, the Vikings continued to press for the equalizer, with the Spartans bunkering in to try and deny.
It didn't work.
Just seconds after clipping a volley off the crossbar, Turcios won a free kick just outside the penalty area and duly delivered a dipping, curling free kick that nestled into the net for a 2-2 scoreline with 4:42 remaining.
Effort expended in the comeback made for a relatively uneventful final four minutes, and the contest drifted into overtime. Each team created one clear chance in the extra frame -- Vanegas heading just wide of the East Hall goal from six yards and Ibarra unable to beat a defender and Winkler to a teasing chip -- sending the game into a penalty shootout.
And once into penalties, Rosas ensured there was ever only going to be one winner. Rebollar, Carlos Pulido and Ibarra each buried spot kicks to make the most of Rosas' efforts.
"We've had some injury and illness this season, but we're getting there right now," Horton said. "We've also got 15 freshmen on this team, and it's been a learning process because of that. But we're getting there."
East Hall plays host to Dawson County on Tuesday and will close out the regular season on April 20 against Northwest Whitfield.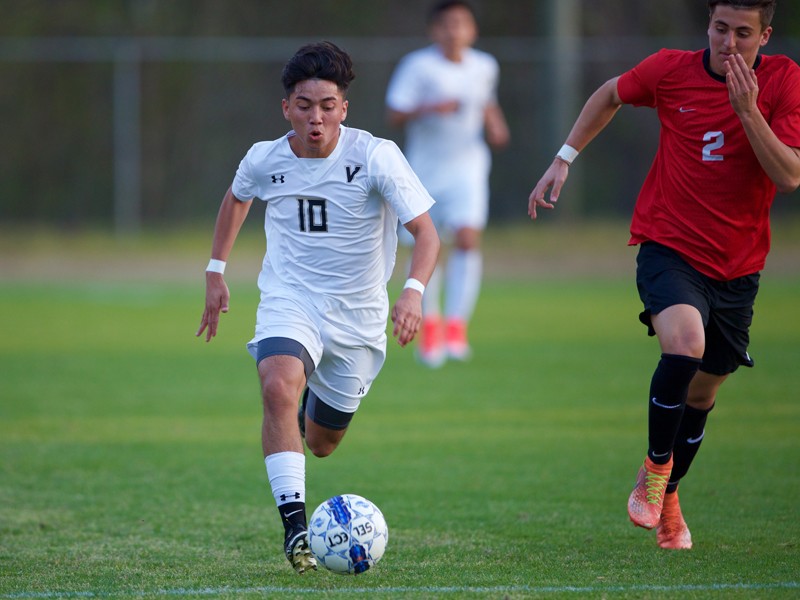 http://accesswdun.com/article/2018/4/659602/soccer-east-hall-gac