Phillippa Lewis Moss, the director of the Hall County Community Service Center shared her background and life story at the first WomenSource Power Breakfast of the year Friday morning.
Moss is known by many Hall County residents as the Director of the Gainesville-Hall County Community Service Center. But before the native of Oakland, Calif., moved to Suwanee with her husband on a literal coin flip, she experienced some traumatic situations and learned about poverty, drug epidemics and gentrification that lead her towards making connections and building networks.
"My theory is that, people who are successful and doing well like being asked to help others," said Moss. "You have to be bold. I think the approach is 'teach me something that you know.' Everyone loves sharing their stories with others and that's always been my approach in volunteering and so forth is 'teach me what you know.'"
Moss began by sharing some stories from her childhood. She described her childhood as great, but, like many, she faced challenges that shaped who she is today, including a devastating fire at the family home and getting lost for 10 hours.
"At a very early age, losing property, losing assets, became kind of a a theme for my life. Do you remember that old show Lassie?... I can't watch a Lassie show. It breaks my hear to even see people get separated. So unification, connection are very important things to me."
As a teen, she rode public transit and witnessed gentrification and poverty through the people and scenes she saw while riding the bus; later, Oakland continued to change as drugs, specifically, crack cocaine, became a problem. "I saw entire families, strong families, beautiful homes, well-educated , just fall apart. And it reminds me of the opioid addiction going on now. The only difference is back in the day, people weren't assisted because they were sick, they were incarcerated because they were bad. So I saw my community really take a nosedive, a nosedive they're still trying to recover from."
"My aunt was a nurse... beautiful lady, I swear to you she looked like Lena Horne - long legs, flawless skin, beautiful hair, striking, and she was addicted to helping people. She also became addicted to heroin. It unraveled her life, which meant it unraveled all of our lives because when you have an addition everyone in the family is impacted. She eventually succumbed to kidney failure as a result of her heroin addiction."
Moss said volunteering shaped her as well, especially interacting with immigrants after the Vietnam War. "I had an opportunity to teach English to Cambodians for two years to adults, as a kid. It was really an incredible experience seeing immigrants take root in this country and how hard it was and how hard they worked. That shaped my a lot of my experiences and appreciation for people who are new to this country, because it's not easy."
Moss said she became interested in politics as a teen because she thought that was the best way she could help people. Her path hasn't quite taken her there yet and she is still interested in politics.
In Georgia, Moss volunteered her skills and was hired for small jobs and volunteered at the State Capitol. She convinced a receptionist at the Georgia State University Career Center for access to a fax machine and sent her resume to the Department of Community Affairs. Within a week, she had an interview and was hired on as a special assistant to the Commissioner and as a consultant for the Department of Community Affairs.
About seven years later, Moss said she was giving a grant to Cheryl Christian and some others at the civic center, and they were sitting at a table with Myrtle Figueras. Christian told Moss she was leaving her post as the director of the Community Service Center. "Myrtle turns to her and says, 'Yeah Cheryl, who is going to take your place?' and Cheryl looked at me and said, 'You know, Phillippa could.' And that's how I got here!"
In her spare time, Moss also works as a divorce mediator, referring back to her passion for connecting people together.
Moss also updated the group on the new Community Senior Center, as well as details from Vision 2030's projects. More public art is expected, including a new grant for the art on the bus stops in Gainesville, and the renovations to the Lake Lanier Olympic Venue are continuing as planned.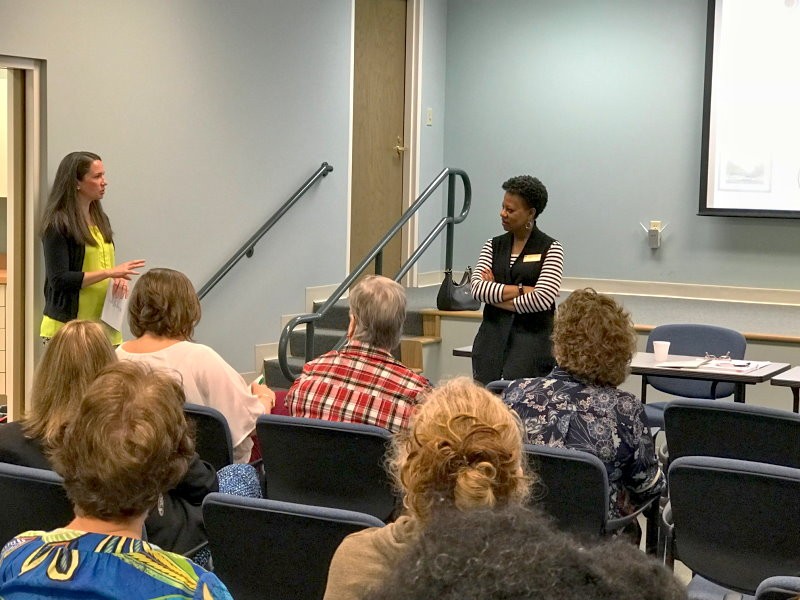 http://accesswdun.com/article/2018/2/640264/womensource-power-breakfast-talks-connections-networking