Police officers and fire officials were able to enjoy a free meal Thursday afternoon in downtown Gainesville courtesy of a local restaurant owner.
Scott's Downtown opened their doors to the Gainesville Police Department, Gainesville Fire Department, Hall County Sheriff's Office and Hall County Fire Services for a drop-in meal from 11:30 a.m. to 2:30 p.m.
Owner Scott Dixon said it was the second year the restaurant has held the event. He said they served roughly 150 first responders over the afternoon.
"We started last year as part of our 10th anniversary here in Gainesville, and we thought it would be great to do something to give back," Dixon said. "How can you not be happy to come have a holiday lunch and enjoy, but the reception's been great."
Gainesville Police Chief Carol Martin said city officers have come to the lunch both years it's been offered.
"We're so appreciative of Scott for doing this, it just lifts all the officers up to know that they are appreciative," Martin said. "The past couple of weeks have been very hard, especially here in Georgia where all the officers have been shot and killed and maimed. Just very appreciative to know that they are still wanted in the community."
Martin said that law enforcement has been through several somber days involving the funeral of fallen DeKalb County police officer Edgar Flores, who was shot and killed on December 13. Flores' funeral service was held in Flowery Branch on Wednesday.
Hall County Sheriff's Office Spokesman Derreck Booth said that many Hall County and Gainesville officers were involved with those funeral services, which came one day before the free lunch at Scott's Downtown.
"They hate when something like this happens, so for this to be the day after that detail that they worked on is huge. It's kind of a good release," Booth said.
Dixon said the restaurant received great reception for the lunch both in 2017 and on Thursday. He said they plan to make it a staple of their holiday plans in future years.
"You know, being here downtown, we see the officers and some of the firemen and the county officers on a regular basis. They're here looking out for us and we just thought it was, you know, a good focal point for us to give back to."
The lunch was held in a private second-floor dining room of the restaurant.
Good Tidings is a special AccessWDUN holiday series, highlighting the goodwill of groups and individuals during the Christmas season.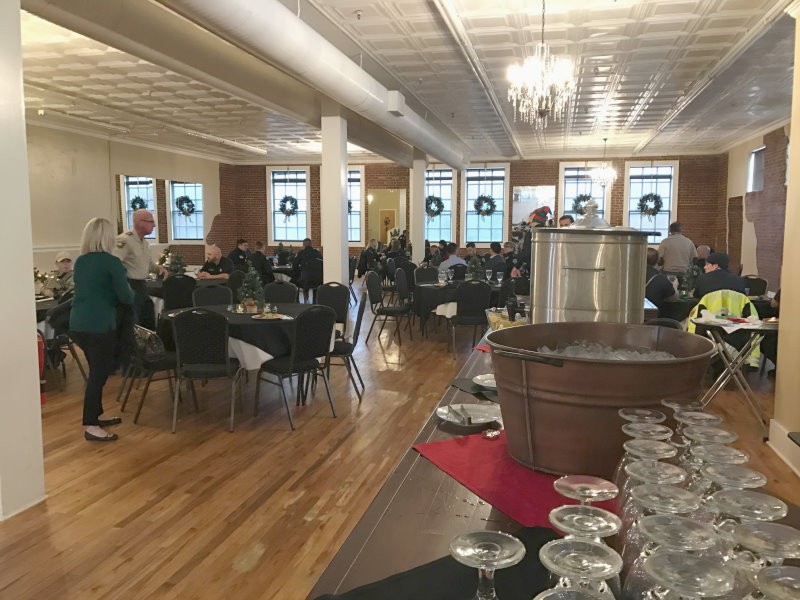 http://accesswdun.com/article/2018/12/746712/good-tidings-scotts-downtown-hosts-holiday-lunch-for-first-responders