The driver of a truck carrying a load of beer suffered minor injuries when he crashed the vehicle on I-985 in the Oakwood area Wednesday morning.
The Georgia State Patrol said Anthony Williams, 33, of Atlanta was driving the commercial box van northbound on the interstate near mile marker 15, which is just south of the Oakwood exit.
"[The vehicle] began to negotiate a right hand curve when it traveled wide and off the left side of the roadway," said SFC Anthony Coleman in a written statement.
He said the truck hit a guard rail with its front end and then rotated clockwise.
"[It] then overturned onto its driver side, striking the overpass signage support poles with its top," Coleman said. "All the contents from inside the cargo box was scattered across the median."
The truck was carrying Corona Light beer based on photographs submitted from the scene.
While the wreckage itself did not block the interstate, the roadway was shut down nearly two hours for clean up, according to Coleman.
The Georgia Department of Transportation will assess the damage to the guard rail and the overpass sign and determine what repairs need to be made, according to GDOT spokeswoman Katie Strickland.
Coleman said the driver was charged with failure to maintain lane. He said Williams suffered minor injuries, but he was not transported to the hospital.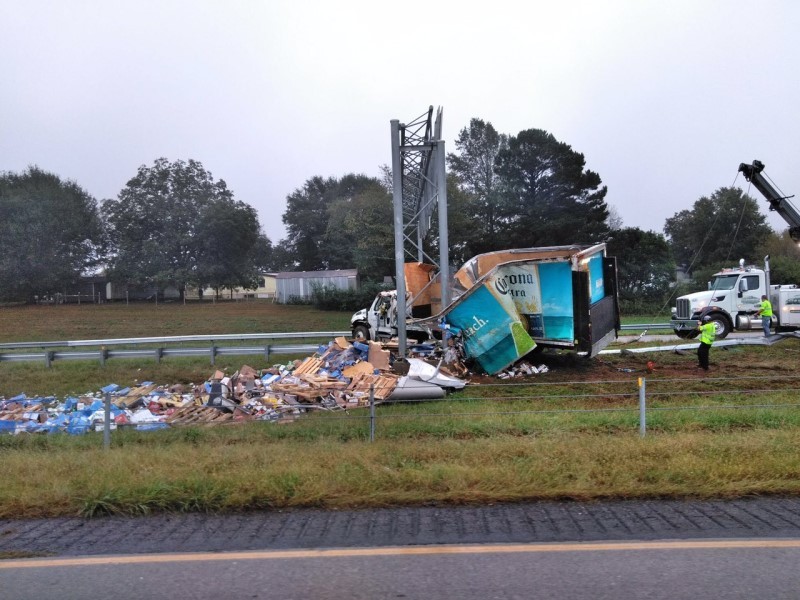 http://accesswdun.com/article/2018/10/722539/update-driver-not-seriously-hurt-in-crash-of-beer-truck