JAMAICA, Va. - After eight second place finishes in FASTRAK sanction events, Logan Roberson took home the victory in Saturday night's FASTRAK World Championship at Virginia Motor Speedway in Jamaica, Virginia.
The Waynesboro, Virginia driver took home the $20,000 winner's payday for the victory.
Roberson grabbed the lead from Jenson Ford, and appeared to have the race under control until he lost the lead to Michael Brown on lap 52 while racing in lap traffic.
One lap later, Roberson powered back to the point, and would hold the lead the rest of the way to the victory.
"I don't know what to say," Roberson said. "Me and my dad work our butts off in the shop at night to come here to do this, to get my first FASTRAK win against all these good guys, man I don't know I am crying like a baby. I am just so excited, we are just a small funded team but we got it done tonight."
Brown finished in second, with Tyler Bare in third, Ross Bailes in fourth and Matt Long in fifth.
Rounding out the top five were Michael Brown, Tyler Bare, 2017 World Champion Ross Bailes and Matt Long.
Benji Hicks, Justin Williams, Brett Hamm, Travis Pennington and Trent Ivey rounded out the top ten.
The FASTRAK Racing Series returns to action on November 16 and 17 at Screven Motor Speedway in Sylvania, Georgia.
For more information, visit FASTRAKRacing.com.
FASTRAK Racing Series
Virginia Motor Speedway – Jamaica, VA
FASTRAK World Championship – October 6, 2018
1. Logan Roberson
2. Michael Brown
3. Tyler Bare
4. Ross Bailes
5. Matt Long
6. Benji Hicks
7. Justin Williams
8. Brett Hamm
9. Travis Pennington
10. Trent Ivey
11. Carson Ferguson
12. Dennis Franklin
13. Matthew Nance
14. Corey Almond
15. Kyle Lukon
16. Nick Davis
17. Troy Frazier
18. Chris Blackwell
19. Kerry King
20. Davis Lipscombe
21. Billy Beachler
22. Chess Chester
23. Walker Arthur
24. Stephen Childress
25. Matt Quade
26. Andrew Durham
27. Brandon Umberger
28. Kenny Peeples
29. Dillon Brown
30. Jensen Ford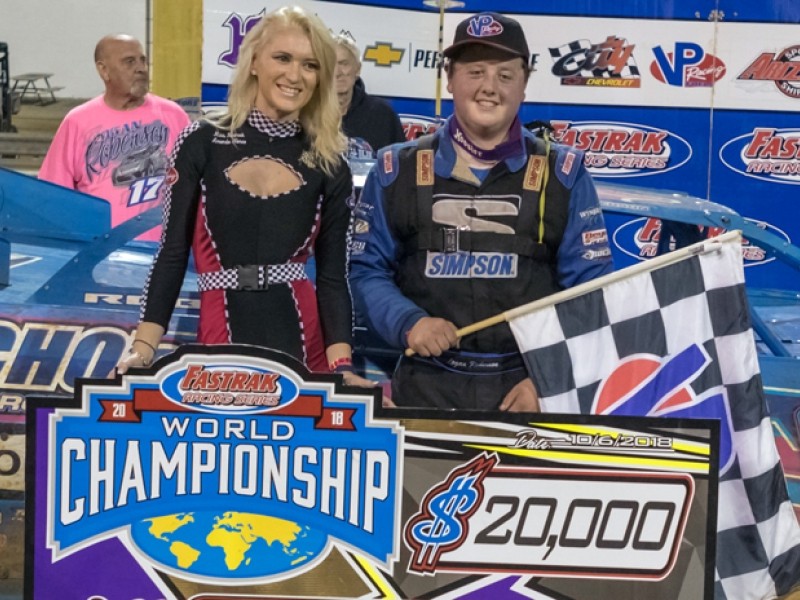 http://accesswdun.com/article/2018/10/722244/logan-roberson-records-first-fastrak-victory-at-vms