HELEN — Heavy rain and mud didn't stop state and local officials from gathering in Helen Wednesday morning for a ceremonial groundbreaking for the Helen to Hardman Heritage Trail.
The 4,400-foot trail along the Chattahoochee River links Helen with the Hardman Farm State Historic Site.
Gov. Nathan Deal spoke of the expected impact of the trail.
"This is a great day for our state, and especially for this part of our state," Deal told those gathered. "It's a beautiful area to begin with, and to have this asset will open up for even more people to come and be able to enjoy it. And it's a great example of partnership between the state, through our DNR, with the local City of Helen and the County of White and other partners that have joined in to make this possible."
At a cost of about $1.2 million, the trail will feature four interactive, interpretive panels focusing on the history of Helen, the railroad, the river, and the historic site. There will be promenades, arched entries, boardwalks, boulder seating and picnicking, overlooks and parking lots on each end.
"I congratulate all of you, and I think we'll all be very proud of it when it's finished," Deal said.
Before the governor arrived, Helen Mayor Helen Wilkins, White County Commission Chairman Travis Turner and others shared their thoughts with those gathered.
"It's a naturally gorgeous area, and the state's going to make it so nice for everybody," Wilkins said. "It's going to be handicapped accessible where everybody can enjoy it."
Additionally, Wilkins announced plans the City of Helen has that will further link the trail and Hardman Farm to Helen.
"I'm proud to announce that we'd like to partner with this venture by putting sidewalks to connect the town right here at the corner and run all the way up here with streetlights," Wilkins said. "We're looking forward to helping make this be a beautiful entrance for the walk. We're excited."
"Our goal is to make White County a destination point," Turner said. "And we already are, but we want to grow and expand that. As the mayor, Mrs. Helen, said, this is a truly exciting opportunity. A lot of effort has been going into Hardman Farm over the past year or two to make it a destination point. You've got Hardman Farm, Smithgall Woods, Unicoi — these are state properties located in little White County."
Construction on the project began in August, with completion set for spring 2018.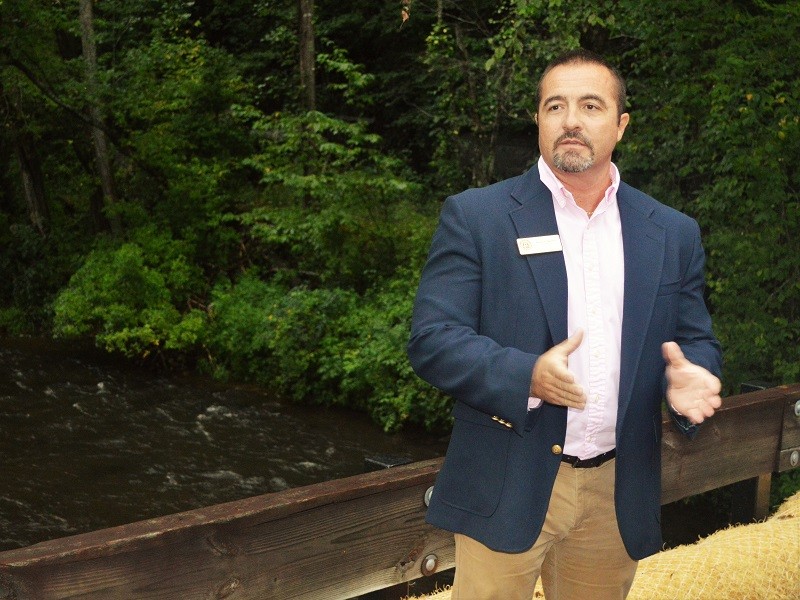 http://accesswdun.com/article/2017/9/578973/officials-celebrate-start-of-construction-on-helen-to-hardman-heritage-trail