CLERMONT – Few places compare to Clermont when it comes to preserving its history.
The roughly 900 residents of the north Hall County bedroom community may not all agree on what lies ahead, but they all seem to treasure what lies behind.
That fact was evidenced once again Tuesday evening as the Clermont Historical Society presented the Bell Tower Plaza ribbon cutting and dedication ceremony on Main Street in front of the Clermont Chattahoochee Center.
Originally scheduled for September 12, the ribbon cutting was quickly postponed when hurricane/tropical storm Irma passed through the area. "No problem," local leaders said at the time, "we'll simply reschedule."
Now, four weeks later, several dozen people cheered as Historical Society President Sandra Cantrell finally cut the ribbon.
Cantrell explained that since the late 1800s three separate schools had occupied the property; the last school – Clermont Elementary School - was demolished in 1982.
"It was built in 1936 under President (Franklin) Roosevelt's New Deal and part of his Public Works Administration," Cantrell said.
"I knew that there was a bell that once was part of the school," Cantrell told the crowd as she gestured to the bell tower behind her.
"The school bell was actually rescued out of a scrap metal pile when the school was being demolished…and stored at the church across the street."
Cantrell explained that several years ago the idea of restoring the "slightly damaged" cast-iron antique became a possibility when unnamed sponsors offered to fund the project.
"We had many generous donors and a lot of interested people who helped us raise the money to build this beautiful structure," Cantrell explained.
Cantrell said the school bell was probably forged in 1910. "It's well over a hundred years old."
Mayor James Nix thanked Richard Williams of Clermont for his work in restoring the bell. "He took that bell that had some flaws, broke places on the feet of it…and got it done."
Clermont officials were unable to place an exact dollar amount on the cost of the project (Mayor Nix estimated that it probably was in the area of $25,000), but they did say all the monies were provided by private sources, that no funding came from the city treasury.
Cantrell said memorial and commemorative pavers at the base of the tower were still available for etching. To learn more about purchasing a brick contact the Clermont Historical Society at (770) 983-9064.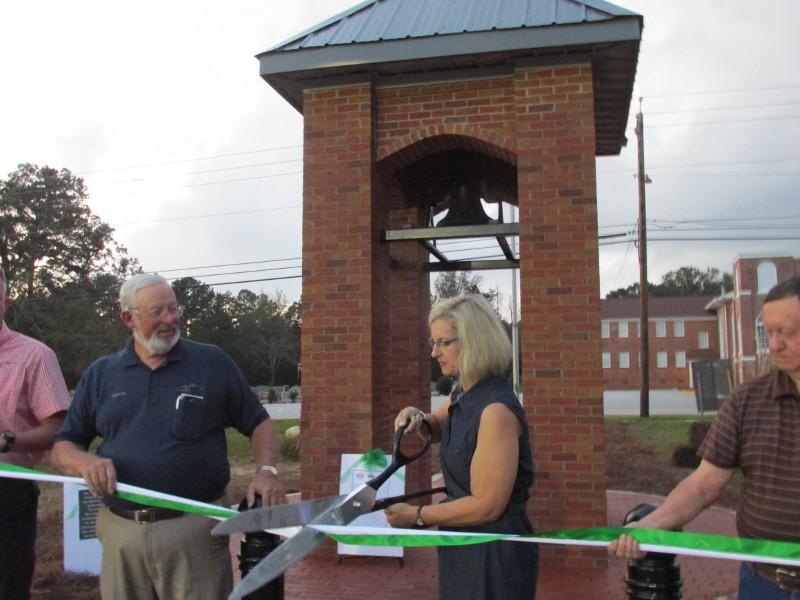 http://accesswdun.com/article/2017/10/592708/old-school-bell-rescued-restored-and-now-focal-point-of-clermont-monument