GAINESVILLE -- Just how special was Friday's inaugural FCA East-West All-Star Classic?
Ask Eric Camacho, who so recently thought his days on the football field were finished.
Ask Gage Turner, who had never attempted more than two field goals in a game.
Ask the area's coaches, who took time to get to know players from around Hall County (and Banks County), as well as each other.
And, finally, ask the hundreds of fans that showed up to support the event at Gainesville's City Park and get their final fix of high school football for 2013.
The East-West Classic fulfilled something for each of those figures and provided some pretty memorable moments on the field as well, as the West team (made up of senior standouts from Chestatee, Gainesville, Lakeview, North Hall and West Hall) rode the leg of Turner to a 16-7 win over the East squad (featuring seniors from Banks County, East Hall, Flowery Branch, Johnson and Riverside Military).
"It was awesome; I had never kicked more than two field goals in a game (the two came against Flowery Branch this season), so it was great for me, and I'm just glad to walk off with my last game as a win," said Turner, a Gainesville senior, who belted kicks of, in order, 47, 33, and 47 yards to make the difference in a game that featured some big offensive plays but plenty of defense.
The West team out-gained the West 245-241, and two contrasting styles of play made for an intriguing battle, as the West kept things rolling on the ground, rushing for 213 yards -- led by North Hall fullback Zach Little with 19 carries for 127 yards.
The East, meanwhile, kept things balanced, as Riverside Military quarterback Collin Pettell completed 9 of 26 passes for 130 yards, one touchdown and two interceptions, while Flowery Branch standout Cameron Davis rushed for 113 yards.
"It was like a real game out there," said North Hall defensive back/running back Brannon Dyer, who rushed for 35 yards and had an interception. "It got pretty intense."
Indeed, there were a number of big hits leveled during the contest -- players and coaches alike feeling the adrenalin of one final chance to shine on the high school gridiron.
"It's football, and you get out there and start playing, and you go hard," said Camacho, a linebacker from West Hall, who was determined to make the most of the opportunity. "I thought my days of playing were over, then I found out I was invited to this, and it was great. This was so much fun."
Flowery Branch defensive end Thor Smith noted that the contest also provided other positives.
"It was humbling, just to have a chance to strap it on with a lot of great players," Smith said. "Plus it gives college scouts another chance to see what you could do."
There weren't many surprises from players who have already proven themselves time again this season and before -- Gainesville receiver Jay Gaudlock made a spectacular catch of a well-placed Andrew Smith (North Hall) pass to give the East its only touchdown -- making it 10-7 for the East in the second quarter. Smith also impressed with his legs, rushing for 68 yards, though a fourth-quarter hit knocked the Trojans star from the game.
A'lencio Graham also hauled in a touchdown from Pettell for the West in the first quarter, giving the West its only lead at 7-3.
Chestatee's Blake Buffington also had an interception for the West, coached by War Eagles head coach Stan Luttrell, to close out the game
"It was easy to go out there and play, because there were so many other great players, and they already knew what to do -- you just went out there and played," Camacho said.
The area's coaches also enjoyed the occasion, getting a rare chance to work with each other and dividing duties for the contest.
"It was great stuff; it furthered a great cause and really gave us a chance for some fellowship," East head coach and East Hall head coach Bryan Gray said. "I got to get to know guys I haven't said more than five words to in the past. And the kids had a great time. I can see this setting the stage for a game that will last a long time."
That is exactly the goal for the FCA and director Jason Lester, who was pleased with the initial Classic.
"I don't think it could have gone better," Lester said. "The crowd was very good, and the best part was that the coaches and kids had this opportunity, and I enjoyed watching them work together and get to know each other. I think that will only help foster a great atmosphere between the teams and players in this area, and we'll reap the benefits for that.
"We hope to continue this for years to come, and this was a great start."
-- NOTES: The night certainly proved special for Banks County senior Jonathon Dempsey. A linebacker for the Leopards and during the night, Dempsey's mother won a raffle drawing to attempt a fourth-quarter field goal for $5,000. Dempsey was allowed to take the kick, missing an attempt of 40 yards but then drilling a 35-yarder to secure the prize. ... Before the contest longtime Gainesville High public address announcer Walt Snelling was honored by Governor Nathan Deal with a plaque and proclamation. The 77-year-old Snelling retired after the game, capping a 31-year career. ... Smith left the field under his own power, though the extent of his injury was unclear.
2013 FCA EAST-WEST ALL STAR CLASSIC

WEST ALL-STARS 16, EAST ALL-STARS 7

SCORING SUMMARY
EAST
....7....0....0....0 -- 7
WEST
....3....7....3....3 -- 16
First Quarter
West -- Turner 47 field goal, 6:42, 3-0
East -- Graham 14 pass from Pettell (Hicks kick) 4:45, 3-7
Second Quarter
West -- Gaudlock 6 pass from Smith (Turner kick) 9:00, 10-7
Third Quarter
West -- Turner 33 field goal, 5:21, 13-7
Fourth Quarter
West -- Turner 46 field goal, 7:16, 16-7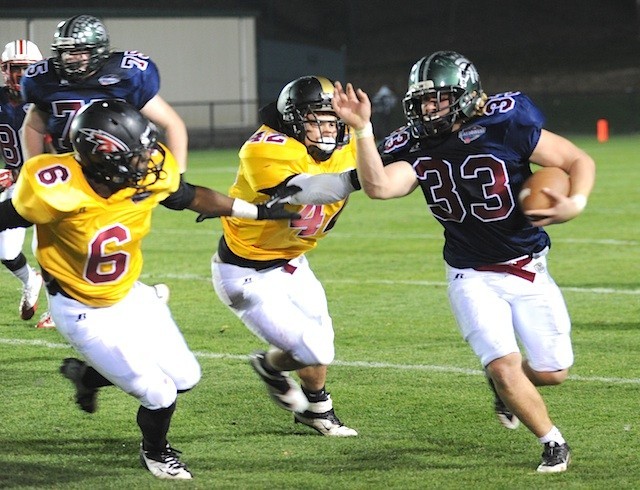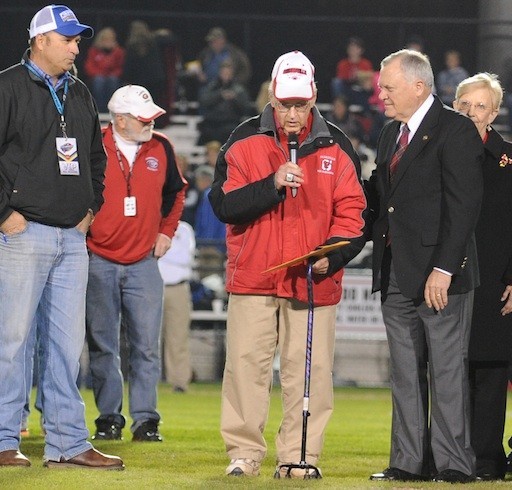 http://accesswdun.com/article/2013/12/269120