It's hard to believe the 2013 football season is complete, but there it is -- in the books for all to see. It was one worth remembering for northeast Georgia's players, coaches and fans.
With that in mind let's look back at five big things we learned about the 2013 high school football campaign...
1. The only downside to 2013 is that came on the heels of 2012
Let's face it; we were spoiled rotten last season -- and trying to top or equal state titles for three area programs (and four in the semifinals) was always going to be difficult. That said if you look at 2013 purely on its own merit, it was a great season. Three area programs reached the state semifinals (Buford, Gainesville and North Gwinnett), two the state championship game (Buford and North Gwinnett) and one claimed a crown (Buford). On top of that Jefferson reached the quarterfinals -- granted the Dragons were the defending Class AA champs, but before last season Jefferson had not been to the state quarterfinals since 1977, while Chestatee claimed its first ever playoff victory. But this season should be remembered for far more than just playoff success. The resurrection of programs like West Hall and North Forsyth and the upward trend of several others -- Jackson County, Rabun County, Union County (first playoff berth since 2001), Riverside Military and White County spring to mind -- made for exciting and compelling storylines. In fact, of the 29 area teams we cover, their overall combined record this season was 163-156 -- only seven wins off last year's historic season. And that's not even taking into account the players that made this season (more on that below). Was it disappointing to not claim more than one championship? Yes. But all you can realistically ask is to be in the mix, and northeast Georgia football showed it is very much in the championship hunt again in 2013 -- and we can expect more of the same in 2014.
2. This year's crop of seniors cast a long shadow
Let's just go ahead and get it out of the way, Deshaun Watson is the type of player few of us have witnessed and one that we may not see the like of again (at least in the near future). The record-setting Gainesville quarterback gave us four years of thrills and history, and did not disappoint in 2013, passing for 3,745 yards, rushing for 1,057 yards and piling up 63 total touchdowns -- finishing with state records in career passing (13,988) and career all-purpose touchdowns (200), among many others. But this season was about more than just the Clemson-bound standout -- even on his own team, as seniors like Devan Stringer and Jay Gaudlock made huge impacts on a squad that graduated plenty of stars from 2012 but made it back to the state semifinals for a third straight season. In fact seniors all over the area made huge impacts this season, and players like North Hall QB/safety Andrew Smith and White County running back/linebacker Dalton Whitfield will leave behind huge expectations for their underclassmen teammates. Seniors like Thomas Wilson helped Buford charge down its ninth state championship in 13 years, while seniors like Zach English and Eric Camacho helped foster West Hall's turnaround to grab its first state playoff berth since 2002. Seniors also anchored Jefferson's offensive line and hauled in plenty of passes to aid Jackson County's second straight playoff appearance. In fact if you look at any of the area's most successful teams this season, you can guarantee their were seniors leading the way. That's the way it is almost every season. But this year's class was something special indeed.
3. It's a shame Region 7-AAA is breaking up...
Region 7-AAA's playoff race provided more twists and turns than a bad (or good) reality TV show this season. And, other than Buford's dominance, there was hardly a Friday night that did not feature some sort of upset or eye-opening result. Between West Hall's re-birth under second year coach Tony Lotti, White County's continued growth under Bill Ballard, Dawson County's grit and improvement -- despite graduating a number of stars from 2012 -- and East Hall's development into an offensive power, it was must-see football. That's not counting North Hall's solid play -- a Trojans team that may very well have made another big playoff run had they prevailed in a first-round shootout over eventual Class AAA semifinalist Ringgold (a game that saw a game-winning field goal miss by centimeters). It's really too bad it will be the last time we see all these teams together for some time. Thanks to changing school sizes and the reclassification cycle, 7-AAA will be a much different region next season. And while it still may be fun to watch, it would have been very interesting to see how it developed after this year's changes.
4. ...That said we cannot wait to see how 2014-15 develops in Region 8-AAAA
Three of 7-AAA's juggernauts -- Buford, North Hall and White County -- will join with current 8-AAAA powers Monroe Area, Chestatee and Stephens County, as well as newcomer North Oconee to fashion perhaps the toughest Class AAAA football region in the state next season. All of the seven teams noted made the state playoffs last season, and four of them won first round games. It will be a gauntlet that will ensure whichever program survives is sure to be in position to do big things come playoff time. The new region make-up will present intrigue throughout northeast Georgia, but no region is shaped with so many strong programs as 8-AAAA, and while coaches may not be looking forward to the constant pressure, fans should be eagerly awaiting the kickoff of 2014.
5. There may not be a better group of coaches anywhere
We've said it before, but -- as a group -- there may not be a better group of coaches in any other area of the state. It's easy to look at the jobs done at Buford, Gainesville and North Gwinnett this season and acknowledge that. But look at the jobs done in other places: Ben Hall followed a legend in T McFerrin and put together an outstanding season at Jefferson; Benji Harrison consolidated Jackson County's gains and got the the Panthers back to the postseason in his second campaign in charge; Stan Luttrell helped Chestatee to its first ever playoff win and has turned the War Eagles into consistent winners; Lee Shaw has righted the ship at Rabun County and gotten his alma mater to back-to-back playoff berths; Jeff Lee kept Dawson County in the thick of the playoff hunt despite graduating nearly all of the Tigers skill position starters in 2012; Bill Ballard has White County on track for big things after two straight playoff berths and a No. 2 seed in 2013; Jason Galt created a one-season turnaround at North Forsyth, visiting the playoffs for the first time in three years and winning their most games since 2009; Michael Brown also impressed in his first season in charge of Commerce, with their highest win total since 2009; Brian Allison got Union County back to the postseason for the first time since 2001; Gary Downs may not have made the playoffs, but his work at Riverside Military had the Eagles at their highest win total since 2009, going 5-5 ;and, of course, Tony Lotti took another big step in year two with West Hall, reaching their first postseason since 2002. And there were plenty of other area staffs that did amazing things this season beyond the wins and losses, building and shaping young men throughout northeast Georgia.
It's a slightly depressing thought that the 2013 campaign is complete. It was both memorable and exciting and has set the bar high yet again for the seasons to come. Congratulations to all of the area's players and coaches and enjoy some time off -- the work toward 2014 will begin shortly.
2013 STATE CHAMPIONSHIP GAME RESULTS:
Class AAAAAA
Norcross 31, North Gwinnett 14
Class AAAAA
Creekside 52, Tucker 28
Class AAAA
Griffin 56, Carrollton 35
Class AAA
Buford 35, Washington County 19
Class AA
Lovett 14, Lamar County 7
Class A private
Aquinas 27, Calvary Day 7
Class A public
Marion County 12, Charlton County 3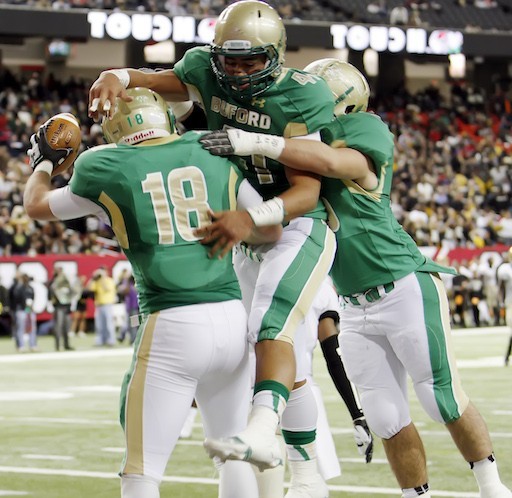 http://accesswdun.com/article/2013/12/268927