ATLANTA -- Want to know what keeps Buford football coming back to the Georgia Dome year after year?
It's not the talent and depth -- though, yes, those are big components. But how many talented programs fall short of the ultimate goal?
Plainly put it is desire.
Desire to win, desire to out-work the opponent, desire to be the best -- but even more than that it is the desire to avoid a letdown, to maintain the lofty standard set down by teams of the past decade and a half.
"You want to win (a state championship) for your community and for your family and your teammates and yourself, but you also don't want to be the one that stops that tradition," said Wolves senior linebacker Korie Rogers, who will lead Buford to into a record seventh straight state championship showdown at 5:30 p.m. Friday against Washington County in the Georgia Dome in Atlanta.
To watch a video preview of today's Class AAA championship game, simply click "play" in the box to the right.
In order to keep that tradition going and claim the Wolves' ninth state crown in 13 seasons, Buford (14-0) will need perhaps its best performance of the campaign against a Washington County team eager to rekindle its own impressive tradition.
The Golden Hawks (13-0) won three championships in four seasons 1994-97, and Washington County coach Joel Ingram believes his team will not be overwhelmed by the bright lights of the Georgia Dome or by taking on perhaps the top program in the state, regardless of classification.
"This is a mature group, and I think they'll handle it," Ingram said. "Someone asked me this week if Buford being in the Dome so much is an advantage, and I was like, 'duh,' but I don't think it's a horrible disadvantage. We talk to our kids all the time about surviving the first five minutes of a game emotionally. And I expect them to be able to handle things again this week."
Certainly the Golden Hawks have handled the playoffs thus far, winning their first four contests by an average of 49-10 -- though Ingram quickly adds that Friday's title game showdown represents an entirely different animal.
'"You won't see that much talent at a lot of small colleges," Ingram said of Buford. "They're tough, well-coached... they're everything that's advertised. We'll need some bounces to go our way, and we'll have to play very well to have a chance."
Buford coach Jess Simpson says it is by no means a lopsided match-up, however, and he says his team better be at its best if it is to win its second straight Class AAA crown and its sixth championship in seven seasons.
"They're really good. They're good in the kicking game, offense, defense... They're not giving up many points, and they're scoring a lot of points," Simpson said of Washington County. "They're very well-coached up front. They're extremely athletic everywhere. They're very physical. It's going to be a great challenge for us defensively to slow them down."
The Golden Hawks have ripped through most opposing defenses this season, averaging 49.9 points per game. In fact last week's 37-0 semifinal win over Ringgold represented Washington County's second lowest scoring output of the campaign -- a 36-33 overtime win over Class AA finalist Lovett their lowest of the season.
Led by running backs Melvin Hill (1,771 yards and 33 TDs) and Danyale Wicker (1,569 yards and 19 TDs) and junior quarterback quarterback A.J. Gray (1,308 yards rushing, 18 TDs; 1,682 yards passing 14 TDs, 4 interceptions), the Golden Hawks' zone-read option has gashed most opponents this season -- not unlike what Buford saw last week when Callaway traveled to Buford and grabbed a 14-7 halftime lead that Wolves overturned for a 24-14 victory.
"They do have some explosive players," Rogers said. "From a standpoint it kind of looks like they've got Callaway-like players as far as people being able to make plays and an agile quarterback, two great running backs who are going to find the right holes and make the right cuts, and it's up to our defense to stop it."
Buford's defense has stonewalled almost every foe this season, allowing just 6.6 points and 134 yards per game.
"We've got to be able to sustain some drives against those guys," Ingram said. "We've got to pick our poison sometimes, because they're so talented. We've got to match their intensity, especially in running the football."
Much of that burden will fall on a Golden Hawks offensive line that Ingram says will not scare opponents during warm-ups.
"It's the smallest group you may have seen this season, certainly the smallest we've ever had in my time here," Ingram said. "But they make up for that by being smart and tenacious."
Similar words might best describe Washington County's defense, which is allowing just 11 points per game.
Led by outside linebacker D.J. Sanders, who has seven interceptions on the season, the Golden Hawks will most likely crowd the line of scrimmage and try to corral a Buford run game that enters averaging 48 points amd 272 rush yards per contest.
"It looks like they've got 9-10 in the box depending on how much width you have in your formations," SImpson said. "They're very athletic, very physical in the middle with their tackles and backers. The outside backers and defensive ends are also big, long bodies that people have had a hard time blocking, and that will be the challenge for us."
It is a challenge both sides are relishing, however and one that could make for an intriguing championship on Friday.
BUFORD vs. WASHINGTON COUNTY
-- WHAT: Class AAA football championship game
-- WHEN: 5:30 p.m. Friday
-- WHERE: Georgia Dome, Atlanta
-- RADIO: 550 AM/102.9 FM
-- BUFORD (14-0, No. 1 seed Region 7-AAA): Defeated Callaway 24-14 in the semifinals.
-- WASHINGTON COUNTY (13-0, No. 1 seed Region 3-AAA): Defeated Ringgold 37-0 in the semifinals.
-- HISTORY: This is the first meeting between the two teams.
-- NOTABLE: Buford is gunning for its 10th state championship overall and ninth in 13 seasons. ... Washington County is playing for its fourth state championship and first since 1997. ... The Wolves will be making their 11th appearance in the Georgia Dome in 13 seasons (including state semifinal appearances). ... The Golden Hawks will be making their first Dome appearance since 2004. ... Washington County featured the top scoring offense in Class AAA during the season. The Golden Hawks enter scoring 49.9 points per game. ... Buford is allowing just 6.6 points per game on defense.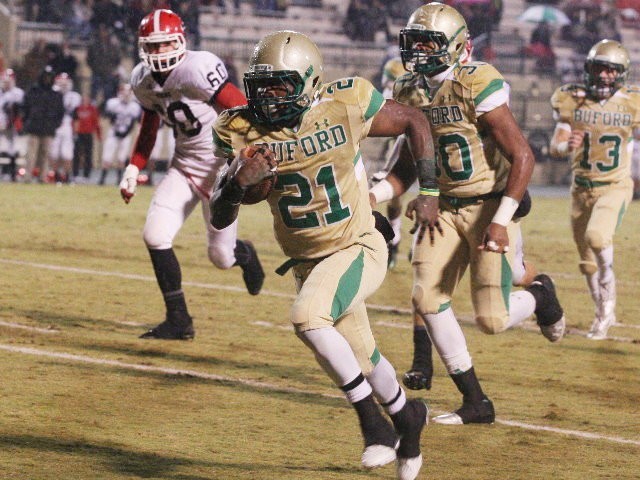 http://accesswdun.com/article/2013/12/268777