GAINESVILLE - The Center Point Mentor Program seeks to help students in Gainesville and Hall County as they deal with some of life's most serious issues. For over forty years Center Point (known as Christian Education Center before 2003) has effected countless lives for the better. Thursday was a day to celebrate those victories as the Center hosted almost 200 students and mentors at the Boy's & Girl's Club of Gainesville.
Center Point Mentor Coordinator Kate Hoffman said, "We are here to celebrate our volunteers and the students they mentor."
Today's celebration, or "picnic" as Hoffman called it, was for middle and high-schoolers as the elementary school picnic was held last week. Chic-fil-A and Shasta provided today's lunch.
David Smith, Executive Director at Center Point, pointed out that in Hall County almost 30% of students do not graduate high school. And that number could be higher but for the immediate intervention of caring adults who offer support, advice, friendship, and consistency as volunteer mentors to at-risk students. Mentors work in one-on-one situations for about an hour one day a week.
Pam Johnson has mentored for three years. She says that her mother was a mentor. Currently she mentors three girls. "My big achievement this year is that one of my girls has been out of school for two years because she had a baby, but now she's back in school. She wants to finish high school."
Longtime mentor Kennedy Smartt says that the ways many boys get into trouble today is evolving, but that the baseline source of their problems remains unchanged. "Mostly it's problems from home. They need a lot of love; they need a lot of kindness; sometimes they just need somebody to play ball with them. Mostly they need to know that they are valued.'
Two 7th grade students from West Hall Middle School waved at me and asked to share their mentoring experiences. Alexys Mitchell and Madison Coffey both felt strongly about the way mentoring had influenced who they were. Miss Coffey said, "My mentor has made a lot of difference. Everybody does go through a lot of stuff and it can be hard to talk to your family, so you can just go and talk to them (the mentor)."
The stated goal of Center Point is to enhance, strengthen, and change lives. They provide training and placement to individuals who would like to become mentors and are currently open for volunteers. Simply contact Kate Hoffman at (770) 535-1050 to learn more.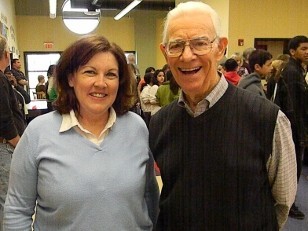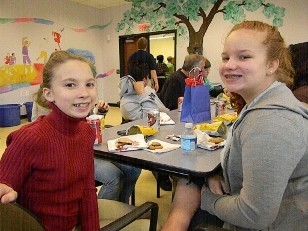 http://accesswdun.com/article/2010/3/228105