OAKWOOD - Orange traffic cones, bumper-to-bumper traffic, detours, rising blood pressure. Quick: what government agency comes to mind? Why, the state Department of Transportation, of course.
The impact of the DOT can be huge, but so is their task.
So on Thursday the Greater Hall Chamber of Commerce hosted its annual Transportation Forum at Gainesville State College.
Speaking for the DOT Board was Steve Gooch, representative for the 9th District. His topic was the financial aspect of DOT operations. Gooch began by saying, "There is very little money left there right now with the overhead it takes to run the department and all the debt service it takes to pay all the bonds."
But should House Bill 1218 pass the Legislature, new sources of revenue could be available.
The bill would create 12 regions in Georgia that would be permitted to generate revenue through a one percent sales tax. Each region would then determine the use of that revenue for DOT projects. The bill, however, would require a voter-approved constitutional amendment for enactment.
THIIS WINTER HAS CAUSED PLENTY OF HEADACHES
Next to the podium was Todd McDuffie, District Engineer with GDOT. His topic was things currently underway at the DOT.
He talked about the impact of this winter and the costs associated with battling it.
Almost $1.3million has been spent so far in our District. "That includes 20,000 manhours; 2,900 tons of salt; 6,300 tons of stone. That's three times normal. That's a lot of money for things we couldn't control."
Furthermore, there is still work to be done on the I-85 sinkhole in Franklin County that occurred February 16.
On the upside, he pointed out how the I-985 exit 16 interchange was finished ahead of schedule.
FUTURE GDOT PROJECTS PROCEED BUT FUNDING IS THE CAVEAT
Robert Mahoney, Pre-construction Engineer, was the DOT's final speaker.
He tried to look forward to what the future might hold for our area, but had to admit that the current financial situation made rapid progress difficult. There were numerous projects still in the engineering stage, others in the land-acquisition stage, and others ready to break ground.
Locally, he mentioned that pre-construction work on such projects as widening State Route 211 in South Hall was progressing, and how the City of Buford is offering to help with the costs of improving State Route 13.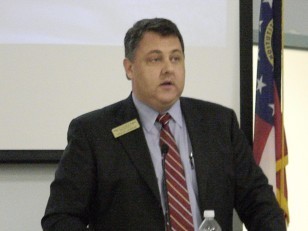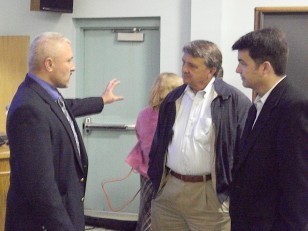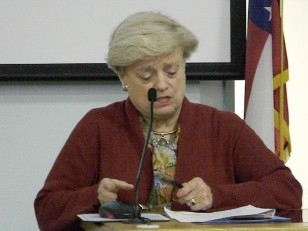 http://accesswdun.com/article/2010/3/227730